Gold
Getting pummeled every which way but loose, Gold resumed its sell-off today, now at 6 week lows and barely holding above $1700. I am noticing how the buybacks have been getting shorter and weaker in angle each time. This would generally indicate a weakening buying or counter-trend presence. But that has also been accompanied by weaker sell-offs each time, with the latest being the weakest. This culminated in a large engulfing bar followed by an inside bar.
Perhaps now that most paper bulls are flushed out, the market will start to climb. If not, then aggressive selling should resume in the absence of paper longs. One other scenario I can imagine for the sell-off would be a large fund needing to cover for some bad positions, and started dumping Gold en masse.
It doesn't quite make sense in a money printing environment, but regardless, bears can watch for intraday price action pullbacks towards $1713 and $1730 for areas to sell, while bulls can look towards $1697 and $1665 before adding longs. Short term its still bearish, but I suspect the current down-leg is weakening.
(click to enlarge)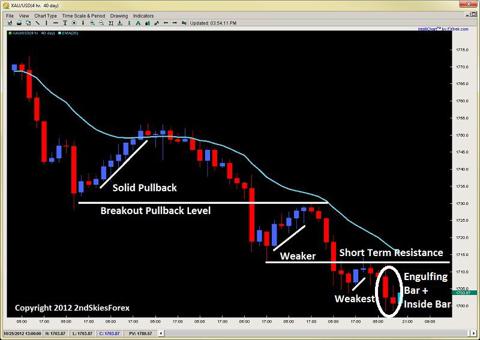 Click to enlarge
For those wanting to learn to trade price action, access to the traders forum, lifetime membership & more, visit my Price Action Course page here.
Upcoming Economic Announcements:
| | |
| --- | --- |
| GBP Gross Domestic Product (YoY) | 04.30EST |
| USD Durable Goods Orders | 08.30EST |
| USD Pending Home Sales (YoY) | 10.00EST |
| NZD Trade Balance (New Zealand dollars) | 17.45EST |