Hello Traders,
This week is showing a lot of good setups on the JPY pairs, Gold, Silver, Oil, European Indices, AUDUSD, Euro, and more.
Today I'm going to focus on the GBPJPY and Gold.
GBPJPY
The japanese yen has been monkey-hammered by the BOJ bazooka which is now making helicopter ben look like a miser when it comes to central bank intervention and quantitative easing with its bond buying program.
I think among the JPY pairs for now, the GBPJPY looks the best as its cleared the yearly highs easily, while EURJPY is just above it, and USDJPY the same.
I think these new yearly highs have taken out any stops or shorts, and thus sets up an opportunity for a breakout pullback setup at the aforementioned key levels (chart below).
(click to enlarge)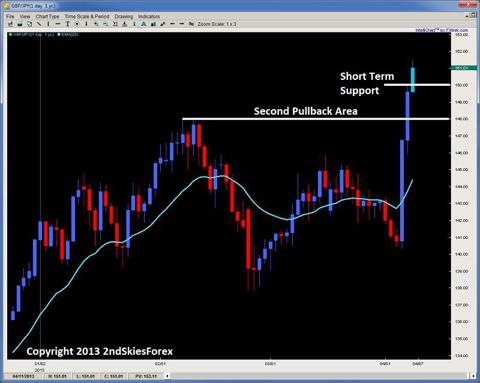 Click to enlarge
I'll look to get long at either the 150 big figure or the 148 role reversal level, and stops below the March highs. I think the JPY will depreciate massively over the coming weeks, months and years - probably more than others anticipate, with USDJPY going to 250 eventually.
For the GBPJPY, short term targets are 153 and 162.30 which is the 2009 double top highs.
[B]Gold[/B]
In a long protracted downtrend since $1800, Gold was approaching the 2012 lows before finding some buyers last week off of $1540. This was first marked by a pin bar signal, which then found further buying to the tune of $30 higher.
What is most interesting to me, is how the pair formed a new swing low below the prior support, but then broke back into the larger range. Usually in heavily mature trends, a breakout failure like this, either signals a reversal, or a 're-distribution' of the order flow.
(click to enlarge)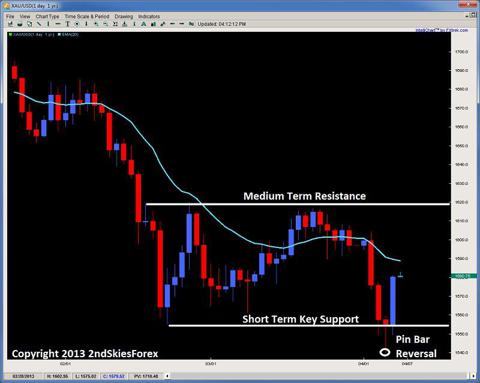 Click to enlarge
Although the PM looks fragile, a clearing of $1620, or a second test and hold on the yearly lows will likely bring in more buyers and thus neutralize the medium term bear trend. Bears can look to sell around $1620, targeting $1600 and $1554, while bulls can look for a pullback towards the latter level to get long.
Kind Regards,
Chris Capre