Hello Traders,
A lot of setups this week, along with some chop on a few pairs, but one that is standing out to me which has opportunities on both sides, is Gold which formed an impressive bull run after the massive two day selling from 14 days ago.
The PM hit the key resistance level at $1484, testing it twice before running into sellers there. On the 4hr chart, this manifested as a pin bar, while on the 1hr the second attempt at the level formed an 'almost' large bearish engulfing bar (chart below).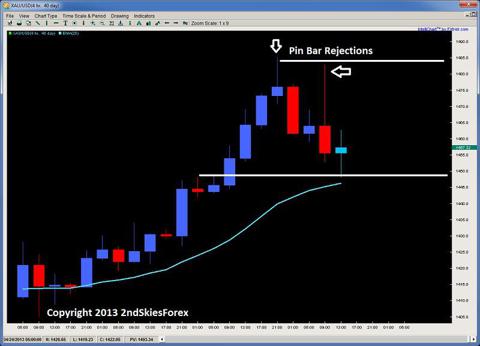 These intra-day price action twin rejections suggests to me there are sellers really willing to defend this level. The PM found support at $1448, so bulls and bears have their lines in the sand drawn.
Watch for intra-day price action signals off the $1484 level (for bears) while bulls can look for support off the $1448 level. Although short term momentum is up, and physical demand has been through the roof lately (I know because I tried to get Krugs and was put on a 2-4 week waiting period :-ooo), medium term, the line of least resistance is to the downside.