So if you saw my FB and stocktwits post yesterday, I had trouble canceling my Activision (NASDAQ:ATVI) trade.
Tried canceling my $atvi call order in a elevator. Not a good idea!
I eventually got around to canceling it.
So you may be wondering, why would I do that? Well first of all, ATVI has earnings after the bell today. I've been doing quite a bit of research on the company and at first thought it may be a good trade to buy. I was a little biased because of looking at the past earnings results for both Electronic Arts (NASDAQ:EA) and Take Two Interactive (NASDAQ:TTWO) last week. If you look at those company stocks earnings exploded!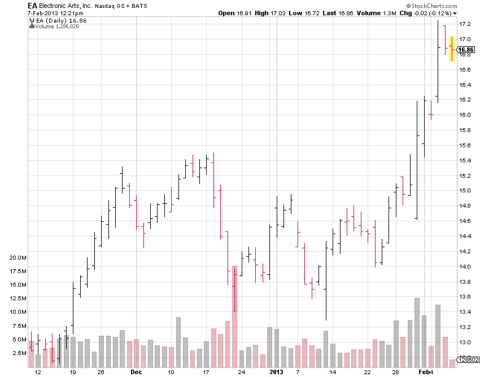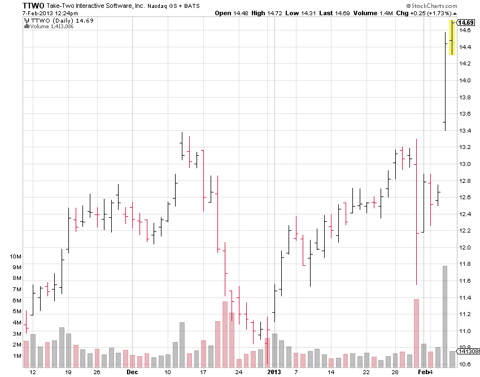 So one would assume that ATVI would have a great quarter as well right?
Well I did further research into the company financials. ATVI is significantly undervalued that is for sure. If we project a 6% compounded annual growth rate into the future. A 20% operating margin and an avg cost of capital of 8%. My model shows that the stocks fair value should be at $14.75. That's almost a 25% premium to the current value of ATVI stock.
Other analyst have similar price targets:
http://finance.yahoo.com/q/ao?s=ATVI+Analyst+Opinion
But what's at stake here is ATVI's earnings.
There are 3 very important metrics that analyst will be looking at during the earnings conference:
1. Microsoft Console Revenues (Call of Duty)
2. Online Subscriptions (World of Warcraft)
3. Sony Console Revenues (Call of Duty)
I'm not to worried about Call of Duty's Black Ops. I believe they had a strong run this past quarter and the numbers will be positive. What's at issue is World of Warcraft, WoW. WoW has been loosing subscribers from a high of 11 million to a low of 9 million. With the release of Mists of Pandaria the subscriber base has leveled to 10 million. This is a very important number going forward. If ATVI can report an increasing subscriber base for WoW, the stock will jump up.
The issue is I don't think this is the case. Especially with new competition, and a new business model, Free to Play (FTP). With the rise of FTP games such as Guild Wars 2 and League of Legends, both of which you do not have to pay subscription fees, WoW will have a hard time competing. You a have to pay $15 a month to play WoW. Wow!
I believe ATVI is undervalued and is a good stock. But as for an options trade, I believe the risks are too great.
We'll have to see after the bell today!
Disclosure: I have no positions in any stocks mentioned, and no plans to initiate any positions within the next 72 hours.