For those that have followed my writing on Apple (NASDAQ:AAPL), you know that recently I have discussed how Apple's fiscal Q3 estimates, for the June ending quarter, may be too high. Well, recently, we've seen those estimates start to trickle down. Here were my three latest Apple articles that discussed this issue:
With major product launches not expected to come until August or September at the earliest, the June ending quarter is at risk. The following table shows how Q3 estimates have come down lately. You can see current estimates here.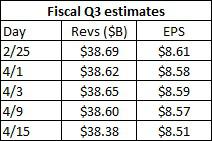 So what's the takeaway here today? Well, for those that are long Apple, it's probably a good thing that estimates are coming down. The lower estimates are, the better chance Apple has of meeting them with its Q3 guidance. Also, if Apple issues weak guidance, falling estimates mean guidance won't miss as much. It would not surprise me if Apple's guidance misses for Q3, and if that sends the stock down, it might be a good opportunity to buy. Just like most years, the second half of the calendar year is when investors get excited about Apple. I'll be back early next week with my official Apple earnings preview article.