The market closed relatively flat Friday 6/21/13. The market is currently in a holding position after a 2-day drop of some 500 points on the DIA. And it looks like there is still further decline to come. Interest rates continues to go up, the 10 year US treasury note closed at 2.51% from 1.4% July last year. The 30-year FHA mortgage rate is now at 3.93% up from 3.16% just a couple of weeks ago.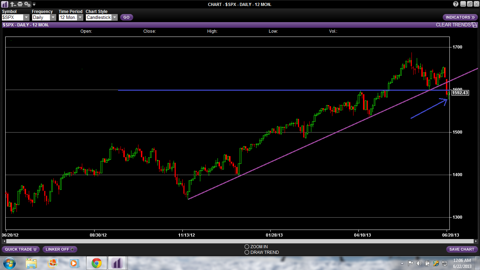 In the chart above, you can see that we pierced through our major trendline and 1,600 Fibonacci support. I have also pointed out with the blue arrow, that the market actually tried to rally but failed to push and break through 1,600 level which is now resistance. Thus, we are now in a holding position in the market which I think poses a lot of down side risk.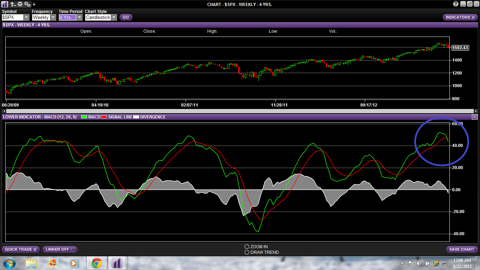 In the above chart of SPY, the MACD made a cross in the overbought territory and looks like it is about to roll over.
Moving on to Treasuries..... Usually when there is fear in the market, investors run to treasuries to find safety. However, in recent days, despite fear and the market plunging, rates continue to climb; indicating that there is little/no demand for treasuries. Investors no longer find treasuries as a safe haven because the rates continue to climb. It seems like the market has lost confidence in Fed Chairman Bernanke has somewhat lost control of the bond and equity market. Could this be the start that triggers a bond market sell-off?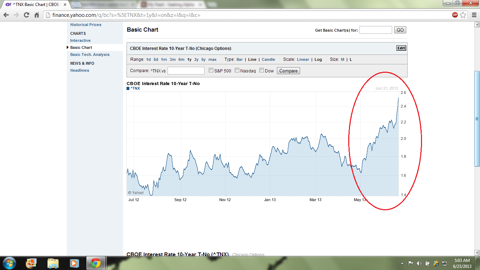 In the picture above, you can see the rate on the 10 year note has gone parabolic in last few weeks....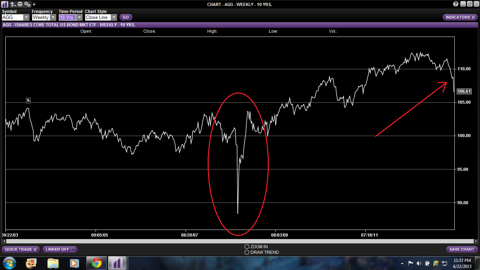 The picture above is bond ETFs (NYSEARCA:AGG). AGG is an ETF, Barclays Bond Fund.
I have circled in red the 2008 bloodbath capitulation in the bond market. The red arrow is where we are now. Do you believe Bernanke can come out and calm the markets and stop this bloodbath from continuing? I personally don't know or not sure Bernanke can if the panic really sets in. You decide.
Earnings season is coming in July, and the bulk of S&P earnings comes from Europe. However, many European countries economy have been contracting and if we add the US Dollar which has been relatively strong since March 2013, there is a big chance that earnings could disappoint and drive equities lower. Domestically speaking, we should also by now experience the effects of the Sequester, tax hikes, and relatively high gas prices. All of this combined will ultimately add burden to companies earnings. The rise in interest rates also puts a lot of downward pressure in equities.
Moving on to mortgage rates.... The sharp rise in FHA mortgage rates in a short period of time is also very worrying and should not be ignored. This could potentially collapse the already fragile housing market in a fragile economy. I see people on (CNBC, CNN, Bloomberg) saying that back in the 2008 housing collapse, mortgage rates were in the 6%-7% range. They say that even after the sharp rise, the 30 year FHA mortgage rate now at 3.93% is still relatively low. All I have to say is that they are either misleading or completely missed the point. The issue here is not how high or low the percentage is but where the percentage point starts and by how much it increases; and how the increase in mortgage rates affect home buyers. I can also argue that the economy in 2005, 2006 was in a lot better shape than it is today. Meaning that the economy back then can handle higher rates as a starting point on both the mortgage rates and treasury rates.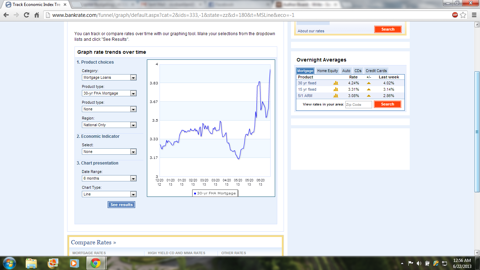 In the picture above, you can see the sharp parabolic rise in 30-year FHA mortgage rate within a few weeks.
Is this 2008 all over again?
As far as I'm concerned the US economy is finished without the injection of QE of $85 Billion/month. Look at the PMI, ISM and GDP numbers going down and now Bernanke, in his speech 2 days ago wants to taper starting early 2014 and ending by summer 2014? He actually said that the economy is getting better, Oh really? Then why did the market tanked? Because it's not! Bernanke expects us to believe the US economy is getting better, the market certainly doesn't think so. There are close to 50 million people on food stamps now, how is the economy getting better?! He also said in his speech that he will stop QE when unemployment reaches 7% up from his 6.5% target previously. Did Bernanke just lowered the bar? We all know that the real unemployment numbers are a lot higher and how the unemployment numbers are manipulated to look good. It is 7.5% now according to Bernanke, that means we are not that far away from his 7% target. If just rumors of tapering can do this kind of damage to the market, imagine what it will do when the REAL tapering occurs........
Bottom Line: There are so many uncertainties such as civil unrest in many parts of the world, credit crunch in China, rising interest rates (putting pressure on equities and possibly bond market sell-off), rising mortgage rates (possibly imploding housing) and earnings that have a big chance of dissapointing. All combined, there is great downside risks in all asset classes in the market in my opinion, for the near term.
Could the drop in GLD and SLV also signaling deflation to come?
We are in uncharted territories in a very artificial time. Perhaps, it is wise to take a step back and be on the sidelines with cash. Time to think folks.....
Please comment and share your thoughts. What do you think about the market?
Disclosure: I have no positions in any stocks mentioned, but may initiate a short position in DIA, SPY over the next 72 hours. I wrote this article myself, and it expresses my own opinions. I am not receiving compensation for it. I have no business relationship with any company whose stock is mentioned in this article.