Dubai.
Sunshine
Wealth
Luxury
Low crime Cheap petrol
Low cost of living
6th richest population
0 TAX
But for some reason.. 19th place for world Real Estate.
(click to enlarge)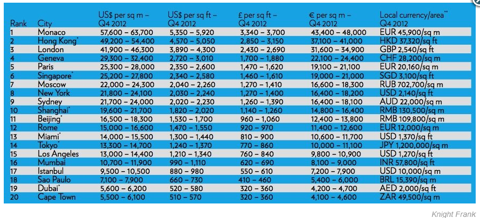 Click to enlarge
____________________
Dubai is one of the most affordable cities in the world - but that is soon to change.
- 18 cities are more expensive than Dubai per square foot.
- Income: Dubai has the highest Income-per-capita of All these cities. Real estate prices are correlated with income. Richer people can spend more on real estate, ie higher prices.
In this case, the richest people are buying the cheapest properties.
- Rental Yield: Dubai has the highest Rental-yield on the list, but price-wise it is down at 19th.
Average rental yields are around 7%, going as high as 15% in some areas. --> does not make sense to rent vs buy.
High rental yield is usually a leading indicator of a rising housing market. Investors seeking high returns will push up property prices.
To reach a lower, more normalized yield, the 'average' apartment in Dubai would have to increase 50% from today's value.
- Tax: Dubai has 0% tax. Just like number 1 on the list, Monaco.
- Airport: Dubai will have the world's highest traffic airport in a few years. More people will pass through Dubai than London, NY or any other city. Some of these travelers will stay and spend money in Dubai.
- Affordability: Most Dubai tenants pay yearly, 1-cheque upfront to get it over with. Compared to income, property in Dubai is very affordable. On a global scale, extremely affordable.
- Capping Mortgages: Government is considering capping mortgages in a few months to avoid a real estate bubble. This is a good thing. Hong Kong did the same and real estate prices sky-rocketed afterwards. Not that it matters - Dubai market is 85% cash buyers.
- EXPO 2020 - Expo win is likely to create 300,000 new jobs & provide some stability leading into 2020.
- Dubai Debt: Economy is doing well, stock market up 60% this year, property market up over 30%. Eventhough Dubai has several big loan repayments in 2014 and 2016, it's unlikely anything will go wrong. And there's always Abu Dhabi there to back up the Emirate in times of crisis.
- OIL. 6% of global reserves in UAE. Economy is also well diversified with great Services sector.
- Population Growth: 5% and expected to continue. Inflow of people to Dubai due to tax/weather/jobs/stability.
- Safe Haven: Dubai seen as safe-haven in Middle East.
- Oversupply? Supply in Dubai is quite high, but still much lower than few years ago. In 2008, 65000 new homes hit the market. Over the next 3 years combined, closer to 50000 homes will come onto the market.
Also, demand for affordable housing is very high. Some areas like International City operate at high occupancy. Rentals are solid. Few properties are vacant.
Investment:
Index is highest quality building in DIFC, and voted best-quality building Middle East 3 years ago. You're getting a 1-bed in there for $500k.
- Mortgage Costs: Rental income on a property covers your mortgage expense (including fees, maintenance/service charges, etc) - and most likely pay you something nominal every year.
(click to enlarge)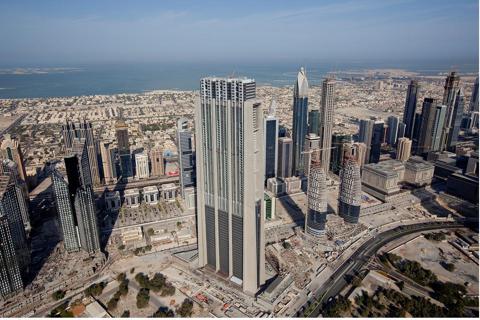 Click to enlarge
__________________________
INVESTMENT DESCRIPTION
Buy 3-4 apartments on leverage in the DIFC area (Dubai International Financial Center).
Few plots left to build. Hardly any new buildings coming up. Buildings like Sky Gardens are close to full occupancy.
The DIFC is home to 16,000 bankers. This 1 financial center contributes 3.6% of Dubai's entire GDP. Where do all these bankers live? In luxury apartments around the DIFC.
Index Tower is probably the highest-end of the towers, where you can get a 1-bed for $500k and 2-bed for $850k. For many of the bankers in DIFC, that's 1 year's compensation.
Best of all, Index Tower is 1 block from the DIFC, and only 2 minutes from Downtown Dubai, and the Burj Khalifa (world's tallest building).
Imagine buying a 2-bedroom, ultra-luxury, 2,000sq foot apartment in London for $850,000 - in the heart of Knightsbridge.
If Dubai moved up only TWO spots on the global Real Estate list, to reach Istanbul at 17th, that's a DOUBLING in price - from $5,000 to $10,000/sq ft.
EVEN AFTER DOUBLING - Dubai would be 1/4th the "average" price of London and New York.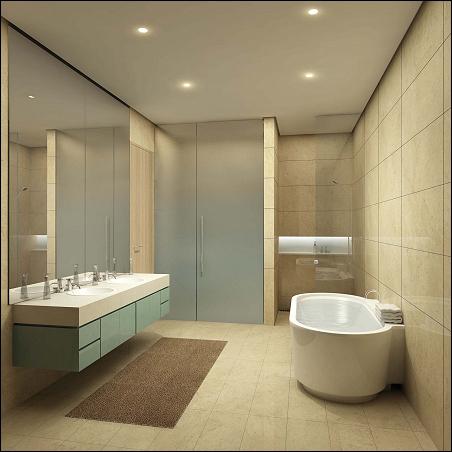 _____________________________
THE INVESTMENT:
- Buy 4 apartments (2-beds) in Index Tower.
- Use Leverage (80% Loan-to-Value).
Down-payment required: $870,000. (Including fees)
Scenarios:
Market goes up 50%, (14% for 3 years), to AED 3,000/sq foot: you get $3,120,000. / 3.6x your money.
Market doubles, (25% for 3 years), to AED 4,000/sq foot: you get$5,000,000. / 5.8x your money.
Market up 150% (35% for 3 years), to AED 5,000/sq foot: you get$7,000,000. / 8x your money.
(click to enlarge)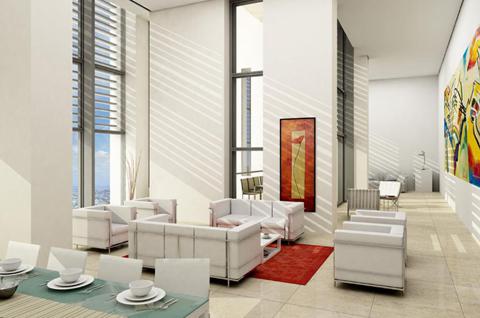 Click to enlarge
UAE - 6th income rank statistic
http://gulfbusiness.com/2013/06/top-10-richest-countries-in-the-world/#.UjBo5cbrysg
www.khaleejtimes.com/DisplayArticleNew.asp
Photo links:
Disclosure: I have no positions in any stocks mentioned, and no plans to initiate any positions within the next 72 hours. I wrote this article myself, and it expresses my own opinions. I am not receiving compensation for it. I have no business relationship with any company whose stock is mentioned in this article.