Virtual Piggy (OTCQB:VPIG) is a development stage technology company that provides a service to merchants that want to transact with persons that are under 18 years old.
The company in its latest quarterly financial statements showed the following numbers:
1. Assets: $4,962,066
2. Shareholders' Equity: $4,587,310
3. Revenues: $19
4. Net Loss: $5,103,010
5. Operating Cash Flow: -$2,765,932
6. Common Shares Outstanding: 91,307,983
In the same filing the company warns its investors about its "Going Concern" status.
It seems that there weren't any paid promotions for this stock. The trick of sequential press releases was enough to make the stock go parabolic in May and reach a high price of $2.50.
In June there was a research report published that gave the stock a $5.00 target price. In August there was another research report published that also gave the stock a $5.00 target price. The forecasts in these reports are so rosy that I won't make any comment on them. I will just point out that although the two reports are published by different organizations, they are almost word-to-word identical and the author is the same person.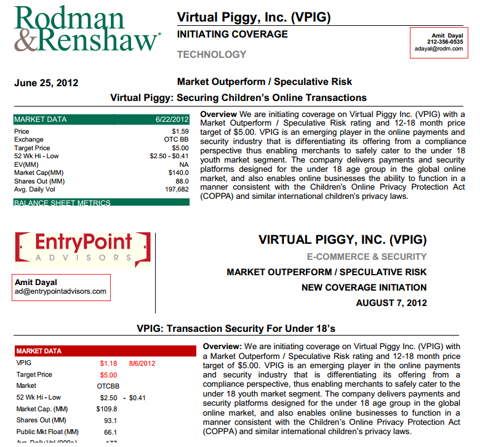 At yesterday's $1.10 closing price the company has a market capitalization of $100M which is illogical compared to the company's financial position and operations. However, being expensive is not a good enough reason to short a stock.
As seen on the graph the price is testing again the $1.10 low. If it breaks it then it can go all the way to $0.50 in a relatively short time frame.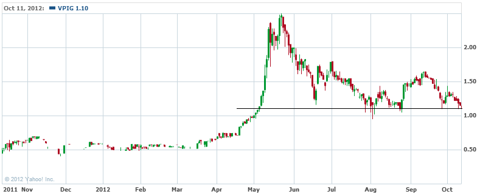 Disclosure: I am short OTCQB:VPIG. I wrote this article myself, and it expresses my own opinions. I am not receiving compensation for it. I have no business relationship with any company whose stock is mentioned in this article.