I remember 2008. Share prices where collapsing all over the world. Metal prices sunk faster than the Titanic. Game Over - forever and ever!
But the best thing on the 2008 crisis was - it was hard and fast! All the busted stocks bottomed out and I felt that this could be a great opportunity. And yes. I was lucky and picked the right ones. Companies with cash in the bank and a great resource. Companies like Nevada Copper (NCU.To). I was able to grab a lot between 0.30 and .40 in 2008. I think it was the best thing I ever did.
At first my newsletter readers wont believe! I tried to explain - yes there is a crisis but the globe will not stop to turn. They refused to follow my suggestions.
They jumped on the train when NCU was beyond 1.50. They missed the bus to jump on the train.
To make it short - NCU went to 6 bucks.
Of course I missed the ideal point to sell but the return was huge.
Now we see similar levels in the share prices of some TSX and TSX Venture stocks. You can buy 1 Oz Gold in the Ground for 10 Dollar and lower.
But this time its more difficult to find the perfect entry point than back in 2008. The slump is to slow and there is no bottom building at the moment. I think I thought 6 times in the past 18 months that the crisis is done now.
(click to enlarge)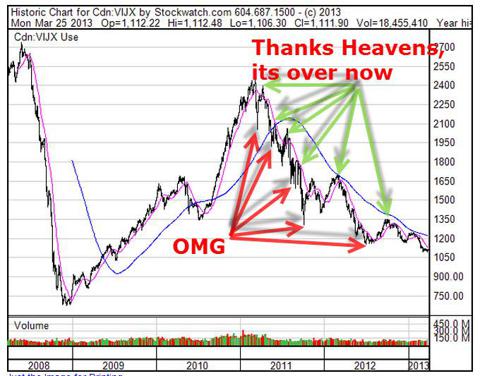 Click to enlarge
I am (of course) not sure but I think that we could have an perfect entry point soon. The S&P TSX Venture Index slows down the sink pace.
Today I picked Oracle Mining (OMN.TO). Of course my subscribers did the same as back in 2008 - nothing much. They do not realize that this could be the Neada Copper of 2013 with a big run ahead. Oracle is well financed and have access to 70 Mil. Credit Suisse funds to build the mine. Just 2 major permits are outstanding to start the construction. Air quality and Aquafer still done. They sold an 3% NSR for 10 Mil. and did a 8 Mil. PP @ .80 with half warrant @ 1.00. All nearly with the same guys - the RK Funds. If they exercise all warrants they will have a 36% share of 50 Mil. shares outstanding fully diluted (similar to Pala at NCU) - you need a perfect partner in this tough times and I think Oracle Mining found two.
Please do your own DD on this gem and consider that English is not my mothers language.
Cheers
Helmut Pollinger
Disclosure: I am long OTC:OMCCF.