Finding a hidden gem in biotech field required constant due diligence and many hours of researching. In biotech, there are more failure than success when its come to announced company's trials. Nevertheless, I've follow this company for quite a while and I want to address the true valued i believe this company can be a double later on this year. The company is Catalyst Pharmaceuticals (NASDAQ:CPRX).
Lets read some bullish comments from expert/analyst on (CPRX):
Aegis Captial price target @ $6 a bullish comment from Ram Selvaraju "Time to completion of enrollment of the Firdapse Phase 3 trial has been extended into the first quarter of this year, but we remain confident that the enrollment pace is progressing adequately and we would point out to investors that Catalyst has already seen sufficient patients enter the screening process at the sites already involved in the trial to complete randomization"
Scott Henry, ROTH Capital Partners, "Catalyst Pharmaceutical Partners Inc. announced (this morning) an update on Firdapse post meeting with the U.S. Food and Drug Administration; we believe that the program remains on track for a filing in Q1/15. Further, we believe that the track to approval remains rigorous for Lambert Eaton myasthenic syndrome treatment, which leads us to question the ability of the competition."
The Life Sciences Report Interview with Scott Henry, "Catalyst Pharmaceutical Partners Inc. is an emerging biotechnology company in the white hot space of orphan drug medicines, which target very small patient populations, but with high pricing power. The company has come under scrutiny lately given the emergence of a competitive program from Jacobus Pharmaceutical to its key drug, Firdapse (amifampridine phosphate) for the treatment of Lambert-Eaton myasthenic syndrome (LEMS). We continue to believe that Catalyst will win this race for three key reasons. First, the company inherited deep resources for its program from the premier orphan drug company, BioMarin Pharmaceuticals, which is a significant investor in Catalyst. Second, we question the ability of Jacobus to manufacture the product at phase 3 standards. Third, we question whether Jacobus has met all the FDA requirements for a drug filing."
The Drama with Lead drug candidate: Firdapse™ Lambert-Eaton Myasthetic Syndrome (LEMS):
Catalyst Pharmaceuticals (CPRX) stock has been beaten down late October and early November of 2013 from negative press claiming that Firdapse is a copy of unapproved drug know as 3.4 Dap developed by Jacobus Pharmaceuticals and give away for free to LEMS patients.
Here is what Andrew Fein, H.C. Wainwright co. response "In the end, it is Catalyst Pharmaceutical Partners Inc. and not Jacobus Pharmaceutical Company Inc. that currently holds a breakthrough therapy designation for Firdapse in Lambert-Eaton myasthenic syndrome (LEMS), and is likely to reap the benefits of this new regulatory 'easy-pass'. . .we view the LEMS space through the lens of what makes a durable business that rewards both patients and investors within the framework of existing regulation. In that light, Catalyst stands out as the top LEMS therapeutics contender."
From the company presentation on Oct, 8, 2013. Its estimate that $200-500MM Orphan drug opportunities. Approved in EU and marketed by Biomarin. Drug with breakthrough therapy and Orphan designation in US. There is currently no FDA approval drug to treat LEMS in US, this will make Catalyst Pharmaceuticals (CPRX) own the entire market in US. With the stock current market cap trading ~100M the stock can be easily double from here with a conservative estimate. Phase 3 data of Firdapse™ is set to release 3Q of '14, I would give 80%+ for successful trial.
The hidden gem of true valued in (CPRX) is their CP-115. Look at their pipeline: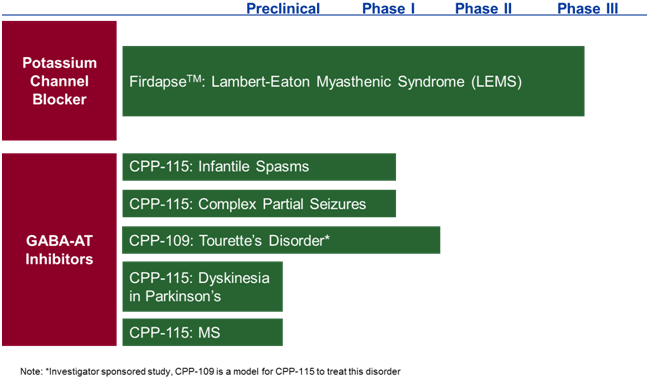 From The Life Sciences Report Interview with Michael Hay "In the orphan disease space, Catalyst Pharmaceutical Partners Inc. has a few programs in indications that are less crowded and do not have many successful treatment options. The first of those is Tourette's syndrome, for which Catalyst has a drug, CPP-109 (vigabatrin), in phase 2. Again, this is not a new molecular entity. Catalyst is exploring new uses for this product as a 'research surrogate,' and is expecting to see results by the end of this year in a small, 10-patient, phase 1/2 trial."
CPP-115-Infantile Spasm: $50-100MM market opportunity.
Affects 10,000-20,000 globally and 5,000-10,000 cases in US
Orphan drug indication in US & EU.
Leading therapies in US is Acthar(c) and Sabril(c); generated 125M in 2012
CPP-109-Tourette's disorder
From Central for Disease and Control Prevention (NASDAQ:CDC) study has found that every 3 of every 1,000 children 6 through 17 years of age and living in USA have been diagnosed with TS base on parent report
PI/II study ongoing at Mt. Sanai school of medicine
Top line result 1H 2014
This extra indication could increase market size in company valuation
Catalyst in 2014:
Announcement of full enrollment for Firdapse™ (can by anytime now)
1h 2014 top line results for Tourette's disorder study
3Q 2014 top line results from Firdapse™ Phase III clinical study
Partnership for CP-115
Insider buy and Institution ownership
Extensive insider buy since 2007
Recent bullish insider buy from CEO & Director from 1.84 to 2.03 range www.openinsider.com/search
Per NASDAQ (9/10) Ownership:There are 13 new positions equal to 2,767,348 shares. 16 Institutions increased their shares to 3,420,943 shares. While there are only 6 have decreased their positions of 1,068,357 shares. There are 3 have sold out for only 48,898 shares. Seem to me institutions are very bullish and adding shares.
Financial:
Cash and cash equivalents ~28M
Most recent offering in Sep-2013 with direct offering at 8.8M shares @ $1.72
Burning about $2.3 per quarter on R&D. Enough cash rest of the year so i don't anticipate another raise coming soon.
Conclusion:
With the stock current trading at $1.96 (very cheap) as of 1/28. Firdapse alone running into P3 data should double it. While their CP-115 add additonal valued to the company and can push this to $5+ by mid year of 2014. As always, please do extra research on company before you invest.
Price Target (NYSE:PT) $3-3.50 short term (1-3months). Long term $5+
Reason to be bearish:
HATERS!!!
Disclosure: I am long CPRX.
Additional disclosure: I wrote this article myself and expresses my own opinions. Im not receiving any compensation for it. I have no affiliate with any of the company mentioned above. Im not adviser and suggest you do extra due diligence before taking position. Small cap bio tech always present with great risk and reward.