XsunX CEO, Tom Djokovich, talks with host Sully Sullivan on the nationally syndicated Big Biz Media show about the immense opportunities developing in the global solar market, and how the Company's CIGSolar™ technology is focused at providing the market, and solar panel manufactures, a way to reduce costs.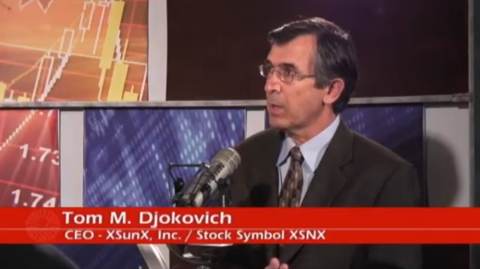 Click to See full Interview
More About Solar:
It may take a moment to wrap your brain around the potential for Solar. Some home-owners line roofs with Photovoltaic panels, others create solar powered race cars, but then there are those that see that Solar has an entirely new opportunity in today's cleantech movement. In a recent FastCompany article, Nina Mandell cited that some of the biggest names in the investing world are taking a large position in the industry.
"
Warren Buffet
is getting some more power. The billionaire investor's MidAmerican utility company is purchasing SunPower's Antelope Valley Solar Projects for somewhere between $2 and 2.5 billion, the companies announced this week
, according to Forbes.
"
SOURCE: FastCompany
But why solar?
In 2012, solar proved once again to be the fastest growing energy source in the U.S. The Solar Market Insight annual addition shows that as a nation, the country installed more than 3.3 GW of solar capacity, an increase of 76% over 2011. In terms of market size, at $11.5 billion, the solar market is 34 percent larger than it was in 2011 and SEIA points out that this figure doesn't include any of the trickle-down industries that also benefit from the increased growth in the solar market- LINK
Jobs are growing in the market as well. Another recent report from The Solar Foundation and the third annual National Solar Jobs Census report found that the U.S. solar industry currently employs 119,016 Americans. This figure represents the addition of 13,872 new solar workers and a 13.2% employment growth rate over the past 12 months. According to the Bureau of Labor Statistics, employment in the overall economy grew at a rate of 2.3% during the same period, signifying that 1 in 230 jobs created nationally over the last year were created in the solar industry.
So Where does XSNX Stand?
The XsunX CIGSolar™ Production Line enables its partners to upgrade existing infrastructure or establish new large-scale manufacturing capacity to produce low cost high performance 125mm square CIGS solar cells for use in a multitude of applications. XSNX does this by leveraging and adapting cross cutting technologies from its partners in the mature hard disk technology space and high-speed flex circuit printing technology sector to create a new breed of CIGS manufacturing technology that can be rapidly deployed to produce CIGSolar cells.
The potential impact of this technology, and its compelling economic advantage, enables XSNX to compete in regard to cost and efficiency by offering commercially viable replacements to existing incumbent poly-crystalline silicon technology, lowering the overall cost of PV energy. This rapid single cell processing approach provides the platform needed to bridge the gap between laboratory and production module efficiency by reducing composition variation and defects, while simultaneously achieving tighter process controls.
In a nutshell, XSNX has the ability to piggy-back off of existing PV systems, implement its CIGS technology, resulting in much lower costs to the end user and potentially higher margins for its distribution/manufacturing partners.