Today a national financial show, MoneyTV, featured CEO of XSunX, Inc. (OTCPK:XSNX) Tom Djokovich as a guest to discuss the latest developments for the company and the outlook on the solar market. During the interview, Mr. Djokovich stated that not only is XSNX looking to expand on licensing its solar solutions but it is also working on marketing ideas to distribute via radio and print toward a customer base of commercial and industrial installers. Moreover, he discussed opportunities in the Southern California region for the development of Solar Farms.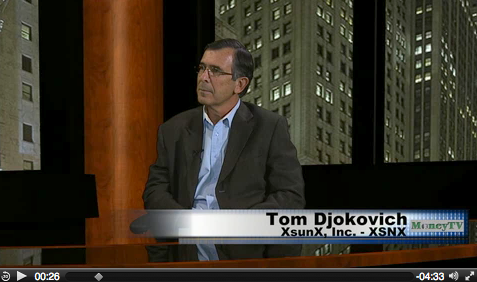 According the Mr. Djokovich, the importance of a burgeoning solar market is paramount to saving significantly on operational costs when it comes to the commercial space. Mr. Djokovich explained that the current annual growth rate for electricity (via power lines) is roughly 6% and based on the current landscape, power companies have potentially formed a monopoly of sorts when it comes to businesses and residents having access to power. In fact, a recent article from Bloomberg sited that these power companies sell $400 billion worth of electricity a year, mostly derived from burning fossil fuels in centralized stations and distributed over 2.7 million miles of power lines. But solar has been on the rise and sentiment in the mass media seems to be in favor of alternative sources of power.
Continuing with XSunX, Inc. the company has remained in a bull-trend as of recent. Now having moved more than 68% since lows it saw (0.0085) toward the end of October. This morning XSNX opened the day at .0095 and has already begun to make a push back above .01. I believe there have been a good amount of eyes shift toward the direction of "green energy" and especially solar power. If you read my last article on solar, you'll see how much this industry has grown over the last 12 months alone. XSNX is a long pick for me and despite a slight pull-back, I think the momentum may have started to shift for this solar Co warranting a much closer look well into 2014.
-SCR-