According to Solar Industry Mag, in the past 12 months, California more than doubled its entire rooftop solar installations from 1,000 MW to over 2,000 MW (it took California over 30 years to build the first 1,000 MW of rooftop solar). California is rallying off of a banner year with more than 2,000 MW of rooftop solar systems installed statewide.
The California Public Utilities Commission's (CPUC) latest figures report 1,917 MW of rooftop solar, but those numbers exclude basically all of Pacific Gas and Electric's 2013 installations, by far the largest market in the state, as well as a significant number of installations in other utility territories. Furthermore, the article sites that if California continues to grow its rooftop solar market at its 2013 pace, the state may very well top 5,000 MW in 2014 - far exceeding the goals of the Million Solar Roofs Initiative, which aimed to install 3,000 MW of rooftop solar by the end of 2016.
According to GTM Research, the U.S. installed 930 MW of PV in Q3 2013, up 20% over Q2 2013 and 35% over Q3 2012, which represents the second-largest quarter in the history of the U.S. market and the largest quarter ever for residential PV installations.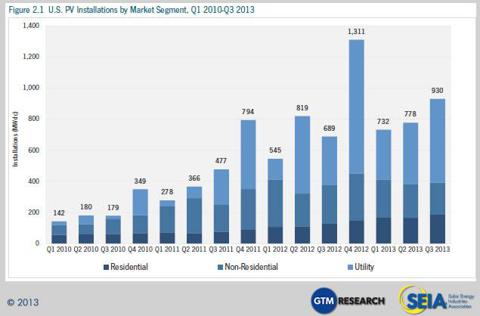 Furthermore, research also found that the market potential for small commercial installations is enormous, so this trend line may reflect strength in a market segment that could become vital to the non-residential market's recovery: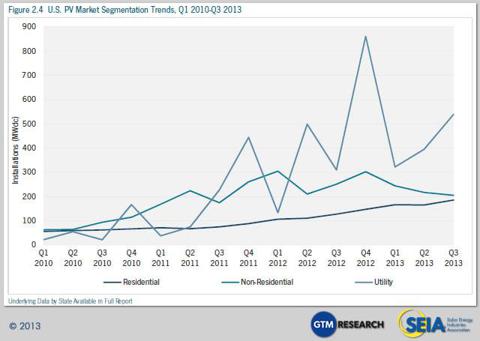 In all cases, it would appear that Solar is on the move heading into 2014. After coming off of a record year, the pace for solar installations may be at a fever pitch. Yesterday, a company that I've followed in the small cap space for quite some time, XSunX, Inc. (OTCPK:XSNX) , announced banner news of its own and with this latest trend in solar installation I feel that this company could be setting itself up for a record year.
The headline reads, "XsunX Ends 2013 with Sales Agreements, Cash Deposit, and System Lender Purchase Order". It seems more obvious after reading through the stats above that the company may be right on point to take advantage of a burgeoning segment of the solar installation industry. Over the past several months the company has been aggressively rolling out a marketing program to generate new commercial and industrial leads and so far the company has been pleased with the results.
While announcing sales agreements and receipt of contract payments is great news for long time shareholders, the real exciting news for us is that our marketing efforts are producing results. Despite the holidays we saw business and commercial property owners from Ventura to Los Angeles, and Riverside calling us for quotes. Yesterday (1/6/2014) alone we had 5 quote requests and one on-site customer visit.

Tom Djokovich, CEO, XSunX, Inc.
The company's goal in 2014 is to grow its commercial and industrial PV systems design and installation business to at least 1 MW of new system sales per month. Having reviewed the annual projections for the 2014 year, XSNX would only be a small fraction of that total installation number, however being a small cap company offers exponential revenue potential for the company compared to many of the much large solar companies.
Throughout the year, last year I covered the solar industry and its growth both in the small and large cap market segments. If 2013 is any indicator of 2014, the solar industry may be on pace to see the boom it's looked to for quite some time; a very exciting point in alternative energy history in my opinion and worth a closer look.