There's so much commotion regarding this latest "Green Rush" with marijuana stocks that many are forgetting about the rock solid commodities plays that the Longs have sworn by, time and time again. I've reported on alternative energy a lot during the past year and though I do love it for the growth opportunities, there has been rumblings regarding natural gas and energy. In fact, the US is on pace to become the largest producer of oil in the world by 2015 and right now I look once again at the small caps for real growth potential within the space.
New Western Energy Corp. (OTCBB: NWTR) is involved in the acquisition, exploration, development and production of oil and gas from properties in the United States. This company has conducted 8 successful acquisitions since 2009 and continues to increase production revenue to expand their lease portfolio, generating more attention. The company owns the rights to drill on a significant number of properties in Texas, Oklahoma and Kansas. According to the company, its potential reserves exceed 20 million barrels of oil and as of December 31, 2012 and acreage under lease was over 6,000 on which there were 195 wells.
At the beginning of January this year (2014) New Western Energy announced that it had entered into a non-binding letter of intent to acquire Legend Oil and Gas, Ltd (OTCBB: LOGL). According to Javan Khazali, President of New Western Energy, "The strategic acquisition of Legend Oil not only increases our holdings in Kansas but also allows us to diversify our geographic portfolio outside of the U.S. and into the diverse energy region of Western Canada. From an operating strategy point of view, we will immediately accelerate revenue growth through our combined production rate while having opportunities to aggressively develop oil & gas properties in historically proven zones in the near term…We expect this value creation to reflect on our strong post - transaction balance sheet with substantial increase in pro forma liquidity that will further enable us to continue organic growth and fund future acquisitions."
"The acquisition of Legend Oil by New Western creates a combined entity which substantially benefits the shareholders of both companies. The significant access to capital by New Western led by its President and CEO; Javan Khazali and the production assets and technical strengths of the Legend management team will create a larger production and revenue base as well as enhancing the management of the combined entities. We are excited about the potential for growth this business combination will afford in 2014 and beyond," said Marshall Diamond-Goldberg President/CEO of Legend Oil and Gas Ltd.
Production potential from Legend Oil:
Canada
Legend Oil's Canadian assets are managed through a wholly owned subsidiary, Legend Energy Canada Ltd. ("LECL"). LECL's assets consist of a total of 8 oil and gas properties of which all are in production at a combined rate of approximately 117 BOE/d (barrels of oil equivalent per day). The properties contain a mix of oil and natural gas liquid production, and gas production with significant low risk development potential as identified. The properties are located in the Provinces of Alberta and British Columbia.
United States
Piqua - The Piqua Project is an oil producing property located in Woodson County, Kansas consisting of 1,040 acres of net mineral leases. Piqua produces an average of 18 BOPD from 44 active wells. Drilling on the largely undeveloped Pat Collins lease is ongoing with the initial wells averaging almost 2 BOPD IP rate (initial production rate).
McCune - In November of 2013, Legend Oil successfully closed the acquisition of the McCune property located in Crawford County, Kansas. The property contains seven mineral leases producing an average of 7-8 BOPD. The asset was acquired for $350,000 of which the cash component was $250,000 with a further $100,000 in Legend equity for an average acquisition price of less than $50,000 per production barrel. Additional development locations have been identified and a drilling program will commence in early 2014 on this acquisition.
In addition to this latest Acquisition target, New Western has just come off a banner year in 2013. Not only has NWTR completed significant infrastructure work on ten leases across 1,750 acres with 125 wells and 10 disposal wells in Oklahoma during August, but additional pay zones on existing gas wells in the Fredonia Prospect in southeastern Kansas were also opened. Moreover, New Western had completed 2 private placements for gross proceeds of approximately $2.7 million, which will allow the company to further expand its drilling program.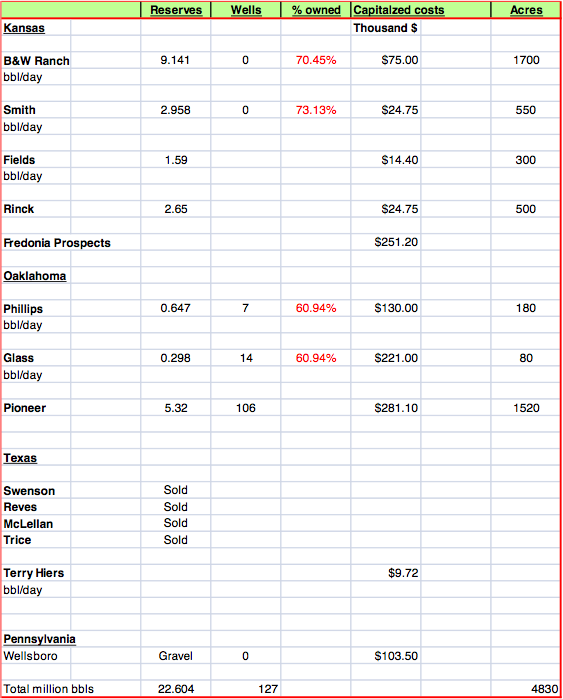 Valuation:
One method of valuing oil and gas companies is the ratio of market capitalization to proven reserves. Zacks Investment Research had chosen to value New Western Energy at the median value $6.0 per barrel of oil equivalent. Given an estimated reserve of 20.2 million barrels of oil this implies a market capitalization of $125 million, which we have rounded up to $2.00 a share (at the current PPS, this is roughly 10.5 times higher based on this valuation).
Note that his valuation was made prior to the announcement that NWTR would be set to acquire 100% interest in Legend. According to the company, for the nine-months ended September 30, 2013, Legend reported total production of 163 barrels of oil equivalent per day. So I'm sure New Western has positioned the company to realize an even higher valuation after the acquisition has been finalized.
Low Risk, High Reward for New Western Energy
News of the latest LOI for Legend could pose many benefits for the company in the coming months. Not only does it increase NWTR's lease holdings in Kansas but it also expands the company's portfolio into Canada. Legend Oil and Gas' property located in Woodson County, Kansas is a 1,040-acre property producing approximately 12 barrels of oil per day (BOPD) from 33 active oil and water injection wells. During August 2011 and November 2011, the Company drilled 6 wells and re-completed one well, doubling average production to 12.2 BOPD. The 2011 year-end Engineering Review showed an increase in reserves to 97,461 barrels with a Net Present Value discounted at 10% of $2,623,448. A 100% drilling success rate led to the planning of a 20 well follow-up program for 2012.
While this project helps expand the reach further into Kansas, NWTR now has the capacity to procure oil and gas from 4 properties currently producing nearly 200BOE/d. The properties contain a mix of 37% oil and natural gas liquid production, and 63% gas production. The bulk of the properties are located in the Province of Alberta, however, almost 41% of the total sales are taken from the Province of British Columbia, located directly west of Alberta. Total Canadian production is contained within 9 production entities of which 82% of the total is contained within the Berwyn, Medicine River and Wildmere properties in Alberta and Clarke Lake in British Columbia.
Click Here for the full profile on all 4 properties in Legend's Canadian portfolio
Conclusion
New Western Energy is a micro-cap company and investing in such a company does carry its own risk. However, I think that as long as the management team continues to successfully identify new acquisitions while mitigating risk through its oil recovery strategy, there's reason to believe that NWTR could be a powerhouse producer as the United States oil and gas market continues to grow. Additionally, the Legend Oil and Gas acquisition has opened new doors for the company to continue to capitalize on new opportunities outside of the US. Finally, the analysis that's already been conducted on the company, including that of Zacks Research, leads me to believe that it has generated enough growth potential to be looked at as a viable oil and gas company despite its micro-cap price point.