As tensions continue to build in Iraq surrounding the latest scares and terrorist actions in addition to the recent Russian decision last week to cut off natural gas shipments to Ukraine, lawmakers on Capitol Hill are considering legislation to speed approval of U.S. natural gas exports.
According to the Washington Post, America's dependence on foreign petroleum was never due to a lack of oil and natural gas deposits; it arose because the United States lacked the political willpower to find and produce them on federal lands, and did not have the technology to develop them in state and private areas.
The advent of directional drilling and hydraulic fracturing changed that dramatically. The technologies made the United States the world's largest producer of natural gas and greatly increased domestic oil production. By enabling us to extract energy from vast shale formations, they put the nation well on its way to again being a global energy powerhouse.
Of course when discussions arise concerning fracking, environmentalists are up in arms about the effect it has on the surround lands. One company I've followed over the weeks is a small cap PubCo, OriginOil, Inc (OOIL) that has been receiving added attention for its unique "Clean Frack" technology, which not only recycles frack water at an increased rate but is capable of doing so at a removal rate exceeding 99%.
The EPA estimates 70 to 140 billion gallons of water were used in 2011 alone in hydraulic fracturing wells. Technology providers now offer solutions to promote on site recycling. BCC Research reports the market for equipment to treat wastewater from fracking operations and conventional wells is predicted to grow 9 percent by 2018.
"Since the industry as a whole is striving to reuse 95-98% of frack water, we believe treatment using membranes will play a big role in achieving that goal,"

-Bill Charneski-

General Manager of OriginOil's Houston-based Petro Division
Since hitting its 2014 low during the second week of June, OriginOil has been rallying strong. Not only has it seen highs of $0.225 but also the stock continues to form a higher support level. Last week OOIL saw a bit of a pull-back from these highs to close the Friday session at $0.1925 and after watching this trade throughout the day, it has become more evident that this could be another rebound situation beginning to form, following some profit taking from earlier highs.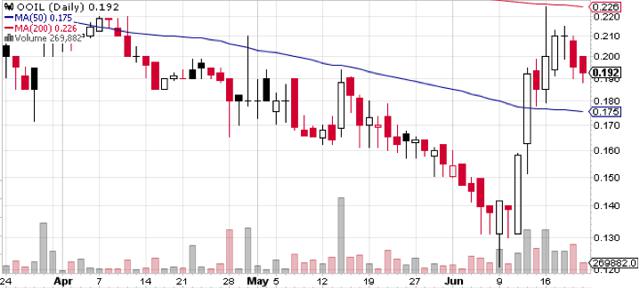 CEO Riggs Eckelberry was recently featured on an episode of The Big Biz Show where he expressed how OOIL has begun to really expand its technology in order to set itself apart from the competition. Mr. Eckelberry states that OOIL's technology is "perfect for this fracking boom." He continues to explain that OriginOil's extraction process not only recycles the water but it doesn't leave "gray water"; OOIL's technology leaves behind clean, reusable water for continued consumption throughout the fracking process.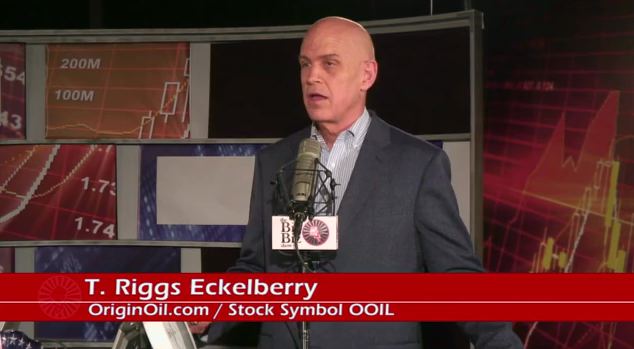 In the company's most recent shareholder newsletter, management cites that the latest developments from Iraq not coming online as second largest reserve holder in the world where the battle that's going on over the second largest refinery has posed an incredible problem. This has caused a massive spike in the price of WTI crude. As a result the industry is now looking at a fracking overload - Mega Fracking.
OOIL's filtration process results in such a clean method that the company makes membranes work "for the first time in the oil industry"; the company proved this in its Delta, CO demonstration. Mr. Eckelberry states that the company has a two-part solution to capitalize on this boom, which includes a licensing option in addition to its more immediate, CLEAN FRAC product line allowing more flexibility for clients to achieve a specific quality needed for certain purity levels. The result is the operators now spend less on water simply because its recycled versus being wasted.
The EPA estimates that around 35,000 wells are fracked every year in the United States. While fracking technology promises to unleash an abundant supply of inexpensive natural gas to power the modern world, water is quickly becoming serious limiting factor. According to the U.S. Department of Energy, an average of 3 barrels of contaminated water is generated for each 1 barrel of oil produced. In the United States, the average is 7 barrels of water. Greentech Media reports "energy companies pay between $3 - $12 to dispose of each barrel of produced water, implying a potential world market value between $300 billion and $1 trillion per year."
The graphic below shows the number of fracked wells per state since 2005. Of the states with the most fracked wells, Texas leads at 33,753 followed by Colorado with 18,168 wells, Pennsylvania with 6,651, and North Dakota having 5,166. It's quite evident that several large states (Alaska for example) are virtually untapped, which could open an entirely new opportunity to increase national reserves.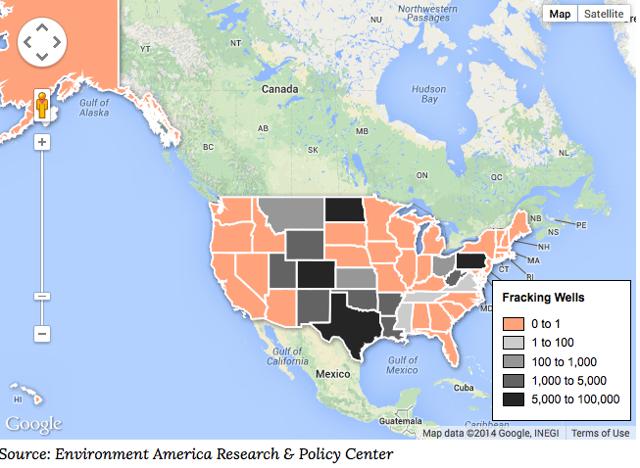 According to Environment America, in 2012 alone fracking wells nationwide produced an estimated 280 billion gallons of wastewater. Discharge of fracking wastewater into rivers can pollute drinking water supplies. For example, after water treatment plants discharged fracking wastewater into the Monongahela River, local authorities issued a drinking water advisory to 350,000 people in the area. More importantly for areas of water scarcity, unlike most industrial uses of water which return water to the water cycle for further use, current conditions find fracking convert clean water into toxic wastewater, much of which must then be permanently disposed of, taking billions of gallons out of the water supply annually. Though it's no secret that the US has been working to lessen its dependence on foreign reserves, OOIL is now placed at the forefront of solving a major problem within the industry.
With the "Summer of Frack" in full swing, OOIL has piqued the interest of the market and as price continues to climb, volume continues to increase, and attention builds around OOIL's technology, I believe this to be a company to watch closely into the coming week and throughout the summer months.