Yesterday OriginOil, Inc (OOIL) announced continued success from demonstrations of its CLEAN FRAC technology. Not only does it boast an incredible ability to remediate dirty frac water but it can also do so at extremely superior energy usage rates.
In yesterday's announcement, the company found even more favorable demonstration results from third party testing company, Lizard Analytical Laboratories. Results of the study can be found HERE. Of note, the CLEAN FRAC system was able to remove:
99.5% Turbidity
90.3% Suspended Solids
90.5% Oil & Grease
"We are now scheduling multiple customer site trials and intend to continue to publish performance results and case studies from these test sites.," stated Lee Portillo, VP of Engineering for OriginOil.
Bill Charneski, President of OriginOil's Oil & Gas Division explained that many of Origin's potential customers have been asking for these third party results which the company now has available. The expectation now is that these results will accelerate Origin's sales process which, in my opinion is the obvious next step after posting such positive results over the last few months from several third party testing facilities.
When it comes to energy efficiency, OriginOil, Inc.'s (OOIL) EWS technology has shown to be 60% more energy efficient than that of Halliburton, a big name in the clean frac water industry. BCC Research reports the market for equipment to treat wastewater from fracking operations and conventional wells is predicted to grow 9% by 2018...So let's get to the numbers: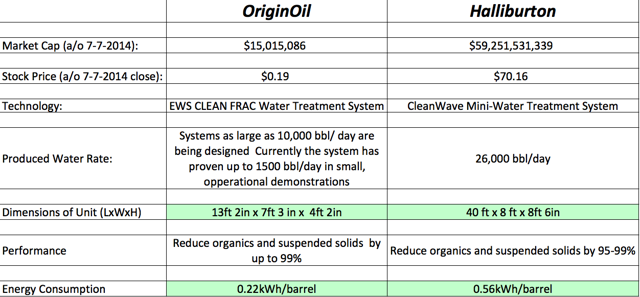 Even though Halliburton (NYSE:HAL) is a much larger company with a multi-billion dollar market cap and a share price nearly 370 times higher than OOIL, it's the developmental nature of OriginOil that supports what I'm about to state next:
Not only is OOIL's system half the size of HAL's but pound for pound or should I say barrel for barrel, the EWS CLEAN FRAC technology buries the competition's energy efficiency by more than 60% with everything else remaining constant. These numbers aren't something to bat and eye at either. The EWS technology both saves money through cleaning frac water flowback and it also curbs energy usage on project sites by more than half that of the major market players.
The Wall St. Journal cites that companies are racing to find ways to recycle the water used in hydraulic fracturing, chasing an emerging market that could be worth billions of dollars. It takes between 70 billion to 140 billion gallons of water to frack 35,000 wells a year. This is the industry's current pace, according to a 2011 report by the Environmental Protection Agency. But the costs of actually providing the original water and disposing of the dirty water could actually be in the 6 figure range as one Oklahoma City-based oil driller, Continental Resources Inc. demonstrates.
In my opinion, OriginOil is quickly becoming a market leader not only for its waste water cleaning technology but also for its ability to achieve a higher cost savings above its competition. This should be a company to pay close attention to because based on consistent and positive demonstration results, sales could be right around the corner.
Contributor's Note: This article covers a stock trading at less than $1 per share and/or with less than a $100 million market cap. Please be aware of the risks associated with these stocks.