The Census Bureau of the Department of Commerce recently announced that the estimate of U.S. retail e-commerce sales for the second quarter of 2014 (adjusted for seasonal variation, but not for price changes) was $75.0 billion. This marked an increase of 4.9% from the first quarter of 2014 and E-commerce sales in the second quarter of 2014 accounted for 6.4 percent of the overall total retail sales. Meanwhile, this number continues to grow quarter over quarter as the world relies more on digital media and virtual shopping as compared to traditional brick & mortar establishments.
(click to enlarge)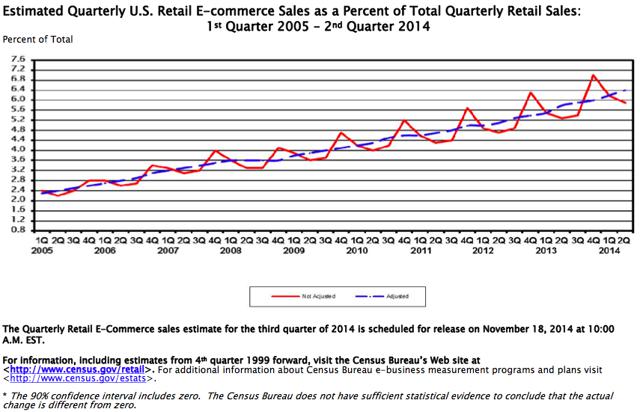 Click to enlarge
The Power of Magento
This having been said, there are hundreds of ways that retailers can take advantage of this and one of the most popular as well as effective options is actually selling through a 3rd party "store operator". Yes that's correct, instead of building an online retail outlet from the ground up, businesses can employ the framework of a "storefront" through tech companies that hold a business in designing an e-commerce portal. One such provider is Magento, an e-commerce solutions provider, which is owned by Ebay, Inc (NASDAQ:EBAY).
The latest 2014 IR Top 500 Guide has been released and Magento has overtaken Demandware to join Oracle (NASDAQ:ORCL) and IBM (NYSE:IBM) as the top three providers to the top 500 internet retailers in the US and Canada. Magento has 34 merchants on the latest edition of the IR Top 500 list, doubling the number of merchants from the 2013 list. Magento clients include marquee brands like COACH and fast-growing brands and retailers like Alex and Ani, Zumiez, and Signature Hardware. The key for business owners is to find the best way to connect a growing company like Magento to an actual e-commerce storefront. Therefore a keen and effective SaaS (software-as-a-service) company is crucial for implementation.
Warp9, Inc. & Managed SaaS for Medium Enterprise Solutions
By offering fully managed SaaS web and mobile e-commerce technology, Warp 9 (WNYN) allows customers to focus on their core online businesses, rather than on technical implementations. July marked the official launch of WarpMobile Magento, an affordable and scalable mobile solution for Magento's 240,000 e-commerce websites. Warp9 has a wealth of experience having started in 1998 during the early stages of the Internet boom. Over the course of the last 16 years, the company has established customer relationships with the likes of companies like Upper Deck (Trading cards), Berkley Aviation, Big Dog Sportswear, California Wine Club, Champion Design Group, Commission Junction, Duck (tape & adhesives), Home Depot Fondation, and even Panasonic to name a few.
In 2011, Warp 9 became the very first Moovweb (www.moovweb.com) independent development partner and built the m.sundancecatalog.com mobile site (http://www.mobilecommercedaily.com/sundance-catalog-mcommerce-site-to-address-growing-mobile-traffic) Since building that site, Warp 9 became the largest Moovweb development partner, building and maintaining the mobile sites for companies such as Macys, Bloomingdales, Belk, Under Armour, Movado, Kay Jewelers, Jared Jewelers, John Deere, and Vitacost. The 3 years of experience working with these world-class brands and their mobile sites gave Warp 9 a wealth of mobile experience and expertise.
The Search for a Market Leader
Currently, within the Magento developer ecosystem, there are 260 developer integrators like Warp 9 on the Magento platform but there isn't a clear leader in mobile commerce. Many development companies build mobile sites, but they almost always build the mobile site at the same time as building a new desktop site.
What that means is that for most retailers/merchants, they have to spend the time and money re-building their WHOLE desktop site in order to go mobile. This is extremely expensive, and most medium sized companies just can't do that. According to Warp9's research, 85-90% of all Magento sites don't have a mobile site. As long as they have to re-build their whole desktop site to get mobile, that number won't decrease any time soon. Warp 9 has built 3 products that will eliminate the need to re-build their desktop site, and will give them a powerful mobile site for a fraction of the cost all while cutting down on the time it usually takes to do so.
This having been said, it would appear that the goal of Warp9 is to become the largest and best mobile commerce development company on the Magento platform. When opening a desktop website during the early boom, the first movers on back end designed benefited greatly from their foresight. Now that Mobile has quickly gained more interest, Warp9 has identified the need and is diligently working to control the most market share.
Is Mobile Really that Big of a Deal?
According to a recent report by Goldman Sachs, there will be as much mobile commerce in 2018 as e-commerce in 2013. Increasing smartphone adoption and the rise of mobile commerce is changing the way people research and buy. A recent Google study in partnership with Nielsen revealed that smartphone users spend as much as 15+ hours a week researching products on their phones. More importantly, in 2013, US M-Commerce sales grew by an eye popping 63% to $34.2Billion. Meanwhile growth in mobile commerce shows a rise in purchases to $61B for tablet users and $25B attributed to smartphone and other mobile devices by 2016. Oh and don't forget the fact that on Black Friday last year, traffic from mobile accounted for 40% of total online shopping visits! Yet, many brands fail to realize the potential of mobile and are only focused on improving their e-commerce store.
These facts obviously support a dynamic shift in how consumers purchase products and even though there are those who do see the necessity for a mobile outlet, there are thousands of online retailers who are still skeptical. For this exact reason, the opportunity for Warp9 to emerge becomes increasingly larger especially during these early stages in the development of this new marketplace.
Warp 9's Warp Speed: A look into the Operations
Of course with any public company…especially those in the OTC, the true tale of the tape comes in the form of SEC Filings. A look at the company's most recent quarterly filing shows some great numbers. Even though the company posted slightly lower revenue numbers, it did show a more streamlined operation. For the 3 months ended March 31, WNYN saw an increase in gross margins from 80% to 84% compared to the same period last year.
In a recent interview on MoneyTV, company CEO Andrew Van Noy discussed how Warp9 is moving toward the mobile trend and has been received very well by its customers. Also, he eluded to the notion that there are currently no Magento partners really focused on mobile and due to the quick turnaround of its "express package", a client can open a mobile site in a week if not sooner. Mr. Van Noy stated that this is a "game changer" for m-commerce.
According to the company's most recent press release, Warp 9 anticipates offering multi-tiered solutions providing affordable and efficient m-commerce solutions for small businesses, as well as powerful and robust platforms intended for enterprise level organizations such as Fortune 500 companies. The offerings; Express, Pro, and Enterprise, all provide the features and customization needed for mobile transactions without affecting server side business logic, allowing businesses of all sizes to focus on generating sales and increasing revenue.
MobileCommerce Insider authored an article detailing Warp 9's launch of the mobile commerce solutions group to address the growing needs of its customer base, expanding its use of Magento platform technology.
Based on the untapped resource of the Magento network, Warp9 looks like a viable candidate to not only gain market share through early adoption within this niche but could also position itself to become the market leader for Magento Mobile products.