In golf, one of the most embarrassing things that can happen is to whiff, or completely miss the ball when swinging. In Oracle's (NASDAQ:ORCL) Q3 earnings call held on March, 20, 2013, the company whiffed on earnings, as the total revenue reported of $9 billion was flat as compared to Q3 of the prior year. Safra Catz, President and CFO, indicated the whiff was a result of poor sales execution due to a large number of new sales representatives. In the question and answer portion of the call, Larry Ellison, CEO, and Mark Hurd, President, both indicated they did not think the whiff was due to macroeconomic issues. There was some discussion as to the fiscal cliff causing some deals being postponed for North America, but not enough to justify the poor results. Additionally, there was some discussion as to product transitions potentially attributing to the poor results.
New software license revenue was $2.3 billion which was flat year-over-year, cloud revenue was $238 million which was -1% year-over-year. The one bright spot -- software license update and product support had revenue of $4.3 billion which represented an increase of 8% year-over-year. The revenue for software license update and product support represented almost half of the Oracle's total revenue, while nice this is not good, because this segment is basically relying on past performance and is not a good indicator for future results.
Even with the poor results, Oracle had some major wins such as Travelocity, Walt Disney World (NYSE:DIS), Kaiser Foundation, Office Depot (NYSE:ODP), CGI Group (NYSE:GIB), Southwest Airlines (NYSE:LUV), Dow Chemical (NYSE:DOW), Union Bank, Renault, National Instruments (NASDAQ:NATI) and Lender Processing Services (NYSE:LPS).
Mr. Ellison claimed the company's new SPARC T5 microprocessor is the world's fastest. Additionally, Mr. Ellison thinks the company will once again see good performance in Q1, after completing the transition to new products in the pipeline.
In a previous article (which I accidentally deleted), it was conjectured that Oracle would report good results and a long straddle was offered as a stock option strategy to consider. Just the opposite situation occurred, but the long straddle can generate a profit if a stock price moves significantly up or down and Oracle's stock price has taken a big haircut as shown below: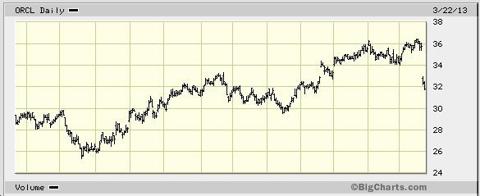 The long straddle position posted in the previous article is now showing a positive profit of about 115%. Oracle's outlook still looks positive with its promising Cloud offering, so with the haircut, this could be a good time to enter a long position for the company. A position worth of consideration is the married put, as it provide for unlimited upside with limited downside. The position profits with an increase in stock price, but doesn't lose much if the stock price takes a hit. The married put position can be entered by purchasing a long put against a long position in the stock.
Using PowerOptions, a number of married put positions were found for Oracle for September option expiration as shown below: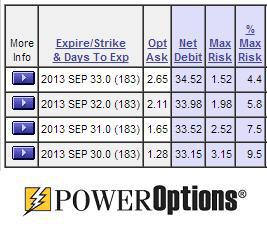 The married put position using the 2013 September 32 strike price look attractive with a maximum potential loss of 5.8%. However, when considering expected dividend payments during the holding time, the maximum potential loss is reduced to 4.8%. The details for entering the Oracle married put position are shown below:
Oracle Married Put Position:
Buy ORCL (existing or purchased)
Buy 2013 Sep 32 put at $2.11
A profit/loss graph for one contract of the Oracle married put position is shown below: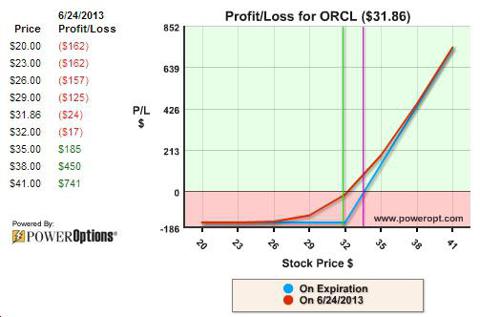 For an increasing stock price, the value of the married put also increases. For a stock price falling below the $32 strike price of the put option, the value of the married put position remains unchanged. And, if the price of the stock increases to above the $32 strike price of the put option, then income methods can be applied in order to receive income and reduce risk as taught by RadioActiveTrading.com.
Look forward to hearing your comments below!
Disclosure: I have no positions in any stocks mentioned, and no plans to initiate any positions within the next 72 hours.