(This is a repost of an article which was posted on 3/15/2013 and was accidentally deleted, the position in the article made a profit of over 100%)
Oracle (NASDAQ:ORCL) reported in its Q2 2013 earnings call held on December 18, 2012 that its could-related business segment is doing very well with quarterly revenue of $230 million. Mark V. Hurd, President and Director, reported wins for the company's cloud products which included Abercrombie & Fitch (NYSE:ANF), Expedia (NASDAQ:EXPE), Macy's (NYSE:M), T. Rowe Price (NASDAQ:TROW), United Continental Holdings (UAUA), U.S. Bancorp (NYSE:USB), Whirlpool (NYSE:WHR) and Xerox (NYSE:XRX). Mr. Hurd further noted product wins for its Exalogic Elastic Cloud software with Chevron (NYSE:CVX), Vodafone (NASDAQ:VOD) and Wal-Mart (NYSE:WMT).
For its software license and cloud related segment, Oracle reported broad-based strength and balance with double-digit growth in all of its regions. Year-over-year quarterly revenues for software licenses and cloud related products for the Americas were up 22%, Asia Pacific up 13% and Europe/Middle East up 12%. Lawrence J. Ellison, CEO, Co-Founder and Director, noted the company's Java business is booming with growth of over 34% for the quarter. Mr. Ellison further commented that the acquisition Sun Microsystems was the most strategic and profitable acquisition that Oracle had ever performed. On a negative note, Quarterly hardware revenues came in at $734 million which represents negative growth of -23%. Mr. Ellison further noted that the company is almost complete with downsizing in its hardware product segment and plans to start growth its hardware business in the near future.
Oracle reported total revenue for the quarter of $9.1 billion which represents growth of 5% year-over-year.
For the company's Engineered Systems product offering, Mr. Hurd noted product wins at China Mobile (NYSE:CHL), Facebook (NASDAQ:FB), Samsung and Time Warner Cable (TWC) and also indicated the company plans to double the Engineered Systems business. Mr. Hurd further noted product wins for its Business Intelligence product Exalytics with Activision (NASDAQ:ATVI), City of Chicago, Deloitte & Touche and WellPoint (WLP).
Although Oracle's Price-to-Sales (P/S) ratio of 5 looks expensive, its Price-to-Earnings ratio of 17 looks fair considering the company's prospects for high growth. Oracle's stock price has shown fairly steady price appreciation over the last nine months as shown below: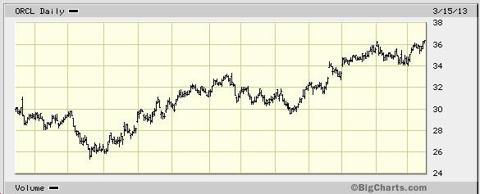 With Oracle set to release is third quarter results on Wednesday March 20, 2013 and with the company's prior excellent software/cloud-related performance, the company could report better than expected results. Due to this, a long straddle stock option position is considered for the company. A long straddle returns a profit if a stock price increases or decrease significantly. However, the position experiences a loss, and a potentially a large loss, if the stock price remains stagnant, therefore the long straddle should only be used with "Vegas" capital. The long straddle can be entered by purchasing a long put and a long call option with the same strike price and the same month of expiration.
Using PowerOptions, a couple of long straddle positions for April 2013 expiration were found as shown below: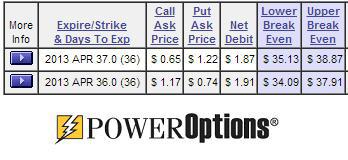 Since a positive earnings surprise is expected for Oracle, the long straddle using the $36 strike price is selected, as it has the lower break-even price of $37.91. The details for entering the selected long straddle for Oracle are shown below:
Oracle Long Straddle Position:
Buy ORCL 2013 Apr 36 Put at $0.74
Buy ORCL 2013 Apr 36 Call at $1.17
A profit/loss graph for one contract of the Oracle long straddle position is shown below: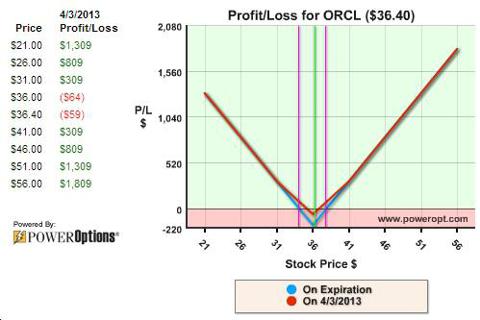 For a stock price below $34.09 or above $37.91, the position is profitable and for a price between $34.09/$37.91 the position results in a loss.
Look forward to hearing your comments below!
Disclosure: I have no positions in any stocks mentioned, and no plans to initiate any positions within the next 72 hours.