As Apple (NASDAQ:AAPL) goes, so goes Cirrus Logic (NASDAQ:CRUS). Sales to Apple represented 62% of sales for Cirrus as of the 12 months ending March 31, 2012. Yet, Cirrus's fortunes relying primarily on the performance of Apple may be changing with Cirrus jumping into the LED lighting segment. Cirrus is marketing a semiconductor device claiming to havenear 100% compatibility with existing light dimmers.
Customer's purchasing LED light bulbs at The Home Depot (NYSE:HD) or Lowe's (NYSE:LOW), not having Cirrus's technology, may be disappointed with the experience, as delay, flicker and other assorted misfires may be realized as shown by this video. However, customers purchasing LED light bulbs containing Cirrus's controller may be pleasantly surprised with the results, as the company's products enable LED light bulbs to operate in a similar manner as traditional incandescent light bulbs.
Cirrus Logic develops mixed-signal semiconductor device for the audio and energy related market segments. The company has been working with a Tier 1 light bulb company and has been shipping its LED controller in volume to the tune of 0.5 million units as noted in Cirrus'sQ4 2012 earnings call held on April 25, 2012.
Cirrus's stock price has gone ballistic over the last six months as shown below: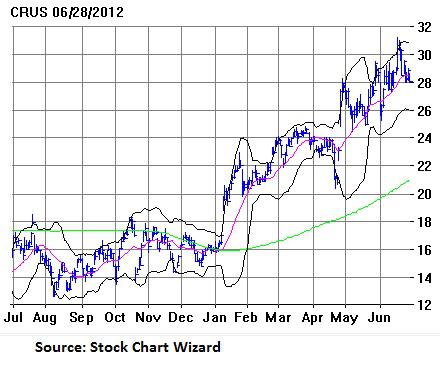 The stock price of Cirrus's largest customer, Apple, has also been ballistic over the last six months as shown below: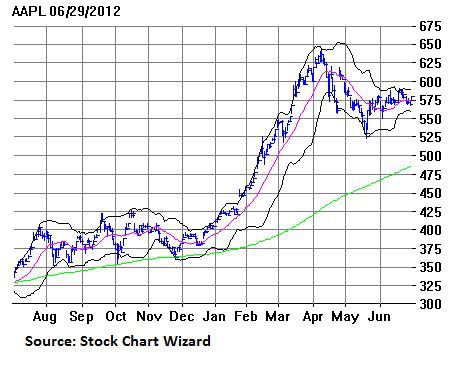 However, Apple's stock price has retreated over the last couple of months, but Cirrus's stock price has kept on trucking, which is probably a result of the Cirrus Logic's entry into the LED lighting business.
Cirrus's stock recently popped up as the highest returning protected covered call or collar as shown below: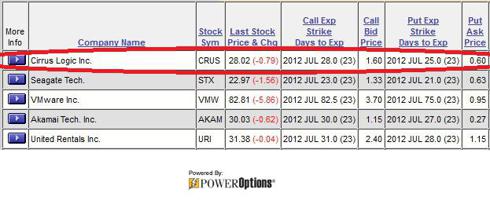 Following behind Cirrus for highest returning protected covered call were digital storage company Seagate Technology (NASDAQ:STX), virtualization company VMware (NYSE:VMW), content delivery company Akamai Technologies (NASDAQ:AKAM) discussed here and rental company United Rentals (NYSE:URI) discussed in this article.
A protected covered call may be entered by selling a call option against a purchased or existing stock and using some of the proceeds from selling the call option to purchase a protective put option.
The highest returning positions as shown above were found by selecting to search and sort by the highest returning positions. Stock prices for companies in an up trend were found by selecting to include companies with a 100-day moving average greater than the 200-day moving average. The 8% maximum loss parameter was selected, as a loss of 8% or less can typically be recovered fairly quickly using income generating investment methods.
The protected covered call for Cirrus exhibited above has a potential return of 3.6% (52% annualized) with a maximum potential loss of 7.5%, so even if the price of the stock drops to zero, the maximum loss which can be sustained is 7.5% (at expiration).
With Cirrus Logic's fortunes currently tied to Apple and an earnings release fast approaching, an investor in Cirrus might consider entering a protected covered call in order to position for a potential return, yet protect against a large drop in price. At the drop of a hat, Apple could drop Cirrus Logic as a supplier and Cirrus's stock price would most likely fall off of a cliff, and the protective put option of the protective covered call would protect a Cirrus investment against a large loss. Cirrus also has a number of competitors feverishly working to sell products in its market segments. Some of Cirrus's competitors include Analog Devices (NYSE:ADI), Freescale Semiconductor Holdings (NYSE:FSL), Integrated Device Technology (NASDAQ:IDTI), Linear Technology (NASDAQ:LLTC), Maxim Integrated Products (NASDAQ:MXIM), Texas Instruments (NYSE:TXN) and STMicroelectronics (NYSE:STM).
The specific call to sell for the protected covered call listed in the table above is the 2012 Jul 28 at $1.60 and the put option to purchase is the 2012 Jul 25 at $0.60. A profit/loss graph for one contract of the Cirrus protected covered call is shown below: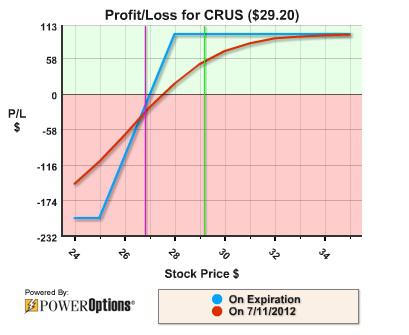 For a stock price below the $25 strike price of the put option, the value of the protected covered call remains unchanged. If the price of the stock increases to around $35, the position can most likely be rolled in order to realize additional potential return.
Disclosure: I have no positions in any stocks mentioned, and no plans to initiate any positions within the next 72 hours.