Are Hackney's streets lined with gold?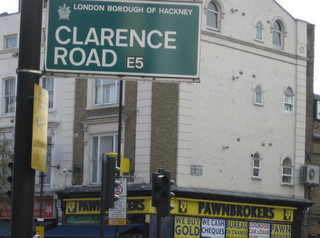 Three new 'cash for gold'/pawnbrokers have opened up next to the Pembury Estate in Hackney since the riots in the borough last year. This means there are now seven stores offering to buy and sell gold on Hackney Central's high street the Narroway.
The newest players in this gold rush are TGS Pawnbroker (pictured above) which looks up Clarence Road, the scene of pitched battles with the police in August last year.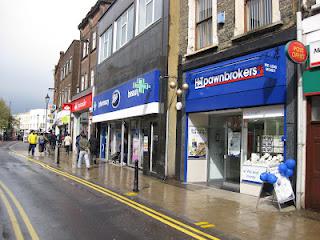 Another is H&T Pawnbrokers which, according to its store locator, now has five stores in Hackney.
Albemarle & Bond which also has a store in Dalston opened its doors on the Narroway in the autumn last year.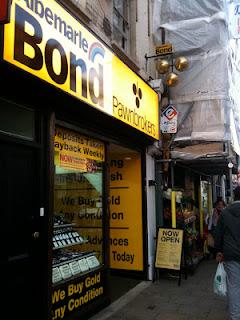 The amount of business these stores do isn't chicken feed. In the riots last year an Albemarle and Bond outlet in Croydon was burnt down with a £4 million gold stash locked in its safe (story from the Financial Times and Croydon Guardian).
The question is whether these businesses are providing a genuine service or exploiting people who are on the breadline.
There is no mystery about who these firms target.
In February 2012 the Observer quoted quoted Barry Stevenson, the chief executive of Albemarle & Bond who said: "We estimated some years ago there were 10 million people who didn't have access to cash or savings; only about half that number have bank accounts - but no overdraft facilities. That's the market we are chasing."
There is no mystery about the fact that they make money
The success of pawnshops H&T (annual report from March 2012) and Albemarle & Bond (half yearly report from Feb 2012) are no secret as publicly listed companies with shares trading on the Alternative Investment Market.
Pawnbrokers do provide a service that people want. All the people I spoke to in those pawnbrokers were nice enough. In general UK pawnbrokers will expect to charge an 8% monthly interest rate on loans that are backed by gold. Over a year the compounded interest rate for a loan like this would come to 150%. If this is not met or the initial lump sum cannot be repaid the borrower forfeits whatever item they used as collateral.
It is a business model gives high returns for relatively low risks.
There is no mystery that the deal is not a good one
A Which? investigation of online cash for gold firms said that jewellers and pawnshops on the high street tend to offer better deals than the online versions (although there was quite a lot of variation just on the Narroway itself).
But despite being better than online versions, in 2010 a Which? comment piece was still damning: "Overall, I think there's no escaping the fact that both pawnbrokers and payday lenders charge way over the odds for credit. In my opinion, it's best to avoid both. Don't forget, you could consider approaching your local credit union if you're in need of a loan and can't get it from your bank." (Hackney Credit Union shut down in 2010 but services are now available via the London Community Credit Union)
The mystery is why it hasn't got any better
When the profits are so high and the risks are so low why aren't better rates being offered by new entrants? At the moment no one appears to be undercutting the high street. As the 2010 investigation by Which? suggested, the online versions of cash for gold are even worse - not the usual source of cheaper more innovative business models.
I used to write a bit about the gold market and I try to keep up via a blog I write called Gold ETF Investor. In October last year I looked at the local Hackney gold market and there appeared to be interesting anomalies in East London.
For example, there are a lot of Asian Muslims in East London and across the UK - many of them with significant amounts of wedding gold. But none of the major pawnshops offer loans that could be used by Muslims. I don't think it would take much doing as Islamic mortgages have been around for a while. Speaking to pawnbrokers in Whitechapel it seemed like desperate Bangladeshi women were pawning their wedding gold despite interest rates being forbidden.
Also, if you wanted to pawn your gold in India you would get a much better deal than in the UK (12% vs 150% in terms of interest rates). In India banks aren't trusted and gold is seen an alternative to the banking system. The result is that gold-related financial services are much cheaper and more innovative and even grassroots gold investing is far cheaper.
Areas of innovation in the UK are peer-to-peer lending sites like Zopa but the arrival of micro- finance banks like Grameen in the UK a couple of years ago show that technology is coming to the UK from poorer nations where entrepreneurialism isn't so focused on rich people.