Elevator Pitch
PMC-Sierra, Inc. (NASDAQ:PMCS) plunge of 9% on a Q1 earnings miss has created a compelling valuation and swing trade long setup.
Company Description
PMC-Sierra, Inc. makes semiconductor networking solutions. PMC is a provider of mobile backhaul network processors. The company sells semiconductor devices in three markets: storage, optical, and mobile networks.
Thesis & Catalyst For PMC - Sierra, Inc.
PMC-Sierra plunged over 9% on Friday pushing its RSI down to 26.21 making it an oversold candidate.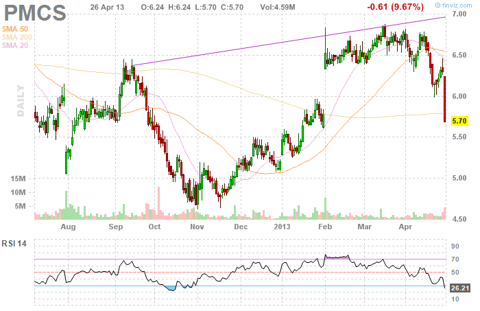 It is usually a bad idea to try and "catch a falling knife". With the huge red candle and sell off on Friday, it is a bad idea to jump in front of the selling because it might continue for awhile longer. Instead, we want to wait for a "candle over candle" or curl to form on the chart before taking an entry. The idea is to look for signs of institutional traders bottom feeding in the stock before going long.
We do not yet have a bounce or curl on the chart and so we can't yet set a swing long price target.
PMC-Sierra stock dropped because of an earnings miss reported on Thursday, April 25th 2013. Analysts had forecast earnings of $0.08 per share for Q1 2013. The company missed by $0.01 reporting earnings of $0.07 per share. In my opinion, the market over reacted to this earnings miss.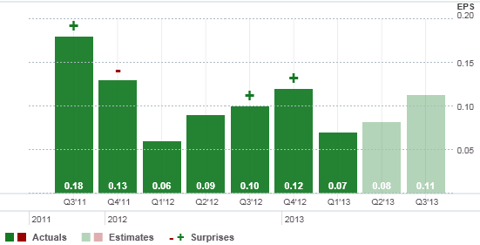 The company beat last year's Q1 results by a whopping 16.67%! In fact, PMC-Sierra's book-to-bill ratio was greater than 1 for the second consecutive quarter, indicating improving demand.
Gregory Lang, Chief Executive Officer, President and Director of PMC-Sierra said in Thursday's earnings call, "The environment continues to be challenging due to economic softness and weakness in carrier spending. However, we're encouraged by stronger bookings within the quarter and expect to grow revenues in the second quarter of 2013."
As swing traders, one of our favorite setups is when a company reports an earnings miss, but the longer term outlook stays intact. This kind of setup often results in market over reactions to the downside and sweet oversold entries for us.
Mobile Data Traffic Soaring
Cisco released the VNI report which forecasts that global mobile data traffic will increase 13-fold between 2012 and 2017! (Source: http://www.cisco.com/en/US/solutions/collateral/ns341/ns525/ns537/ns705/ns827/white_paper_c11-520862.html)
PMC-Sierra saw revenues drop in their mobile market segment by 22% versus the prior quarter. The huge drop was due to a strong Q4 followed by an unusually weak Q1 with CapEx of the 2 largest carriers in North America down over 25%; however, bookings are starting to improve in Q2. (Source: http://seekingalpha.com/article/1373941-pmc-sierra-management-discusses-q1-2013-results-earnings-call-transcript)
Once again, the drop in revenues from PMC-Sierra's mobile segment appears to be a temporary issue as mobile data traffic is expected to increase 13-fold between 2012 and 2017.
Valuation
PMC-Sierra has a hot forward P/E ratio of 11.18. Sales were a whopping $530 million in 2012.
I like companies with a lot of cash and little debt. PMC-Sierra has over $181 million in cash with no debt and a sizzling hot Debt/Equity ratio of just 0.03! This means that even though PMC-Sierra stumbled in Q1 2013, they are making money and lots of it. It means they can pay the bills without having to use share offerings or borrow money. It also means they can acquire another business, expand the product line, spend more on research and development, and a host of other things that a large amount of cash and no debt allow. It can also make them an acquisition target like we saw in my stock pick PWER from several weeks ago. Just 3 weeks after my article on PWER and how they had a huge amount of cash and no debt, ABB bought the company which sent PWER stock soaring over 50% in a single day!
Variant View
PMC-Sierra's Q1 earnings miss was mostly the result from its mobile market segment. Carriers could continue to experience weak demand in Q2 and beyond which would continue to weigh on PMC-Sierra's earnings.
After the huge sell-off on Friday, it may be too early to take a swing long position in this stock. As the old cliche goes, "Don't try and catch a falling knife." With the 200 day moving average broke on Friday, this stock could continue to go lower.
Disclosure: I have no positions in any stocks mentioned, but may initiate a long position in PMCS over the next 72 hours.