There should be a public discussion going on in the U.S. right now regarding the botched attempt at regime change by the U.S. government in Ukraine. Instead, there's a media blackout.
Media blackouts are horrible for traders and investors. Think of it like this. The money you make in the stock market comes from other traders who have no intention of giving you their money. Information is power and the better informed you are, the greater the probability you have of taking money from other traders before they take it from you. In a media blackout, your access to information is being blocked. A sudden move outside your frame of reference can catch you off-guard and you can lose a lot of money.
Case in point: the head-fake above the 1850 level on the S&P 500 last week no doubt caught a lot of traders by surprise as the market dropped right back into the 1850 to 1820 trading range that it's been in since November of 2013.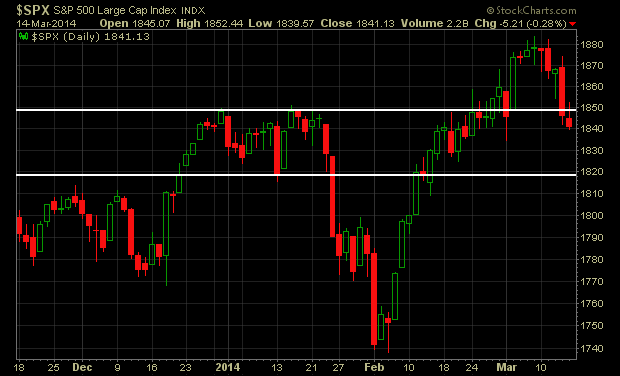 What you need to know is that the U.S. government ordered 5 million barrels of oil to be dropped on the marketplace from the Strategic Petroleum Reserve. Russia viewed this move as an attack against their economy and so they retaliated by transferring more than $100 billion worth of U.S. Treasuries away from the Federal Reserve.
If you trade in the FOREX markets then you definitely need to know what's going on. Basically, the U.S. has signaled to Russia that commodity markets will be used as a weapon against Russia.
I go more into the financial warfare going on between the U.S. and Russia over Ukraine here: http://www.youtube.com/watch?v=zl-Dj0SYlLY
Disclosure: I have no positions in any stocks mentioned, and no plans to initiate any positions within the next 72 hours.