May was the worst month for the DJIA in two years. Luckily our proprietary trading system had us triple-short the market since early May and subscribers booked a 20% gain on that position in addition to a 17% gain on our latest silver short.
Now contrary to the overwhelming negative sentiment and news currently, we expect a bounce.
There are technical reasons are primarily that both the DJIA and Goldman Sachs are down to their break-even points for the year thus a bounce from that crucial technical level is likely.
The main reason we suspect a bounce is imminent is found in this chart of the U.S. dollar 2x bullish ETF, UUP, which we hold since buying it at the exact lows in early May of last year when the world was ultra-bearish on the dollar. We remain very bullish the U.S. dollar and expect it to go to multi-year highs, however it is unlikely that it'll cross the resistance shown on the chart without first some retracement of the recent big gains it has made. If that's the case, very likely equities will go the other way - higher.
Despite the DJIA being down a whopping 220 points as we write, UUP is slightly in the red on the day which is a minor non-confirmation of the DJIA's drop in our estimation.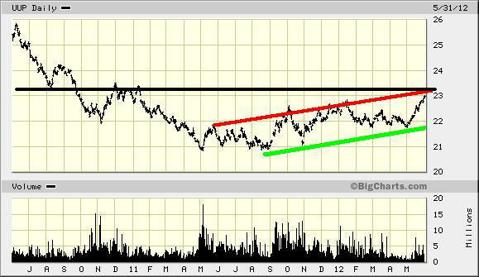 Disclosure: I am long UUP.