Neuralstem's (NYSEMKT:CUR) CEO Richard Garr recently gave investors insight into when Dr. Eva Feldman will be presenting phase 2 interim data for their ALS therapy using their NSI-566 stem cells.
Dr. Eva Feldman MD, PhD, Principle Investigator of the Phase 2 Trial, Director of the A. Alfred Taubman Medical Research Institute, Director of Research of the ALS Clinic at the University of Michigan Health System, and President of the American Neurological Association, in April. From what we can gather so far, the first release will be on April 9th at the Keystone Symposia on Molecular and Cellular Biology and also at the Pan Pacific Symposium on Stem Cells and Cancer Research on April 12th where Dr. Feldman will be a keynote speaker.
The Phase 2 dose escalation trial is designed to treat up to 15 ambulatory patients in five different dosing cohorts, under an accelerated dosing schedule. The first 12 patients will be divided into four cohorts and will receive injections only in the cervical region of the spinal cord, where breathing function is controlled. The first cohort of three patients have received 10 cervical injections of 200,000 cells per injection. The second cohort of three patients received 20 cervical injections of 200,000 cells per injection The third cohort of three patients received 20 cervical injections of 300,000 cells per injection. The fourth cohort will receive 400,000 cells per injection with 20 cervical injections which should be ongoing this month of March. The last three Phase 2 patients will receive injections in both the cervical and the lumbar spinal regions. These patients will receive 20 injections of 400,000 cells each in the lumbar region in addition to the 20 injections they will already have received in their cervical region. The trial is on an accelerated treatment schedule, and is designed to progress at the rate of one cohort per month with a one month observation period between cohorts.
What we can gather so far is that the phase 2 trial is moving along smoothly with a timeline of finishing up the final cohort in July with interim results to be released next month. An interesting point to ponder here is the timing of the phase 2 interim results release in April by Dr. Feldman. The 4th cohort is receiving their 20 cervical injections of 400,000 cells each this month, and there will be a month break between treating the final cohort. What is interesting is that the last cohort will not have had their injections yet before the data is released.
Why this is interesting is that the last cohort according to Neuralstem is going to be receiving the maximum therapeutic dose. So why wouldn't Dr. Feldman wait until August or so to release interim data? After all, in the phase 1 trial, the patients that showed the best results from NSI 566 are the three patients that received both cervical and lumbar injections seen in the graph below.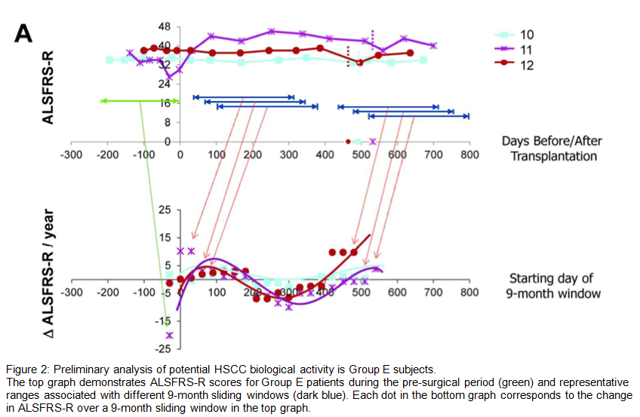 For a possible answer here we must look at what the secondary endpoints are for the phase 2 trial regarding efficacy.
The secondary objectives of the study are to evaluate spinal stem cell transplantation therapy in this patient population for:
1) attenuation of motor function loss
2) maintenance of respiratory capacity
3) stabilization of ALSFRS-R
4) reduction of spasticity/rigidity if present
5) graft survival at autopsy if and when there is mortality.
The endpoint I would like to focus on here is number 2 as I believe it is one of the most important efficacy points that is trying to be achieved. Most ALS patients suffer from breathing issues related to the loss of muscle function in their upper respiratory system. Mouth function also correlates into this category as the throat and tongue is essential for proper breathing at rest and during eating.
What Neuralstem is trying to achieve here with their phase 2 trial is to protect these muscles from atrophy by way of coddling the motor neurons in the spinal cord. In ALS, the motor neurons in the brain and spine die off and cause a loss of muscle function because of the communication lost between the brain and voluntary muscle movement.
Also, the way that Neuralstem set up the trial design should allow for the best possible outcome for these patients regarding breathing and mouth function. The Phase 2 trial is designed in a way to benefit breathing and mouth function by injecting all patients in the cervical region of the spinal cord. Here is some good info on what regions of the body are affected after a spinal cord injury to a certain area of the spinal cord. It gives us some insight into why Neuralstem is injecting these patients in this area and what functions can be effected in the cervical spinal region.
The trial is also only treating patients that are early stage because Neuralstem believes that these patients still have enough motor neurons to be coddled by their stem cells. What is seen in patients that did not respond to treatment in the first phase is that they just do not have enough of these neurons to be brought back to function properly.
On March 17th, Neuralstem released their final data from their phase 1 trial with remarkable results. Dr. Feldman noted that:
"Pre-surgical disease progression rates for the various functional outcome measures were calculated to create slopes for each patient, so that we could determine if post-surgical data points, at 6, 9, 12 and 15 months, improved relative to predicted points. We also did analyses to determine which, if any, functional outcome assessment most closely correlated with the overall ALSFRS-R scores," said Dr. Feldman. "Comparison of the outcome data to predicted outcome points in group E (patients who received both lumbar and cervical injections) revealed improvements in a significant number of measures at 6, 9, 12 and 15 months post-surgery. Overall, 50% of the patients in the trial showed improvement across multiple clinical measures at the same time points. We also found that a measure of grip strength correlated most closely with the overall ALSFRS-R scores.
Remember that in ALS, let alone in a phase 1 trial, it is quite rare to see any disease regression. Especially when you consider how the phase 1 trial was designed. A great overview of the trial can be found here by analyst J. Napodano.
So to see 50% of patients from a trial designed to not even show efficacy is quite stunning and should show us how powerful these neural stem cells are.
We now have confirmation from one of the patients in the second cohort of the phase 2 trial that not only has her breathing improved but she is also able to eat easier because her tongue has stopped the atrophy process. This is huge for ALS patients, and would give them a much better quality of life going forward with the disease.
The small things in life that most of us take for granted, or just do not really think about losing is mouth function. Imagine for a moment that the muscles in your mouth begin to atrophy and you start to lose feeling in your tongue. Every time you eat would be a struggle as the tongue would not be able to transfer the food into the place that you need to chew. This would be a very demoralizing loss for any patient with ALS because it means that a liquid food diet ensues..
So what is a Phase 3 trial worth to Neuralstem should it be approved for one?
And how might the stock react to positive news?
We can take a look back at some of the failed drug trials of ALS and see what they were worth at the time or what they may have been worth.
First, let's look at Trophos's olesoxime. Back in December 2011 Trophos released disappointing phase 3 data and lost a deal in which Actelion would acquire the company for upwards of $260 million dollars. We should note that Trophos's pipeline is quite limited, and the company had next to no cash at the time of the announcement.
Also, in December 2012 Biogen's Dexpramipexole failed to show improvement for the treatment of ALS in their phase 3 trial. Analysts were expecting the drug to eventually see sales of $1 billion dollars a year.
It's tough to gauge just how much a phase 3 trial could be worth for Neuralstem because their treatment is so revolutionary. They could literally capture this entire market with astounding pricing of their therapy if it proves that it works for years in beating back ALS. My last SA article covers what NSI-566 could be worth for Neuralstem's ALS indication if they receive approval. So, it really comes down to timing and results in correlation to the price of the stock.
I believe if the phase 2 interim results are shown to be as or more positive as the first phase (which I believe I have given good reason to believe they will be) then we should start to pull in some of that value from an approval. Anyone that has traded biotechs for a relative amount of time knows that these stocks run up into anticipation of milestones or approvals. By the time approvals are achieved, most of the time at least 2 years of revenues are already priced into the stock.
So, if CUR were to be worth $10 billion after approval and a ramp in sales like my last article concludes could happen. Then we could assume a phase 3 trial should be worth at least 10% of that price which would give us a price for CUR of around $10 with fully diluted shares accounted for.
The question would be here is, when would that 10% begin to be priced in? My guess would be that after we get a good feel for what the phase 2 trial is going to look like. This should be April 9th when interim results are released.
The phase 2 interim data will be the biggest catalyst to date for Neuralstem and should propel the stock higher as the anticipation mounts for a coming phase 3 trial. However, a wild card could be thrown into the mix here, if the company were to file for a Breakthrough Therapy Designation. There has been some speculation from analysts covering Neuralstem that they will file for a BTD before years end.
The risk
If the data were to come out as a failure then the stock would take a major hit, as it appears this news is beginning to be priced into the stock. I believe this risk is low however, as it would not make a whole lot of sense to release interim data if that were the case. Especially when the maximum therapeutic dose had not even been given yet.
In summary...
Dr. Feldman will be presenting interim data on the Phase 2 trial before the maximum therapeutic dose is given to the final cohort. Wouldn't it make more sense to just wait a couple of more months to release this after all patients have been treated? I guess it wouldn't matter if the results look promising already.. I will let you read into this what you may..
Another thing that we know is that there is a Phase 2 patient that is blogging about her everyday life with ALS and is showing improvement in the exact areas that this trial and therapy is designed to improve.
These results should be the biggest catalyst in the company's history and should have a sizeable impact on the way the stock trades.
Disclosure: I am long CUR. I wrote this article myself, and it expresses my own opinions. I am not receiving compensation for it (other than from Seeking Alpha). I have no business relationship with any company whose stock is mentioned in this article.