Premium bottled water consumption has been on the rise in China, driven by both increasing affluence and increasing health consciousness. According to beverage industry market research firm Canadean, China has doubled its share of the global bottled water market over the past seven years and topped U.S. bottled water consumption in 2013. These figures have ample room to grow given that China's per-capita consumption remains at just one-fifth of U.S. levels.
Boreal Water Collection Inc. (OTC: BRWC) aims to capitalize on China's growth through a new distribution agreement with Suzhou Hengrun Import & Export Corp. Ltd. The new Chinese distributor will be debuting the company's award-winning premium bottled waters at the Sial China Show on May 13th through 15th 2014 in Shanghai. The trade show anticipates 2,400 exhibitors from 90 countries and regions that will present to more than 45,000 food and beverage professionals.
In this article, we'll take a look at how the company is positioning itself to capitalize on rising demand in the world's most populous country.
Rising Incomes & Safety Concerns
China's gross domestic product ("GDP") per capita has been steadily rising over the past decade from under $1,000 in 2000 to over $6,000 in 2012. According to McKinsey & Company, more than 75% of the country's urban consumers will at least double their income to between $9,000 and $34,000 per year. The growth in the middle class means that sophisticated and seasoned shoppers will be able and willing to pay a premium for high-quality discretionary goods like water.
The same report states that so-called "Generation 2" ("G2") middle-class consumers are the most Westernized to date. With a population of nearly 200 million consumers in 2012, the G2 group accounted for 15% of all urban consumption in 2012. These spending levels could more than double over the next ten years to 35%, as the group grows to three-times the size of the baby-boomer population that has been shaping U.S. consumption over the past few decades.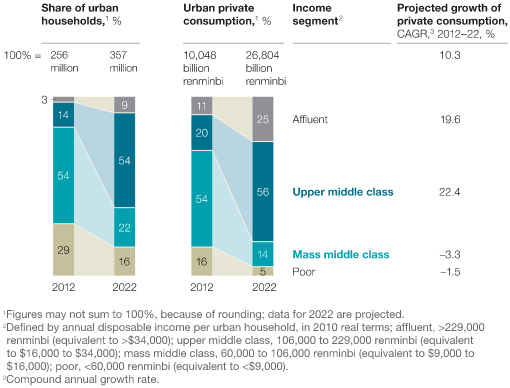 In addition to rising incomes, China's middle class has been growing increasingly aware of health and safety issues related to water supply. China holds just 7% of the world's water supply despite housing about 20% of the global population. These shortages are compounded by the fact that more than half of the country's largest lakes and reservoirs were so contaminated in 2011 that they were unsuitable for human consumption by the government's own estimates.
Companies like Coca-Cola Inc. (NYSE: KO) have already realized the potential with the launch of products like Ice Dew - one of the top-three Chinese bottled waters. If China reaches U.S.-levels of per-capita bottled water consumption, the existing market could grow five-times from its current levels. Boreal Water Collection aims to capitalize on these dynamics by targeting the niche private-label portion of the market with its award-winning waters from reservoirs in the U.S. and Canada.
Unique Investment Opportunity
Boreal Water Collection trades with a market capitalization of just $5.8 million, according to OTC Markets, with about 58 million shares in the float. With a new Chinese distributor onboard promoting its products, the company is well positioned to expand it revenues and move closer to a breakeven point in 2014 and 2015. At the same time, management has successfully reduced its liabilities by 40% in 2013 and put the company on more solid footing moving forward.
"Since Boreal Water was highly qualified at the International Taste and Quality Institute in Belgium in 2012, the international demand for our products has increased," said Chairman and CEO Francine Lavoie in a letter to shareholders. "Boreal exhibited at the FHC China show in Shanghai in November 2013 and is expecting to start shipping in 2014 some large orders due to all the leads made at that show. In 2014 we will expand our presence in China and we will aggressively build our sales."
In the end, investors may want to take a closer look at the company after its expansion into China's premium bottled water market. With a unique approach targeting private-label opportunities, the company is well positioned to establish itself in the world's most populous country with its award-winning products. In particular, investors in water stocks, like Coca-Cola or Pepsi-Co (NYSE: PEP), may want to take a closer look at Boreal Water as a niche play in the space.
For more information, see the following resources:
Disclosure: I have no positions in any stocks mentioned, and no plans to initiate any positions within the next 72 hours.
Additional disclosure: TDM Financial is a marketing and consulting firm that specializes in creating ongoing communications strategies for public and private companies. For full disclosure please visit: secfilings.com/Disclaimer.aspx