Some more stocks for our watchlist: DGW, MVL.
DGW is a chinese company specializing in water treatment, recently out with solid earnings. I recommended this recent IPO to clients a few weeks ago, but after a brief consolidation it may be worth another look here as it seems ready to launch a new leg higher. MVL is another stock I was bullish on back when it was on its March lows. It has been in an uninterrupted uptrend since 2001, and recently broke out of an ascending triangle to all-time highs. They just announced better-than-expected earnings, and have a bulk of new films coming out in '10. An ideal situation would be a post-earnings pullback to the previous range highs around 36 before even considering an entry (or should that level not hold, waiting until 30-32 if a longer-term retracement is needed). Will consider writing both of these up in the days or weeks ahead.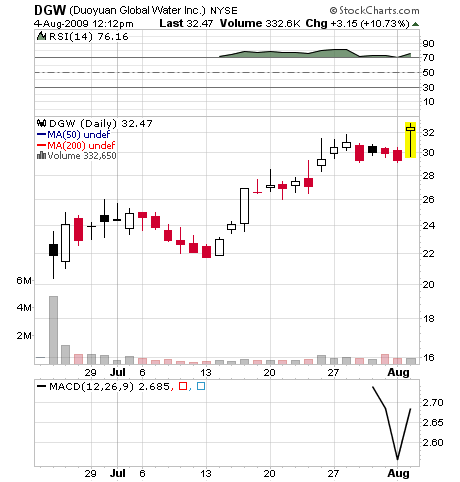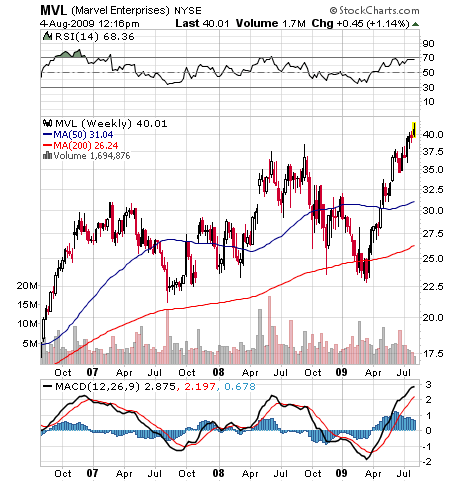 As for the markets themselves, the indices continue to consolidate (coil?) right along the upper boundaries of our previously outlined expanding range/broadening top. As long as it meanders in this pattern, nothing has really changed. Stocks are technically overbought, but they could rally further before retrenching. A strong break-out from this pattern would be exceptionally bullish and would suggest S&P 1200 might become a target, whereas any reversal again keeps the bottom of this widening range in play. New positions should be made on pullbacks, and investors and traders alike should remain cautious.
Disclaimer:  The author's clients maintain positions in 
DGW
.