If someone held a gun to your head and told you to choose one of two stocks: the one with the high dividend yield or the high dividend growth rate, which one would you choose?
I am assuming that most people reading articles on SeekingAlpha would answer with the later.  The dividend growth is more important than high yield over the long term as those compounding dividend payments really add up.
That being said, I am always on the lookout for interesting dividend growth stock opportunities to consider.  My philosophy is that since I have my overall allocation built up (still some work to do on the fixed income front), and the foundation set with a series of low cost index ETFs I am able to add the best dividend stocks to my portfolio.
Dividend Stock Screening
I have a screening tool that I like to use, and have set up a specific dividend stock screen that looks for undervalued stocks using a dividend yield approach.  With this method, I can find higher yielding stocks with some basic fundamental requirements that have been met.
The screen requirements I have set up in this particular screen are as follows:
Exchange = Not Over the Counter
Price >= 0
Dividend yield in year 7 is greater than 0
Dividend in each of the past 7 years is higher than the year before (i.e consistent dividend growth)
7-year dividend growth rate >= 15%
Current yield >= Average yield in past 7 years
EPS 3-year growth is better than industry average EPS
Not an ADR stock
This particular screen is primarily focused on finding dividend growth stocks that are showing as undervalued based on the dividend-yield methodology.  In addition, it weeds out some of the crap by looking for companies whose 3 year EPS growth rate is better than the industry average for that company.
The Dividend Screen Results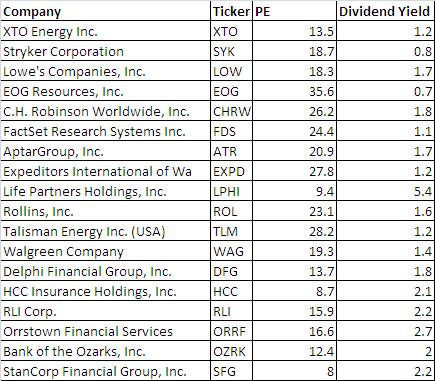 Quick Analysis
An interesting group of stocks, with some I have heard of and some I never have.  I have recently been analysing Stryker Corp. and Walgreen.  It is interesting that Lowe's is as its competitor, Home Depot, has not been performing very well as of late.  Home Depot used to be consider a strong dividend growth stock but that is no longer.  
Summary
The stocks, and other stocks that can be generated from any stock screen tool available on the web, can create a great list of stocks for consideration.  Go out and give them a try and identify stocks that you feel are worthy of further consideration.
Disclosure:
Long TLM