FUN is a great example of institutions manipulation then bailing. They promoted this stock back in MAY. look at the WEEKLY chart of FUN early June. The stock spent one week above the $53 resistance. As always, those pumping the stock refrain from telling the whole story. It is a fine line. However, it is obvious to me some big players wanted out of this one as the $53 and above pop had decent weekly volume. Every buyer needs a seller and I believe those pumping the stock knew the inherent liquidity issues this company faces.
(click to enlarge)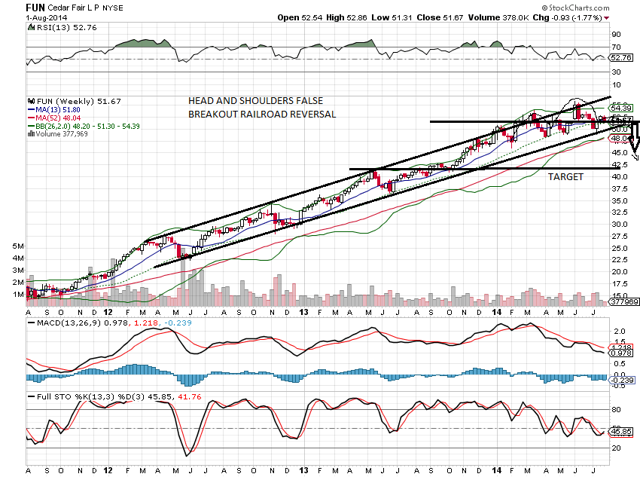 Click to enlarge
FUN is paying a high price for debt due to the high risk of lending to them. They just re=financed some debt. Write a negative article about this company teetering on the brink of disaster and I'm sure you would get a lot of grief. Why? The truth hurts. Those who own shares never want to hear that the company they own sucks. Especially if they are collecting a yield like that in FUN. FUN is paying out 5.4% dividend! Something that looks like they can't afford.
Take a look at the FUN balance sheet, never mentioned in the pumped notes. They are struggling to keep current. Cash flow is tight. They also just completed a refinancing to pay off (see SEC filings) some higher priced debt due sooner.
"$450.0 million aggregate principal amount of 5.375% Senior Notes due 2024
This was released JUN2 when the stock popped. Somehow this was awesome news that they don't have the cash flow to pay debt so they must kick the can down the road. SEC FILING
intends to use the net proceeds of the offering to redeem all of its 9.125% senior unsecured notes due 2018. SEC FILING
This was released May29 ... so yes it is good news that FUN was able to pay off 9% notes with the proceeds of 5.375% notes.
However, you have to question the safety of a 5.4% dividend when the company is paying out the same on its debt and was paying 9% prior. Does not seem like a good long term plan to me. Especially after you consider the health of the balance sheet ... any tiny blip in revenues is going to send the company stock spiraling lower in my opinion. Especially when they are forced to cut the dividend.
Im almost certain it is a good idea to review the financials of any company that gets pumped and quickly reverses... as with this one, something big is likely going to happen on the downside.
IM in OCTOBER, FUN $45 PUTS ... good luck trading
Disclosure: The author is short FUN.
Additional disclosure: This is my opinion on a stock and not considered investment advice. This is simply my belief in the direction and the position I have taken. Do your own research before investing long or short an equity.