The Canadian biomedical engineering sector has been turning a lot of heads recently. Despite recessionary concerns here in North America, and even worse problems over in Europe, Canadian medical technology companies have been surging - I'm sure you're already familiar with the mammoth run that CardioComm Solutions Inc. (V.EKG) has had in the past month.
Well, another Canadian biomedical engineering company that I believe you should have a look at is Zecotek Photonics Inc. (V.ZMS). Zecotek is a research and development intensive company that has yet to realize its full potential, and that I believe is currently undervalued. Zecotek develops advanced photonics technology and products: laser systems and components, high-performance crystals, solid-state photo detectors and other imaging and 3D display technologies, for commercial and research applications in the major markets of material processing, bio-science, high-energy and new materials research, multimedia and security industries. Founded in 2004 by Dr. Faouzi Zerrouk, PhD, the company operates three distinct divisions: Laser Systems, Imaging Systems and 3D Display Systems, and has labs located in Canada, Malaysia, Russia, Singapore and the U.S.A.


This month Zecotek has issued a number of press releases and investors have begun to really take notice again. Highlights include the company announcing the commercial product status of its solid-state micropixel avalanche photo diode (MAPD) photo detectors, and the presentation of its patented glasses-free 3D viewing technologies at the Canadian Technology Showcase to a group of senior executives from Sony Corp.
Technically speaking, Zecotek is very bullish. Average volume has doubled this past month, and new 200-day highs have been reached. The past week the MACD line crossed the zero and signal lines, setting up what I believe to be the next breakout. In addition, I believe that a short position has been building and that a short squeeze may happen shortly. Royal Bank Canada has traded -332,711 shares in February and has tried to or has succeeded in closing the stock price down right at the end of day the past 5 trading sessions. If the share price continues its rise, the shorter(s) will be forced to cover and will be forced to pay higher prices since there aren't many shares available vis-à-vis a look at the current market depth.
The company has invested over $25 million into its technologies, and owns title to or controls more than 55 patents and applications. Zecotek is actively involved in mergers and acquisitions, and plans to secure additional licensing contracts, joint ventures and strategic alliances with industry leading OEMs and distributors. The focus of this article is to discuss Zeotek's potential to monetize and commercialize its technology with an in-depth look at each division. In short:
Imaging Systems
Solid-state photo detectors MAPD
LFS scintillation crystals
Integrated detector module (IDM)
Laser Systems
Tunable fiber lasers
Thin-film wave-guide micro lasers
3D Display Systems
Closing Thoughts
IMAGING SYSTEMS
Solid-state photo detectors MAPD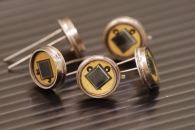 Zecotek has developed a new compact and cost-effective photo-detector for low light detection that will phase out the bulky and expensive PMT's (photo multiplier tubes) presently used in different imaging applications such as PET, Gamma cameras and high-energy nuclear physics.
The new Micro-pixel Avalanche Photo Diodes (MAPD) detect very small signals and can be readily used for photon counting. They feature extremely high gain typical of PMT's (~ 106) with the advantage of low operating voltage (~50 V compared to ~ 1000 V for PMT). The solid-state design makes MAPD detectors compact and insensitive to high magnetic fields. Zecotek's detectors incorporate cutting edge technology that dramatically improves linearity and allows very tight timing resolution by providing fast pulse rise time and low jitter.
Key features include:
Very high gain (~105-106)
High linearity
Low operating voltage (~50-100 V)
Insensitive to magnetic field
All-solid-state compact and extremely reliable design
High PDE (15-30%)
Fast pulse rise time (~2 ns)
Low dark noise (< 1 MHz/mm2)
Applications are:
Confocal microscopy
Flow cytometry
High-energy physics
PET/SPECT scanners
DNA sequencing
LIDAR and environmental monitoring
Homeland security
The Problem with PMT's is they are made of glass and all components inside the PMT are under vacuum. Think of how fragile a light bulb is, this is a throwback to Sir Alexander Graham Bell technology. The vacuum tube is the key design flaw which limits the application of PMTs. On top of this, vacuum tubes are very unreliable and have a short working lifespan.
One example where the vacuum tube of the PMT affects modern technology is in PET scans. Currently PET and MRI scans are done in separated settings because the high intensity magnets of the MRI destroy the vacuum tube of the PMT.
This is where the MAPD-3N shines because it is a solid state device which is much more durable and can withstand much more rigorous environmental stresses. Thus, allowing the PET and MRI scans to be completed in one machine. This enables real time scanning, cutting medical costs significantly and allowing greater scanning precision.
Tests and applications to date have been undertaken by a number of high-profile, world-class institutions and end users. Most notably, CERN, the European Organization for Nuclear Research, has been testing Zecotek's third-generation MAPD-3N for use in high-precision calorimeters in the framework of its NA-61 experiments. Until the commencement of the Large Hadron Collider (LHC) program, NA61/SHINE was the second largest experiment at CERN.
On February 9th, Zecotek announced that it has achieved commercial product status with its MAPD-3N. "Customers of our solid-state MAPD photo detectors are impressed with the performance and cost advantage offered and we are now in the position to deliver units on a commercial basis," says Dr. Zerrouk.
Now that the manufacturing of the MAPD-3N has concluded, Zecotek can approach its current research partners for further orders, and also market its product to the industry at large. The end goal is for Zecotek to be able to manufacture and commercialize its own PET imaging system. Alternatively, the company is looking to form a joint venture with a large medical technology company (i.e. Siemens, GE, Phillips, etc.) to incorporate the MAPD-3N into their existing PET technology. Regardless, Zecotek should start to bring in steady revenue from its MAPD technology in 2012.
LFS scintillation crystals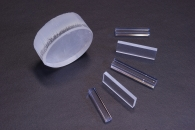 Zecotek's patented (US patent No. 7,132,060) Lutetium Fine Silicate (LFS) series of scintillation crystals are distinguished by their combined high light yields and ultra-fast decay times. These performance advantages enable faster, higher-resolution operation of medical and industrial imaging devices - including PET, PET-CT, and gamma cameras. The LFS products, LFS-3 and LFS-7 are now available for sale. Their superlative light yields (80-85%, NaI scale) and decay constants (< 35 ns) set them apart from other industry contenders.
Zecotek Photonics Inc. has entered into a contractual agreement and partnership with the Beijing Opto-Electronics Technology Co. Ltd. (BOET) to grow and commercialize all versions of its patented lutetium fine silicate (LFS) scintillation crystals. BOET is a subsidiary of North China Research Institute of Electronics-Optics and is owned in part by the Chinese government. "Zecotek and BOET can now fulfill incoming orders and will begin to build a large customer base moving forward," says Dr. Zerrouk in the press release from November 16th.
Zecotek's ongoing R&D program has also resulted in the achievement of unprecedented extremely short decay times down to 12 ns in the company's new LFS-8 material, which will soon be transferred to manufacture. A breakthrough like this opens new possibilities in time-of-flight imaging, notably in PET devices, which will dramatically improve clarity and resolution of generated data.
Have a look at this industry product comparison: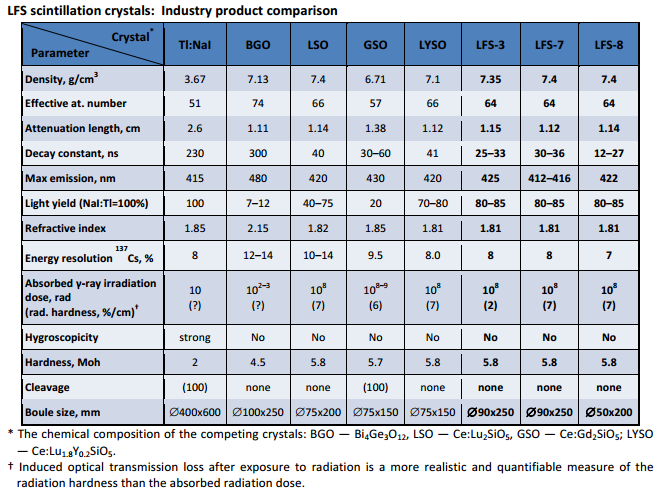 To put names to some of those crystals, Siemens and Phillips are using the LSO/LYSO crystals, and GE is using the really outdated BGO crystal. Compared across the industry, Zecotek's LFS-8 is the next generation of crystal. Look at its decay constant in nanoseconds and compare it to the others. At the top range of its spectrum it's still superior to the fastest time of the next best crystal. Zecotek's technology also makes it possible to tailor the spectral properties of LFS materials to specific sensitivity curves of existing photo-detectors, such as PMTs, APDs, or MAPDs.
In addition, it should be noted that Zecotek has established legal firms standing by who have studied Zecotek's patents and are determined to litigate when necessary. Dr. Zerrouk recently spoke about whether he would be prepared to go to court to defend the company's patents in a recent Cantech Letter article. This would also be done on a contingency basis; I believe this speaks to the legal firms' optimism regarding litigation.
In 2008, Siemens Medical Solutions USA, Inc. successfully sued Saint-Gobain Ceramics & Plastics, Inc. for more than $52 million in damages (later reduced to $45 million by the District Court) as the jury agreed with Siemens that Saint-Gobain's LYSO scintillator crystals were equivalent to their LSO crystals. Zecotek's patented Lutetium Fine Silicate (LFS) scintillation crystals (U.S. patent No. 7,132,060) are distinguished by their unique chemical composition. If a company were to infringe on this particular Zecotek patent, that would be a settlement or jury decision of hundreds of millions of dollars based on the length of Zecotek's patent.
Here is the Siemens vs. Saint Gobain claim.
Integrated detector module (IDM)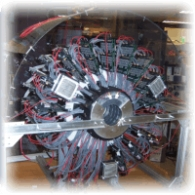 Integration of detector elements and their assembly into complex installations, of which PET scanners represent a good example, requires more than cutting edge materials. Highly scalable methods of mass manufacturing are necessary to provide the tens of thousands of individual elements that make up detector blocks in PET systems or nuclear detectors. Zecotek is developing an Integrated Detector Module (IDM) configuration which connects the LFS crystals, with an array of MAPD's in a patented 'plug and play' replacement for the PMT and crystal sets used in the current generation of PET and other detectors.
By providing a fusion of PET and MRI technologies within one assembly, Zecotek aims for a breakthrough in medical imaging - the simultaneous integration of real-time high-resolution anatomic and metabolic images for enhanced diagnostics and improved patient outcomes. The unique combination of these technologies in a PET/MRI, with the additional features of improved performance characteristics offered by the individual components, will constitute a completely new level of medical imaging.
Zecotek has also jointly developed with the University of Washington, Seattle, a rich portfolio of PET software and hardware solutions based on Zecotek's MAPD, LFS, and IDM technologies. This package of technologies provides the complete foundation for a new low-cost, high-performance generation of detectors for PET scanners.
LASER SYSTEMS
Fiber lasers are set to capture a large share of the $2-billion industrial laser market from conventional laser technologies. Their design is generally more efficient, more compact, and more reliable that conventional lasers, and the life cycle cost is competitive compared to solid-state and even gas lasers.
Tunable fiber lasers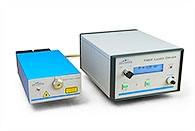 Zecotek has developed the Visible Fiber Laser (NYSEMKT:VFL) series which covers much of the visible spectrum for blue, green, and red ranges with a wide choice of operating wavelengths including traditional ones. Applications include either the replacement of argon ion (ion gas) and solid-state (DPSS) lasers, or the initiation of new technological edges based on the advantages of fiber lasers:
Bio-instrumentation: DNA sequencing, flow cytometry, scanning laser microscopy;
Medicine: ophthalmology, dermatology, urology;
Printing and imaging, inspection, and measurement;
Laser writing and lithography: laser writing, lithography, and sintering;
Fundamental research: spectroscopy, fluorescence analysis
The VFL series lasers are manufactured using Zecotek's fiber optical technology, a proprietary technology for intra-cavity doubling of unpolarized rare-earth-doped fiber laser with linearly polarized visible output (patent pending) providing the following advantages:
High beam quality and stability
Compact design and high efficiency
Turn-key / adjustment-free operation
No water cooling
Choice of output wavelength within most of the visible spectrum
Broad continuous wavelength tuneability
Thin-film wave-guide micro lasers
Using a new approach based on Molecular Beam Epitaxial (MBE) process, Zecotek is collaborating with the Advanced Materials and Process Engineering Lab (AMPEL) at the University of British Columbia to develop thin-film waveguide structures for the next generation of DPSS lasers. This has already shown exceptional results. This novel product architecture combines the advantages of traditional DPSS sources, fiber lasers, and those of highly-scalable technological processes used in the semiconductor industry and will provide an entirely new class of laser sources.
The initial product is aimed at the 1.06-µm wavelength, with subsequent products targeted at other wavelengths in the infra-red and visible range. The complete development of ZLS' waveguide technology will open up a broad spectrum of opportunities in diverse fields, including dentistry, medicine, integrated optical devices for telecommunications, and materials processing.
3D DISPLAY SYSTEMS (3DD)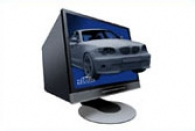 Based on a patented array of dynamic lenses coupled with proprietary high-speed time-sequenced image projection, Zecotek's 3D display system offers a solution to the impasse of current 3D technologies as it does not require glasses or eye tracking, or other extraneous or viewer-dependant devices. The system operates by forming a very large number of perspective views which, together with its wide viewing angle, allows multiple viewers to each have their own unique 3D viewing perspective. This combination of views, viewing angle, and the 3D display's high resolution offer a viewing experience closest to the visual perception of real objects. Industry specialists have termed it "the best auto-stereoscopic solution available."
Other unique features of Zecotek's 3DD include both constant motion parallax and the occlusion effect within the viewing angle. Motion parallax is the apparent difference in the direction of movement or speed produced when the subject moves relative to his environment. (For example, when looking at a ball placed in the middle of a room from a western viewpoint, the ball appears in front of a blue wall, but when the ball is viewed from an eastern perspective, the ball appears to have moved in front of a red wall.) The occlusion effect is the blocking of one object by another opaque or non-transparent object located in front of it but where the hidden object can still be seen if viewed from a different angle. For example, imagine three balls are arranged in a straight line, when viewed straight on it looks like there is only one ball, but when viewed from the side there are clearly three balls. The combination of motion parallax and the occlusion effect eliminate the sense of imbalance and dizziness which can occur in particular with polarized and shutter-type glasses and which are contributing to concerns over health and safety of 3D viewing.
Zecotek's 3DD system can be used naturally and effectively with images derived from medical imaging, rendering geo-physical data, and other industrial and military applications for enhanced situation and process analysis, fast decision making, and problem-solving. Zecotek's 3DD is scalable and offers both small 3D display screens for use in the transportation, personal computing and gaming industries, and large 3D display screens designed to meet the expected demand for industrial, advertisement, medical and home entertainment markets. There are extensive applications in many fields including:
Medical
Entertainment and gaming
Advertising
Graphics and design
Flight simulators and navigation
Geology and mapping
Military and defense
Real estate
Air-traffic control
Consider the potential of the 3DD technology for the aviation industry. In the first scenario, a traveler has hidden a knife inside a box in their luggage. On a regular airport scanner airport security would just see a box and the knife would either get missed because the box passed by inconspicuously, or airport security would have had to pull the traveler aside and tear apart the luggage to see what was in the box. If Zecotek's 3DD technology was in use, airport security would have multiple viewing angles in which to see layers within the luggage, and therefore see the knife concealed within the box. In the second scenario, consider an air traffic controller watching the skies. Currently when an air traffic controller looks at their screen all of the indicators are displayed in 2D which is limiting in the sense that when planes get near one other on the screen they literally overlap, and a lot of contact and verification is required in order to ensure safe passage. Using Zecotek's 3DD technology air traffic controllers see the planes displayed in 3D, therefore gaining depth perspective and can clearly see for themselves the distance between aircrafts. In both of these cases, if airports were to adapt Zecotek's 3DD technology, safety would be drastically improved and operations would become more efficient.
In the same Cantech Letter interview mentioned earlier, Dr. Zerrouk had a lot of very interesting comments about Zecotek's 3D technology:
"The 3D technology is, without any exaggeration or overselling, the only solution to having a 3D display that is auto-stereoscopic, without glasses, and offers multiple views. More importantly, it preserves the resolution. There are other auto-stereoscopic systems without glasses, but they do not maintain the resolution. We are in advanced stages of discussions with several major companies in the TV and display space. So if that happens, the commercialization would follow a joint-development agreement, which would mean that the partner will actually spend the next eight months to a year on the project and finance it themselves. They would also provide personnel support. They would develop our 3D technology to a flat panel display for the consumer market. They will then take over the manufacturing and sales. When a big name takes over, it's a guaranteed market. That would be the commercialization strategy for 3D. But we're open to a profit-sharing scheme, licensing or an outright acquisition of that division."
The most recent press release announced that Zecotek gave a presentation of its patented glasses-free 3D viewing technologies at the Canadian Technology Showcase to a group of senior executives from Sony Corp. Clearly the large OEMs have taken notice of Zecotek and could be planning on moving forward with some sort of M&A in 2012. The 3D marketplace has only become mainstream the last few years and is now growing rapidly; it's only a matter of time before this technology is acquired.
CLOSING THOUGHTS
Since the inception of Zecotek Photonics Inc., the company has primarily been a research and development intensive company - 2012 is the year that Zecotek is looking to change that. The technology, the market, the production facilities, and the patents are all in place. Zecotek is well poised to make a big splash on the biomedical engineering scene by bringing all three of the company's divisions to the commercialization stage this year.
Taking this article as a whole into account, Zecotek currently has 93.3 million fully diluted shares and a market capitalization of $42.4 million (based on close February 17th). The potential value of the LFS scintillation crystal patent alone should be worth at least $100 million (conservatively). That would be $1.46 CDN or $1.11 EUR per share. And that's not incorporating any of the other 54 patents that comprise Zecotek's intellectual property portfolio.
All three divisions, imaging systems, laser systems, and 3D display systems, show a lot of promise to be rolled out en masse this year, and Dr. Zerrouk seems very eager to conclude these deals and increase shareholder value. The deck is stacked, now the hand needs to be played.
Disclaimer: This report is prepared for informational purposes only and is not to be construed as an offer to sell or the solicitation of an offer to buy any security in any jurisdiction where such an offer or solicitation would be illegal. This report does not constitute or contain investment advice. We are not soliciting any action based upon this material. It does not take into account the particular investment objective, financial situation or needs of individuals. Before any action, an individual should seek professional advice. All expressions or opinions are subject to change without notice. The author may have a position in, and may from time to time, purchase or sell any of the mentioned or related securities including derivatives in such securities. Any photocopying or retransmission of this report without permission is prohibited and subject to liability. The author shall have no obligation to update or amend any information contained herein. The author does not guarantee any returns nor guarantee the outcome of what has been portrayed in this report.