On September 18th Ben Bernanke surprised the market with no taper after the FOMC (Federal open market committee) meeting which caught most of the economist by surprise who were expecting a min of $10 billion in taper. Ben thinks that economy is not stable enough to take the life support/dope off.
What does this indicate for new home buyers or for the people who are waiting for refinance? Good news! The fed wants more and more people to buy homes by keeping the interest rate low. I think there will be no taper until Ben retires in February in contrary to what some of the analysts who think that the taper would take effect in October once the sequestration issue is fixed end of this month. The reason, tapering this time would spoke the markets.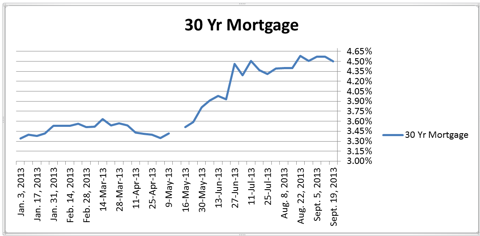 The 30/15 yr. mortgage is very much co-related to the 10 yr. treasury rate. This is depicted in the picture above. So as long as 10yr treasure rate goes down the mortgage rate will also follow. But I personally think it may not go down far. The treasury rate has very good support at 2.60 which is 14 basis points below today close. So keep an eye on the 10 yr. rate and good luck!
Please note: This is only my opinion and not an advice.
Disclosure: I have no positions in any stocks mentioned, and no plans to initiate any positions within the next 72 hours.