Favorable jobs data from the United States Department of Labor released last Friday fueled resurgence in the dollar leading to losses in the precious metals market. Most gold and silver ETFs as well as equities fell considerably in Friday's trading while platinum and palladium held solid ground.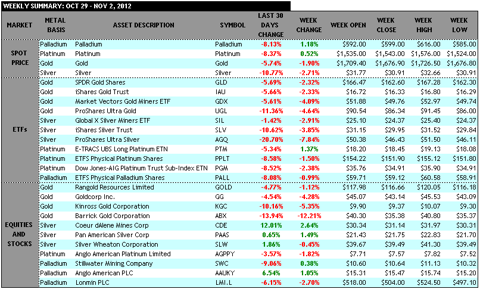 Gold, Silver fall; Platinum, Palladium Advance
In Friday's trading, silver took the brunt of the loss sliding by 2.71 percent to close at $30.91 while gold was not far behind posting a 1.90 percent loss falling below the $1,700 barrier, the first time since August 31.
On the other hand, palladium and platinum outperformed gold and silver, attributed largely to labor problems in South Africa. Palladium led all four precious metals by posting a 1.18 percent growth to close just below $600 per troy ounce. Platinum advanced nearly 0.52 percent.
Precious Metal ETFs affected by push for greater liquidity
ProShares Ultra Silver (AGQ) led all gold and silver ETF losers after posting a 7.84 percent loss, bringing its 30-day trading loss total to 20.70 percent. On the gold ETF front, ProShares Ultra Gold (UGL) fell 4.64 percent while Market Vectors Gold Miners ETF (GDX) slid 4.09 percent to close below $50 per troy ounce.
Rounding up the other notable gold and silver ETFs losers are iShares Gold Trust (IAU) which fell 3.85 percent, iShares Silver Trust (SLV) which tumbled by 3.85 percent, Global Silver X Miners ETF (SIL) which declined by 2.91 percent, and SPDR Gold Shares (GLD) which closed at $ 162.60, down 2.32 percent from its Wednesday opening price. The markets were closed Monday and Tuesday after Hurricane Sandy tore through the New York and New Jersey area.
Platinum and palladium ETFs continued to show mixed results despite gains in their respective spot prices. The E-TRACS UBS long Platinum ETN (PTM) was the lone gainer posting 1.37 percent growth. ETFS Physical Platinum Shares (PPLT) fell 1.50 percent while the Dow Jones-AIG Platinum Trust Sub-Index ETN closed down 2.38 percent. ETFS Physical Palladium Shares (PALL) also fell modestly dropping back 0.99 percent.
Precious Metal Futures Remain Weak
COMEX silver and gold contracts also settled down 2.7 percent and 1.90 percent respectively. As seen in the table below, the futures market is showing strong sell signals for contracts expiring early next year.

Barrick Gold receives price target cut, leads all equity losers
The biggest gold equities were not exempt from the losses in the spot market. Barrick Gold (ABX) led equity losers posting a 12.21 percent weekly decline following a price target cut announcement from Tony Lesiak, a Macquarie analyst. Kinross Gold (KGC), Goldcorp Inc (GG) and Rangold Resources Limited (GOLD) also submitted a dismal performance falling 5.35 percent, 4.28 percent, and 1.12 percent respectively.
Two silver stocks, however, bucked the trend posting notable gains. American Couer dAlene Miners Corp (CDE) and Pan American Silver Corp (PAAS) were both in the green following the closing bell Friday posting 2.64 percent and 1.49 percent gains respectively. Meanwhile, Silver Wheaton Corp (SLW) was down 0.45 percent joining beleaguered platinum and palladium producers Anglo-American Platinum Limited (AGPPY) and Lonmin PLC (LMI.L) which fell 1.82 percent and 2.70 percent respectively. The notable gainers in this segment include Anglo-American PLC (AUKKY) and Stillwater Mining Corp (SWC) which posted 0.38 percent and 1.05 percent at the close of Friday's session.