Setting Up for Gold's Next Move


By CaesarTrade - Eric HarborBy Forexminute - Eric Harbor | Technical Analysis Reports | Sep 12, 2013 9:07PM UTC
Though Gold lasts forever and never loses its luster, the markets tend to exhibit a love/hate relationship with this metal. Today, it was down 3% and still people were buying all the way down.
I suggest a different approach to make your million bucks trading gold with lots of leverage and that is not chasing it and setting yourself up for the next move.
Related Articles
At least that's what we do with my gold money management service , we simply read the news and analyze the price data. The simple approach works.
Once Gold hovers around 1300, you are going to see more shorts pile in. So a potential reversal should be around 1307.13 a break below could lead to 1296 and still time to make $10 off of the trade.
Don't consider buying Gold until there is more stability, or a reversal day over today's pre-crash high of 1371.40.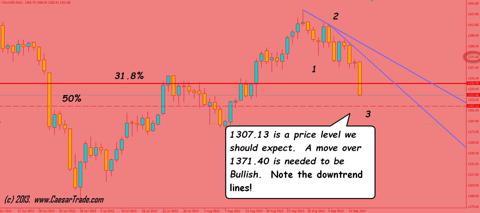 We present 3 important price levels to key off of when trading Gold for the big bucks.
If you are looking for further information or would like me to analyze something in particular, email the reporter at eric@caesartrade.com
About: Forexminute - Eric Harbor

Eric Harbor is CEO of CaesarTrade.com a boutique forex broker that believes in providing quality information and incentives, like bonuses, in order for the trader to be focused on trading.