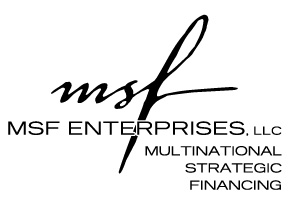 (DENVER, CO) August 15, 2012 - MSF Enterprises, an investment banking and capital placement firm, released its Q2 2012 Macroeconomic Report. The report examines the current global economic environment and provides a detailed perspective on historic market trends, potential growth sectors, new emerging economies and the interdependency of open trade across multiple regions.
"Despite the presence of a number of challenging factors in the macroeconomic environment, we see a great deal of opportunity for investors that understand the pricing of asymmetric risk and how to invest accordingly," says Michael Fields, Founder and Managing Partner of MSF Enterprises.
Visit our website to get a copy of the report: www.msfenterprises.com
The report includes a detailed review of the following regions:DEVELOPED MARKETS
United States: The broad economic environment in the U.S. is examined, with particular attention to the housing market, the state of retirement and pension systems, the oil and gas industry, financial markets and current issues such as the Dodd-Frank Act and potential "fiscal cliff."
Europe: The region is covered with a direct focus on the euro zone. Various indicators of the broad economy are highlighted, including debt and borrowing costs, fiscal deficits, unemployment and industrial production. Activity in the financial markets is also examined.
Japan: The economic environment in Japan is explored, emphasizing the country's debt situation, currency performance, recent trade figures and the effects of an aging population.
EMERGING MARKETS
China: The report focuses on the trade situation in China, trends in consumer and government debt, the state of the housing market, ways to invest in the financial markets and other current issues impacting the Chinese economy.
India: This section focuses on trade, economic indicators and a range of issues that are having an impact on continued growth and development.
Brazil: Growth prospects and leading economic indicators are examined, in addition to the state of trade and commodities production, performance of the financial markets and current issues facing Brazil's economy.
Mexico: The Mexican economy was examined by analyzing its trade relationship with the U.S., current trends in tourism, manufacturing and the impact of an influx of migrant retirees. The report also addresses issues impacting future development in the region.
About MSF Enterprises "Connecting Money with Opportunity"
Founded in 2003, MSF Enterprises, LLC spent the past nine years as a financial advisory firm, providing placement and advisory services to hedge funds, venture capital firms and private equity groups. During the past four years, MSF has expanded its offerings to include investment banking, merchant banking and family office advisory services. At MSF, we work with business owners, corporate executives, directors, investment managers and entrepreneurs to create sound financial strategies for organizational development and corporate growth.
FOR MORE INFORMATION CONTACT
Crystal M Parzik, Director of Marketing
303.847.4650
cparzik@msfenterprises.com
---
DISCLAIMER: Securities are offered through Silver Leaf Partners, a member of FINRA, NFA, & SIPC. This communication is for informational purposes only. The information above is not guaranteed as to its accuracy or completeness. If such information is related to a security or product then you are further advised that we do not provide investment counsel thereon nor do we certify such information as complete or accurate. To determine suitability, you must secure, read & understood all relevant information related thereto, conduct a thorough due diligence and seek expert independent counsel, if necessary, prior to investing. We further caution that past performance is not indicative of future results. This communication is confidential & may not be disclosed without permission. If this email is not intended for you, then you have received it in error and you may not distribute or copy it; please let us know of our error by reply email and delete this message & all of its attachments. Every effort is made to keep our network virus free; we have no liability for any damage caused by this transmission.
Disclosure: I have no positions in any stocks mentioned, and no plans to initiate any positions within the next 72 hours.