Traders and investors are constantly on the hunt for the next hot penny stock that can bring them gains of 100%, 200% and sometimes over 1,000%. Rumor had it that come "power hour" today, the penny stock of Pingify International Inc. (OTC:PGFY) could see it's ticker get pinged like a nude selfie tweeted out by a Desperate Housewives actress. Set up on Valentine's Day, 2012, there could be a lot of love affairs with PGFY stock assuming the Facebook page of StockTips mentions it as their newest pick to follow in the footsteps of Well Power, Inc. (OTCPK:WPWR) and Tiger Oil and Energy, Inc. (OTCPK:TGRO).
Since rumors have it that ties to John Babikian and Awesome Penny Stocks could also be involved with the Edmonton, Alberta-based startup in the classified space Pingify International, staying focused up through the end of today's session paid off in a very big way thanks to some free adivce that has come in handy time and time again.

Pingify International's PGFY stock wasn't even a blip on anyone's radar prior to Friday, April 11, 2014. What brought PGFY stock to the top of the list of possible picks for the next StockTips promotion was some very in depth research done over at AimHighProfits who were spot on at picking possible tickers for the now defunct Awesome Penny Stocks group prior to their promotions.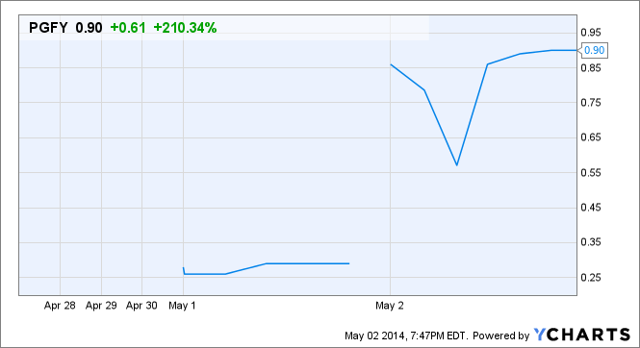 Seeing as how there are 25 million PGFY shares that need to get sold to novice investors, we were conducting as a way to try to spot the next StockTips pick before the pick was announced. The due diligence research the guys over at AimHighProfits conducted lead them to believe that PGFY was very likely to be the next pick to be issued by StockTips who have more or less replaced Awesome Penny Stocks as the top pump and dumper on the OTC.
How it's supposed to work:
Ping Me! is an application that brings together buyers and sellers of goods and services. The idea is that buyers can contact sellers and sellers can be contacted by buyers via a method known as a Ping. A buyer can set up specific needs they are looking for and when a product or service becomes available that matches their needs they would be Pinged on their phone or smart app device via the Ping Me! app. The same technology could also be used to notify an individual of website changes. The idea is to shorten the process of having to log in your email or other multi-step processes that are currently used to notify individuals of changes to products/services and web pages. Ping Me! will provide its notification service in real time.
It all sounds hitech, but in reality, the reviews of the app at the Apple iTunes store have nothing good to say about it.
Pingify International is dedicated to making their money from pinging and claims to already be integrated with eBay. Now, a "Ping" is considered to be a delivered advertisement to the end user treated similarly to an impression as charged by various online marketing services like Google's AdSense. Each one of these "pings" will be worth around $.008 per impression cost to Pingify whereas a "click," when a user is sent back to the client's network where the Ping is read, will be worth about $0.065 per click.
Do you have any idea how many "pings" or "clicks" it takes to make $300? It would take 37,500 "pings" or 4,615 "clicks" and the result would be $300 - the amount Pingify International had in cash as of October 31, 2013 which was also all of their assets.
HOW IT'S REALLY GOING TO WORK:
Pingify International sold 25,000,000 shares of PGFY stock for $0.005 per share during the period from July 2012 to January 2013. Past promotions done by the same promoter, Amarium Technologies, Inc. (OTCPK:AMMG), Pan Global Corp. (OTCPK:PGLO), and Tiger Oil and Energy, Inc. (OTCPK:TGRO) also had close to 25,000,000 free trading shares set up to be sold during those paid promotions. All 3 began between $0.22 and $0.35 and better than doubled while the promotion was still fresh. The most recent, Well Power, Inc. (OTCPK:WPWR), had a float of 48,750,000 and started from a much lower price, $0.055, before peaking above $0.80.
Simply put, PGFY stock is a scam, a massive pump and dump headed by Mike Statler and StockTips.com. From the landing page (www.stocktips.com/vip-brand-new-pick/) issued late Friday when PGFY shares began to explode:
DISCLAIMER: This report is for informational purposes only, and does not represent a solicitation to buy or sell the profiled company's securities, which trade under the symbol PGFY, nor any other securities. StockTips.com is operated by Amerada Corp. (NYSE:AC). Neither AC nor its employees are certified financial analysts or licensed in the securities industry in any manner. The information in this marketing piece and any accompanying information is subjective opinion and may not be complete, accurate or current and was paid for directly or indirectly by shareholders of the profiled company who may or will profit as a result of the preparation, publication and distribution of this marketing piece and accompanying information. AC expects to receive 6,500,000.00 USD (SIX MILLION FIVE HUNDRED THOUSAND DOLLARS) as a marketing budget for production and distribution of PGFY marketing material from an unaffiliated 3rd party, Laluna Services, Inc. AC will manage this budget for production and distribution of any marketing materials for PGFY and intends to keep the difference between the budget received and production costs as compensation. AC also expects to garner new subscribers as part of its efforts. This marketing piece contains forward-looking statements that involve risks and uncertainties. This marketing piece contains or incorporates by reference forward-looking statements, including certain information with respect to plans and strategies of the featured Company.
Last 5 Trading Sessions:
| | | | | | | | |
| --- | --- | --- | --- | --- | --- | --- | --- |
| Date | Open | High | Low | Last | Change | % Change | Volume |
| 05/02/14 | 0.9300 | 1.0000 | 0.5000 | 0.9000 | +0.6100 | +210.34% | 3,057,900 |
| 05/01/14 | 0.2800 | 0.3110 | 0.2600 | 0.2900 | -0.2000 | -40.82% | 21,000 |
| 04/25/14 | 0.4900 | 0.4900 | 0.4900 | 0.4900 | unch | unch | 2,600 |
| 04/24/14 | 0.4900 | 0.4900 | 0.4900 | 0.4900 | unch | unch | 2,000 |
| 04/23/14 | 0.4900 | 0.4900 | 0.4900 | 0.4900 | -0.4600 | -48.42% | 1,000 |
So basically, you buy PGFY stock in order to sell PGFY stock at a profit which can only occur if you have a short-term focus. With the share price already testing $1 after trading for less than 30 minutes today, Monday will the biggest volume session PGFY shares will see throughout its promotion. Anyone not looking to sell during next week increases their risk significantly to be left holding a big bag of ping which will force them to learn how to average down during one of the worst times of the year for a penny stock promotion - Summer!
Disclosure: I have no positions in any stocks mentioned, and no plans to initiate any positions within the next 72 hours.