1. About Dong Yang Securities
DongYang Sec is Korea mid-size security firm which acquired by Yuanta Sec (Taiwan financial group) and waiting for the government approval.
Previously a target company was a member of Dong Yang Group controlled by Mr.Hyun who is in the process of prosecution.
Dong Yang group has dissolved due to over leverage and high exposure to risky asset, and Dong Yang Sec also is at risk of incomplete sales law suit by individual investor who bought Dong Yang's CP via a target company channel.
2. Why buy Dong Yang Sec.
A. Low PBR
A target company PBR is 0.30, and market average PBR of Korean security industry is 0.56 as of 2014-04-11.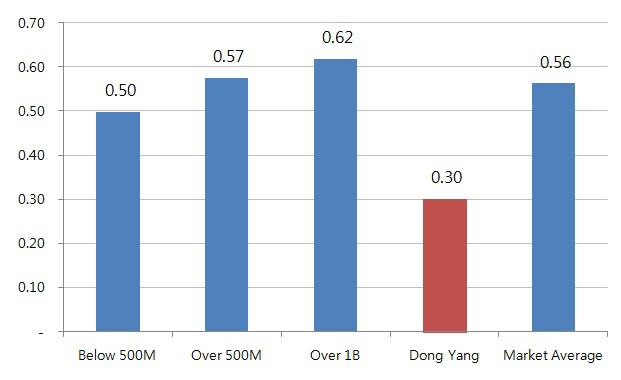 B. Business Synergy with Yuanta Sec
Yuanta Sec is a one of taiwan's largest financial group which has a security company in China too. If government's approval is done, Dong Yang will be a sole Chinese related securities company in Korea and expected key role in China related business.
C. Company Restructuring
1st quarter of 2014, Dong Yang fired a half of senior officers and 650 employees and also cut base salary which cannot be done with normal circumstances. It will helps profit of a company.
D. Industry Restructuring
Korean government has strong intension on a stock industry with newly regulated NCR policy. When industry restructuring is done, securities firm with decent size will be profitable again. (Dong Yang is no.7 Sec in Korea)
E. Lowered Incomplete Sales Risk
2014.3.21 court made decision on Dong Yang bond. Dong Yang bond holders will get 45% of cash and 55% will be a debt-equity swap to Dong Yang Corp(001520). And in my opinion, proving incomplete sales would be a daunting task, because Dong Yang bond high interest rate which means it has also risk of default. Also, if individual bought a corporate bond more than once, they will be categorized as professional investor, means, they couldn't prove themselves as a innocent bond investor which was happened in a savings bank subordinate bond investor case. Dong Yang Sec already accrued KRW 100M for incomplete sales risk.
3. Target Stock Price : 3,297 + won
A simple calculation for Dong Yang sec is as follows. It doesn't count business synergy and other positive factors.
*for convenience doesn't count preferred stock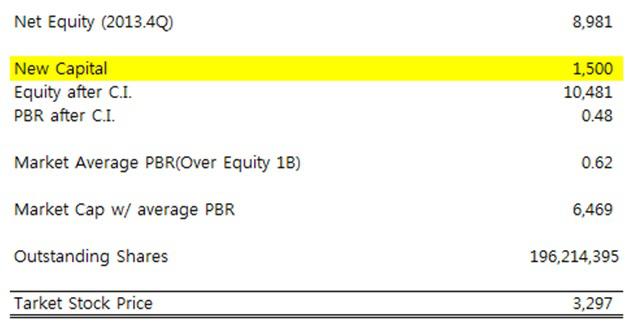 Stock Pick history
KOREIT buy 034830 KR. - 2013.07.07