As the US Markets are set to open after the labor day weekend, I stumbled upon some chatter on Salesforce.com (NYSE:CRM). Currently at $49.13 at the time of writing, the stock is up 12% after last week's earnings release. The general consensus being a revised upward outlook or a Hold strategy for all the buys.
From a purely short term technical analysis Salesforce.com chart does show some interesting key price points to pay attention to and is likely to appeal to both the bulls and bears.
Bearish Wolfe Wave
The daily charts show a bearish Wolfe wave being formed with the possible downside price target coming in at $40.42 with an estimated time around the 30th of September (end of this month).
(click to enlarge)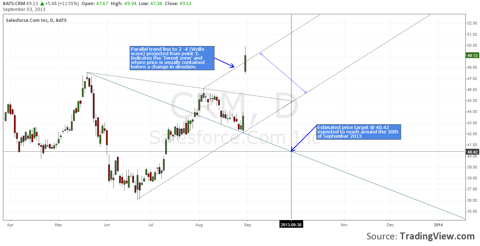 Click to enlarge
Current price action is playing out near the parallel (TL2-4) projection line. A daily candle's close above this trendline (above $48.77) would serve as a warning to let go of any bearish intentions to short sell this stock (at least for the moment).
A daily candle's closing price above $48.77 would signal a continuation of the current bullish trend.
On the other hand, if this projected parallel trendline does manage to hold would keep us in line for a possible short term short selling opportunity (possibly towards the target region of $40.42), which brings us to the question of where to enter a short position.
To answer this question, I introduce my own method to ascertain a confirmed change of direction by making use of Median Lines. By projecting the median line in the direction of current price action it gives a more clear indication of a possible move away from the trend (when price moves away from the Median Line).
What's important to note is that as long as price continues within the outer median lines there is nothing much for the bears to do. However a short selling opportunity can be identified when price shows signs of exhaustion near the median line followed by consecutive closes below the median line with possible move away and out of the lower median line. Refer to the chart below for the illustration.
(click to enlarge)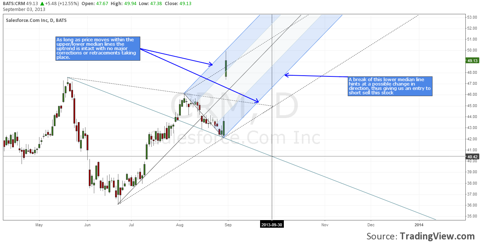 Click to enlarge
In such a case, the stops for the interim short sell trade would be taken at the most recent significant peak with the target level set to or close to $40.42.
One must however remember that Salesforce.com is in a continued uptrend and thus any drop in price to the downside is most likely to be a correction, in which case the above analysis can be used to buy into the dips around the level of $40/41.
Disclosure: I have no positions in any stocks mentioned, and no plans to initiate any positions within the next 72 hours.