Over the last two decades, oil production growth in the Bakken shale basin in North Dakota and Montana has been phenomenal.  Like the Barnett basin in Texas, drilling activity built up gradually and eventually led to rapid growth, particularly from 2006 to 2011.  Key drivers of this production growth include increased use of horizontal drilling, advances in hydraulic fracturing techniques, and continued elevated prices for crude oil and other natural gas liquids.

Here is a map of the significant production areas in the Bakken Shale: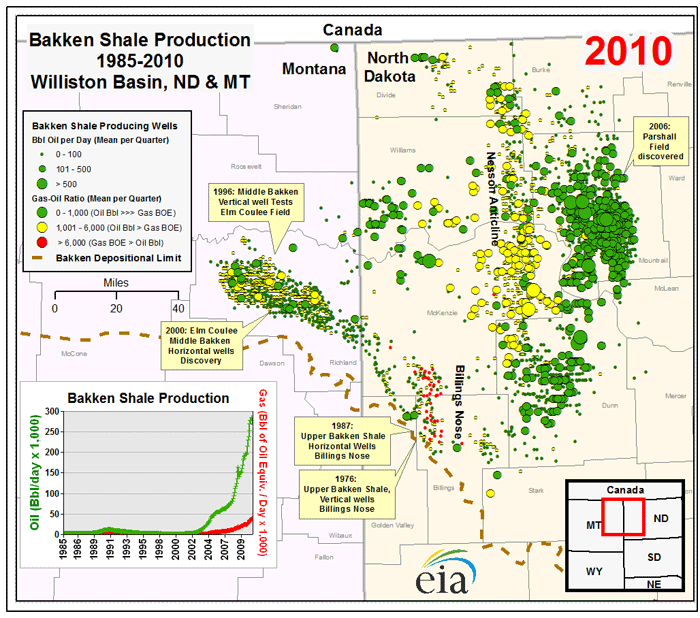 According to the US EIA, North Dakota is now the United States' fourth largest oil-producing state - trailing only Alaska, California, and Texas - due mainly to production gains in the Bakken.  Total North Dakota oil production averaged 445k barrels per day (bbl/d) in August 2011, up from an average of 344 thousand bbl/d at the end of 2010 according to the North Dakota Department of Mineral Resources.

For investors looking to gain exposure to the Bakken play, some companies to consider include:

1) Kodiak Oil & Gas Corp (NYSE:  KOG) - ($2.3bn market cap, 37.0x FY11 P/E, 6.3mm average volume)  Kodiak is Oil & Gas is an independent energy company that focuses on the exploration, exploitation, acquisition, and production of crude oil and natural gas in the Bakken and Green River basins.

2)  Brigham Exploration Co.  (NASDAQ:  BEXP) - ($4.3bn market cap, 27.3x FY11 P/E, 1.1mm average volume)  Brigham Exploration Company is an independent exploration and production company that applies 3-D seismic imaging and other technologies to explore and develop domestic onshore crude oil and natural gas resources.  Brigham's exploration activities are concentrated primarily in the Anadarko, Bakken, and West Texas basins in the United States

3) Whiting Petroleum Corp. (NYSE:  WLL) - ($5.8bn market cap, 13.2x FY11 P/E, 1.8mm average volume)  Whiting Petroleum Corporation is involved in crude oil and natural gas exploitation, acquisition, and exploration activities.  The Company focuses on lower risk, long-lived oil and natural gas properties located primarily in the Gulf Coast, Bakken, and Rocky Mountain regions of the United States.