This isn't a trade idea in the sense that I want to give everyone an idea of a potential trade to make. It is, however, a trade idea in the sense that these are the sorts of trades that more often than not, prove to be successful.
Many people will tell you to avoid trying to catch "falling knives." Its an industry wide term. However, in my career, I have found that knife catching has a high probability of ending in a profitable trade.
Where most people go wrong is they dedicate too much capital too early. They see a stock dropping and think, "That's a falling knife, I'll catch it." However, falling knives generally fall far longer than you think because it is powered by all the traders trying to catch it too early. In catching knives, especially on the daily time frame, I will not dedicate more than 2% of the capital to a position, and most of the time it remains at 1%. This means that even if I make 100% on the trade, my account value will only go up 1%.
So on a $100,000 portfolio. If you make 100% on the knife catch, your portfolio only moves to $101,000. This is where beginning traders go wrong. They think, "Well that hardly seems worth it. If I stick in 10% of the portfolio, I can make more than that. If I stick in 25% I can make much more than that." So they get heavy into a trade and even if the trade would have worked out, they are forced to close out because guess what? They can also lose much more than 1%.
Now, my strategy isn't for everyone. I have seen traders put a lot of leverage to work. That just isn't me. I trade not only my money, but other's as well. For some PMs this drives them to increase risk because at the end of the day, it's not their money. For me, though, I care more about my client's funds and my good name, than I do about my personal money. I am not a huge risk taker. I prefer to eek out 6-8% a year and give my investors more consistent gains than to be a hot shot who gives them the occasional 30% year, but blows up a few years later.
I will be getting to the quick VHC review, but I want to finish the point about position sizing, because that is one of the keys to successful trading, in my opinion. My investors are happy with 6-8% a year. Some people complain, "Well the S&P was up 13% in 2012 and you were only up 12%. I should just stick all my funds into the S&P 500 index funds and get better return." But that's not what they pay me for. They pay me for consistency. I have had investors pull out for this reason, but then they stick their money in an index fund at the top and lose a bunch on the way down. It's easy for warren buffet to say, the index will outperform mutual funds after fees. And while that's likely true, it isn't true that the individual investor will perform better putting their money in the index fund than they would in a mutual fund.
So while I tell my investors that we just seek to deliver 4% more than the rate of inflation--making us a better alternative to CDs and other investments. We have in our history proven to return better than that (won't post numbers due to performance reporting compliance, just trying to make a point).
That's why I don't put more than 1%-2% into a trade like VHC. Even though it has a high probability of success, in the times that it does fail, the losses are huge.
The Trade:
I first posted about VHC to stocktwits on March 25 from what I can see in my post history. I do seem to recall mentioning it prior to breaking below $20, but I could be mistaken. It was after it had dropped below an important level and I made this tweet:
"Amazing how prescient levels are on a binary event stock. You wouldn't think so, but check $VHC."
- http://stocktwits.com/message/12717388
This chart was attached: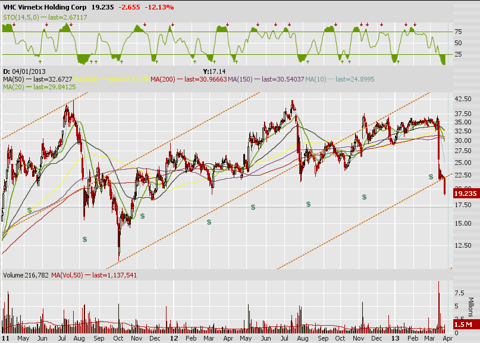 After examining the chart, and seeing that the first knife catch failed, I determined the next level of support (where I would try to catch the knife), along with the exact scenario that would need to play out for me to enter. A level is not just enough for a knife catch to work. There are also other factors that increase the probability.
See: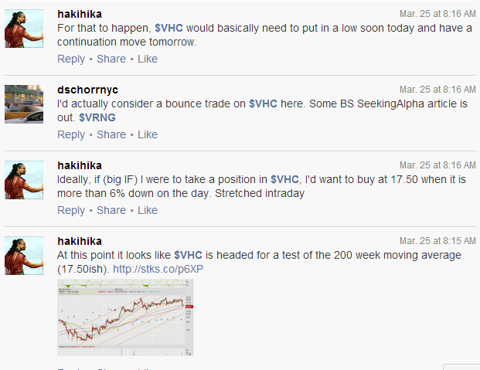 On March 25, 2013, when VHC was still trading at over 19. I posted that I would need to see VHC trade to my entry level (17.5) on a day when it reached there it was down more than 6%. This increases the chances of a rubberband trade vs. just continuing lower.
A few days later, on April 1, my scenario played out. In the morning VHC dropped more than 6% to 17.50 and I was able to enter a limit order when it was around 17.46 for 17.50. My entire order was filled.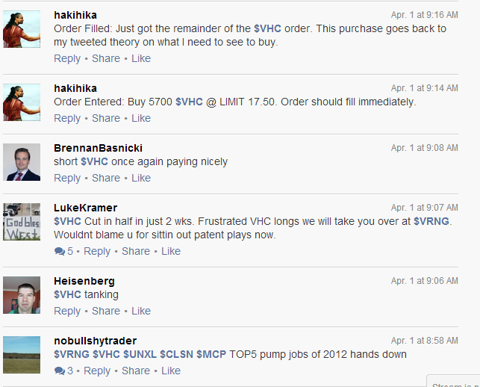 I chose to include more than just my tweets because I wanted to give an idea of the sentiment on that day. Most of the people on the stream were either just pointing out that VHC was tanking again or that they were glad to be short. Negative sentiment on an already stretched name is another necessity for trying to catch a knife. If too many people are trying to play the knife catching game, then all the knife catchers will likely get cut.
Here is what VHC looked like that day: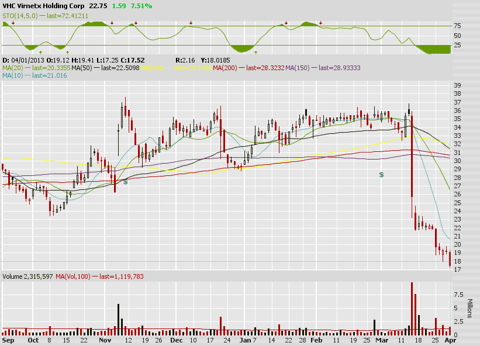 This was the third break down. I could write a whole post on why I like to trade the third breakdowns. Or even breakdowns from key levels that everyone is watching. These are often called 2b reversals and it essentially just shakes out the bottom catchers before forming a bottom.
A little more than a month later, I sold the position for about 31.5% gains. My initial target was 22.5, but it flew past that today, so posted an exit at 23.
It took about 30 minutes for the order to fill, but it eventually did. I even got a tweet from someone telling me that they would continue to hold VHC.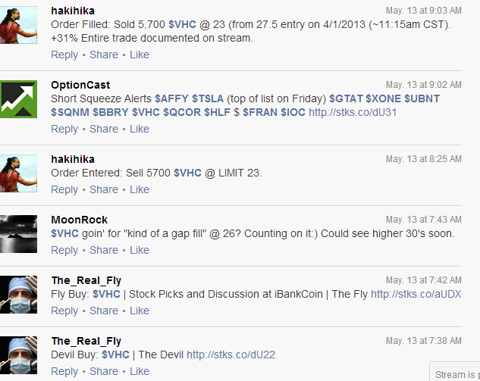 Again, I posted more than just my tweet just to give a small sample on the sentiment switch between the day I entered and today when I exited. Today it's on short squeeze screens, you see buyers and people talking about how it could fill a gap at 26 and 30.
And the chart certainly looks like it could continue to go higher like they say. However, I made my 31%, and I happen to believe that when charts look like they have a lot of room to run, it's time to exit into the people who are actually buying that they have a lot of room to run. It's an odd concept and hard to explain exactly. Its not the warren buffetism "Buy when others are afraid and be afraid when others are greedy." It's slightly different than that. Perhaps that's a post for another day though. Here's a chart of VHC that I snapped just a bit after I sold: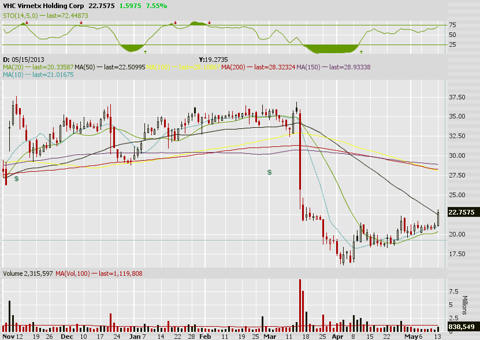 It certainly looks like it could continue to 27.5, but that seems greedy to me and that wasn't the trade. The trade was just a snap back from a falling knife. If I can make 30% in a little over a month on a trade, I'll take it and run. I'll leave it to the "buy on strength" crowed with their stops and risk management to see if it will continue. My game is over, I'll pass the ball onto them.
Disclosure: I have no positions in any stocks mentioned, and no plans to initiate any positions within the next 72 hours.
Additional disclosure: Sold VHC today (discussed in the post). Author takes no responsibility for reader's actions. Author is making no recommendations one way or another in the blog. And the post is meant for educational and entertainment purposes only.