The stock market is a tricky game. I often compare it to chess because there are many nuances involved and you are playing it against other people. Many people talk about the ominous "they" and often times these people are just making an excuse for a losing trade. You need to think about "they" being the losing traders and how are you going to beat them. Yourself being a winning trader. What's this have to do with a Google trade, you ask? It's a prerequisite for understanding the trade.
Earlier today, I posted a quick series of tweets on how you have to combine multiple signals to make a good thesis. Many traders will take only one item (Sentiment, support level, breakout/breakdown) and decide to make a trade based off of it. These trades, more often than not, turn out to be losers because they are easy. Don't get me wrong, a trade doesn't need to be complicated to win, it just needs to be a bit more subtle.
Here's tweets today on that rant: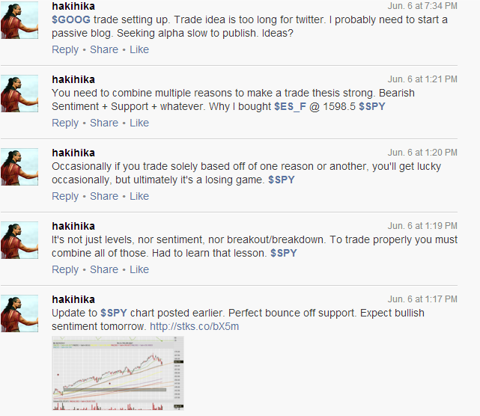 Now let's get to the Google trade. Below is a chart of Google and then I'll explain what exactly I'm looking for and why.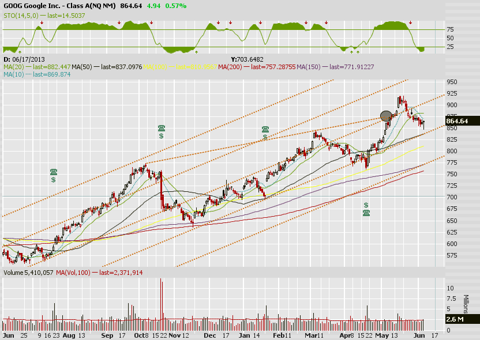 I haven't really looked at the stream or sentiment tonight as I'm out of town for meetings/vacation. However, I'd be willing to bet there are a lot of people calling to buy Google based on a hammer candle. However, that is the obvious trade and has a high probability of turning into a losing trade. Notice also that while the hammer formed near support it's not really at support.
So really, the only thing this trade has is a hammer candle. Sentiment? It's certainly not overly bearish for Google, Support? Close, but not quite. Breaking out? Ha! For these reasons, I'll pass on buying based on a hammer candle (though I really do like hammer candles). I'm not saying that trade won't work, I'm just saying that the probability of success isn't high enough for us to take the trade. They do have oversold stochastic with the hammer, and I'll admit, it is a very nice looking hammer.
The trade that I am looking for is buying the stops of everyone who buys this hammer. And here's how it should set up:
Google will confirm a breakout over the hammer candle high.
Sentiment will get very bullish (likely see a lot of that tomorrow) And if I were at the office, I think Google to the long side tomorrow will be very profitable.
Momentum will quickly be lost and Google will either trade sideways or start trading lower on Monday.
Over the course of 1-4 trading days after breaking down from the lost momentum, Google will breakdown below the low of the hammer (847).
Sentiment will start turning extremely bearish because everyone that was long will start tweeting the usual bearish tweets about how terrible a stock is and why they are glad to be short (ha!).
Price will be right at support 840-844 (50 day moving average, channel support).
Oversold reading will still be there.
Who knows, maybe there'll be another hammer candle (though probably not as pretty and obvious).
So basically, I'll be looking for those stars to align for me to get long Google again. And I'd take a 4% position to start with as the risk isn't easily defined from that position. If I were going to play today's hammer candle, I would have taken an 8-10% position because the risk is very defined (stop below 847). But that's why we will likely see below 847, it's an easy stop to run. Think fractals. Though that's a whole other post.
Disclosure: I have no positions in any stocks mentioned, but may initiate a long position in GOOG over the next 72 hours.
Additional disclosure: No real need for a disclaimer as I've pretty much posted exactly what my plans are and what I'm looking for. However, I obviously reserve the right not to initiate a long trade or to change my plan based on any price action I see. I will not necessarily update this post when and if that happens, you are on your own for your investment decisions and I merely post this for entertainment/food for thought.