We have been bearish (and wrong) GLUU for a while now (about 2/3 weeks). We first tried a short at 6.5ish (on 7/15), and covered around 6.5ish a few days later (7/16 & 7/17) after 6.2 was unable to break (If bulls want to keep buying it up, that's fine by us; We will step aside).
A few days later (7/21) Cowen increased their price target from $6.00 to $10.00. Stock gapped up to $7+ which is where we sit today.
At $7, Glu Mobile has a market cap of $572m. 2013 Revenues were $106m. Cost of Revenue $37m for gross profit of about $69m. Expenses: R&D ($47m) + SG&A ($42m) + Other expenses of $1m and $1m non recurring = $91m.
$91m - $69m = $22m net loss in 2013. But that's okay. It's a growing company. Lots of companies lose money. Just look at AMZN.
This size loss has been holding firm for the last three years. Right around $20m lost y/y/y.
But this year, they will likely turn their first profit. I don't deny it. Their KK game is hot, and gross profits should outweigh the losses. But how should Glu Mobile be valued? That's the question.
KING, the big kahuna of the mobile gaming industry is valued at about 3x revenue (About $2bln in revenue and a $6bln market cap).
ZNGA another mobile gaming is valued at about 3x revenue (About $873m in revenue and a $2.6bln market cap).
While I don't like the mobile gaming space as a whole due to the main bearish case on any of these companies (Low barriers to entry, a history of one hit wonders, etc.), for whatever reason 3x revenue is how the industry is valued by the street.
Indeed, even GLUU has historically been valued at 3x revenue (or less).
2011 Revenue = $74m x 3 = $222m
2012 Revenue = $108m x 3 = $324m
2013 Revenue = $106m x 3 = $318m

So let's say the bull case is right. Let's say their revenue looks like this: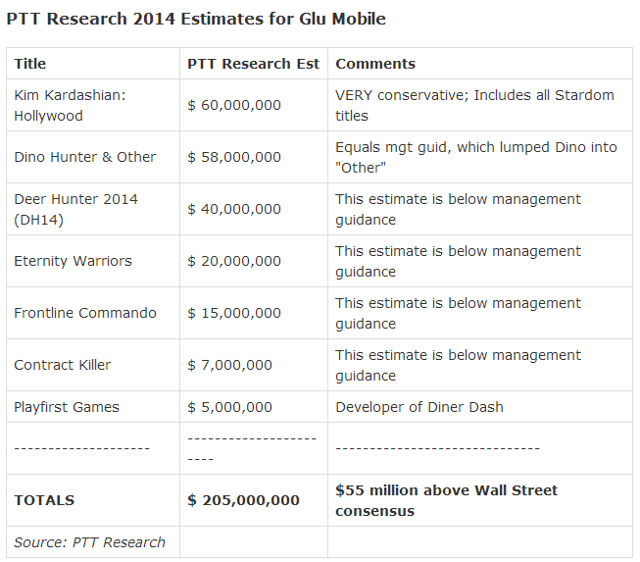 Let's pretend they are able to do: $205m in revenue.
3x $205m in revenue = $615m valuation.
$615m market cap = about $7.56 per share.
So why am I short?
The current price of GLUU is right around $7. We have even seen $7.6. This is by our book, fully valued assuming the bull case scenario. GLUU historically trades at 3x revenue at the high end. You can look back at the chart and see that it traded at about half that throughout 2013. Further, we believe the scenario to be a bit wrong.
For starters, Kim Kardashian is getting a cut. We don't know exactly what the cut is, I believe we will find out and if the street thinks she is being paid too much, we will sell off. Where is her cut going to come out of? Cost of Goods sold, I would argue, but it really doesn't matter where because it will end up affecting the bottom line. If it is taken from the cost of goods sold, then GLUUs margins are going to be lower than KING and ZNGA (something the street will not take kindly to). Instead of the usual 30% cost of goods sold, GLUU will higher. How much higher? That's up for debate. I would argue it could get up to 43%+ of the revenue.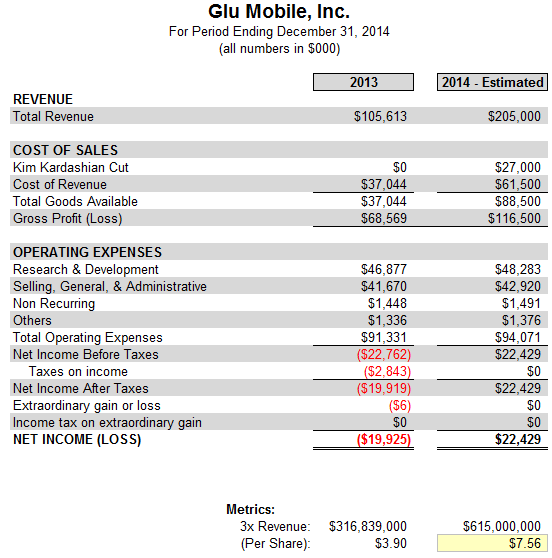 Further: KING currently trades at about 8.4x EBIT. With $22.5m in 2014 profit, we're looking at $189m valuation. Now, I don't think that's the case. KING has shown itself to be a one hit deal, while GLUU has shown that it is the grinder. Game after game, different genres, styles, etc. To get their revenue. So I think trading higher is fair. But at $7.56, that would be an EBIT of 27x. A bit high IMO. What I think is fair, doesn't matter though.
My point here is that the optimistic scenario is already baked into the price. And what's more, the KK game won't even be in the Q's numbers. It will be in the guidance, though.
With little upside left, I believe GLUU will end up being a case of buy the rumor, sell the news. Which is why we are short and will most likely be so into the earnings report.
**Author's Edit**: As has been pointed out in the comments below, there was some dilution since the shares outstanding I used. In my graphic below, instead of $7.56/share, that should be $6.74/share (3x revenue). $205m * 3 = $615. $615m / 91.2m shares outstanding = $6.74/share. This will also change a number of other places if you want updated numbers. But the points are all the same.
Disclosure: The author is short GLUU.
Additional disclosure: The ideas and market views discussed in the article are solely the opinion of the individual writing them. They do not necessarily represent the market view or recommendation of the individual's registered advisory firm, and there may be conflicts of interest between the advisory firm's clients and readers of the article. The individual does plan to buy/sell some of the securities mentioned above in either his or his clients accounts, but may or may not buy/sell any of the securities within 72 hours. Readers may or may not be informed of any decision that Haki makes regarding some or all of the ideas above.The trading of securities may not be suitable for all potential users of the Service. You should be aware of the risks inherent in the stock market. Past performance does not guarantee or imply future success. You cannot assume that profits or gains will be realized. The purchase or short sale of securities discussed may result in the loss of some or all of any investment made. In the case of short selling it can result in losses in excess of the full investment. We recommend that you consult a stockbroker or financial adviser before buying or selling securities, or making any investment decisions. You assume the entire cost and risk of any investing and/or trading you choose to undertake.