http://www.freefdawatchlist.com/2012/10/is-sarepta-therapeutic-srpt-worth-4493.html
Sarepta Therapeutics (NASDAQ: SRPT), a developer of innovative RNA-based therapeutics, today announced that treatment with its lead exon-skipping compound, eteplirsen, met the primary efficacy endpoint, increase in novel dystrophin, and achieved a significant clinical benefit on the primary clinical outcome, the 6-minute walk test (6MWT) over the placebo/delayed treatment cohort in a Phase IIb extension trial in Duchenne muscular dystrophy (DMD) patients. The company changed its name from AVI BioPharma in July. Here is a link http://investorrelations.sareptatherapeutics.com/phoenix.zhtml?c=64231&p=RssLanding&cat=news&id=1741044
Now here is the highlight of the study.
"Study 4658-US-201 was conducted at Nationwide Children's Hospital in Columbus, Ohio. Twelve boys meeting the inclusion criteria being between 7 and 13 years of age with appropriate deletions of the dystrophin gene that confirm eligibility for treatment with an exon-51 skipping drug, received double-blind IV infusions of placebo (n=4), 30 mg/kg of eteplirsen (n=4), or 50 mg/kg of eteplirsen once weekly for 24 weeks (n=4). Muscle biopsies for evaluation of dystrophin were obtained at baseline for all subjects, and after 12 weeks for patients in the 50 mg/kg cohort and after 24 weeks for patients in the 30 mg/kg cohort.Two placebo patients were randomized to the 30 mg/kg cohort and two placebo patients were randomized to the 50 mg/kg cohort. This study design allowed Sarepta to investigate the relationship of dose and duration of eteplirsen treatment on the production of dystrophin over the course of the 24-week study."
Sarepta Therapeutics' Lead Therapeutic Drugs for Ebola and Marburg Viruses Receive FDA Fast Track Designation but U.S. government has terminated the funding for Ebola. Because of this Sarepta anticipates 2012 full year revenue will be in the $37 to $43 million range and operating loss will be in the $25 to $30 million range. For the year 2011, the operating loss was $35.9 million, compared to an operating loss of $20.9 million for the prior year.
SRPT doesn't have anything in Phase 3. Here is a pipelie of R&D. It takes atleast 1 year trial in phase 3. It takes approximately 1 month for FDA to accept application and give approval date which would be minimum 6 month. That means SRPT will not be in the market for sale till next 2 year unless FDA approves it.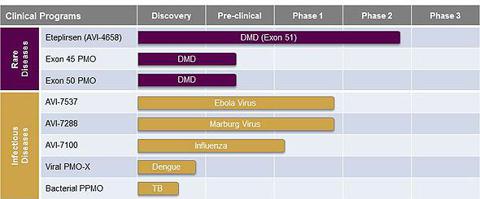 R&D pipeline for SRPT
Based on the cash balance for R&D work and no drug in phase 3, SRPT doesnt look like its worth even $10.