http://www.freefdawatchlist.com/2013/08/tesla-motors-inc-nasdaq-tsla-over.html
Tesla Motors Inc (NASDAQ: TSLA) has a market cap of 20 B. By the end of Q2, TSLA has 13,000 Model S Vehicle on the road. The valuation of the company is over priced and outrageous on the hope of future growth and sales projection. Based on the chart, stock is in the overbought zone for many month and shorts keep getting squeezed everyday. I am holding shorts in TSLA because I think TSLA is ready for short term correction. A stock cannot run forever unless it gets Fed support just like the Index has been pumped everyday. Anyways, TSLA is on a dream run and any investor would like such enormous move.
OverBought:
Based on the weakly and monthly chart, TSLA has been overbought condition. Short term I think TSLA can decline to $140 if it wakes up from the dream.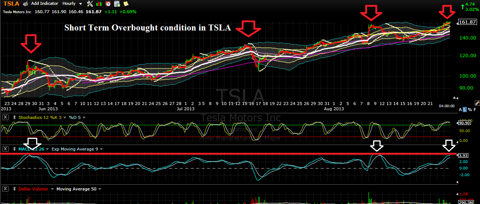 Short Term Overbought Condition in TSLA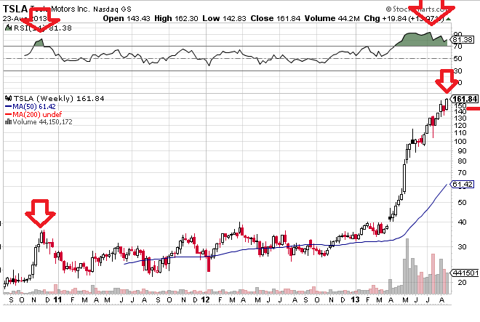 Weekly Overbought Condition in TSLA
Tesla Everywhere Really ?
I was surprise after going through TSLA website and checking out their location and service center. Tesla has 41 stores and Galleries throughout USA and Canada. Out of this 12 are in California, 1 in Canada and 28 others stores in 18 states which comes to average of 1.5 store per state. Tesla has 59 service center out of which 24 are coming soon which reduces the number to 35 service center and out of this 9 are in California and 3 in Canada. This leaves 23 service center in other states. Check out yourself.
http://www.teslamotors.com/findus/stores
Q 2 financial statement:
Tesla generated adjusted profit of 26 million while non adjusted income showed 30 million of loss. But the important thing to look from Q2 financial statement is their revenue. On the bullish side, revenue from US increased but there was huge decline in revenue from Europe and Asia.
Revenues in thousand
 
 
 
 
 
 
 
 
 
 
 
 
 
 
 
 
 
 
 
Three Months Ended
 
 
Six Months Ended
 
 
 
June 30,
 
 
June 30,
 
 
 
2013
 
 
2012
 
 
2013
 
 
2012
 
North America
 
$
400,137
 
 
$
8,144
 
 
$
952,634
 
 
$
25,252
 
Europe
 
 
4,743
 
 
 
16,756
 
 
 
13,594
 
 
 
25,987
 
Asia
 
 
259
 
 
 
1,753
 
 
 
703
 
 
 
5,581
 
 
 
 
 
 
 
 
 
 
 
 
 
 
 
 
 
 
Total
 
$
405,139
 
 
$
26,653
 
 
$
966,931
 
 
$
56,820
 
 
 
 
 
 
 
 
 
 
 
 
 
 
 
 
 
 
"In Norway alone, we expect to deliver almost 800 vehicles this year based on current orders. Orders from Europe have grown every month since February. If demonstrated demand in North America and Europe is matched by similar demand in Asia, annualized sales for Model S could exceed 40,000 units per year by late 2014″
Well, the statement was over exaggerated by the Tesla just like Elon Musk's hyperloop plan which is pratically impossible. TSLA has moved over 377% year to date from the strength of shorts covering.
TSLA move is similar to NFLX, GMCR, and FSLR bubble run in 2011 and AAPL run in 1st half of 2013 until they crashed. I think short term TSLA has chances of pullback but wait for the confirmation of the downtrend.
Disclosure: I am short TSLA.