Nobody can predict whether the market can go up or down in this manipulated crazy market where bad economic data can turn into positive rally or some rumor or good economic data could lead to big sell off. There are many technical indicator available by different broker. In this article I'll discuss about Simple moving average (NYSE:SMA) to visualise whether its uptrend or downtrend. You can predict 95% of time correctly.
A simple, or arithmetic, moving average that is calculated by adding the closing price of the security for a number of time periods and then dividing this total by the number of time periods.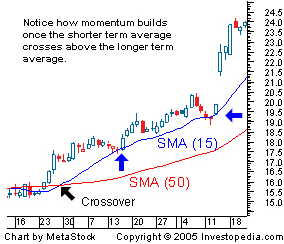 As shown in the chart above, many traders watch for short-term averages to cross above longer-term averages to signal the beginning of an uptrend. As shown by the blue arrows, short-term averages (e.g. 15-period SMA) act as levels of support when the price experiences a pullback. Support levels become stronger and more significant as the number of time periods used in the calculations increases.
I use google finance for most of my trading www.google.com/finance
The chart is simple and easy to use. Set it to 1d by clicking on 1d inside chart. Below I have shown how to set the chart.