In an investment world in which "every little" news story or European hiccup moves many financial markets, it's good to know there are alternative investment opportunities. Weather and Climate have a multi-trillion dollar annual impact on global GDP. Commodity prices from natural gas, heating oil, grains, cotton, coffee and many others are greatly influenced by both optimal (bearish) and detrimental (bullish) growing conditions.  
In the case of heating oil and natural gas, the incredibly mild early winter in both the United States and Europe is bad news for the ski industry but good news for consumers hoping for lower utility bills. One trade that I have recommended a few weeks ago, was being short heating oil heading into early-mid winter, due to unseasonably warm weather.
While OPEC production and world economic factors have a huge influence on the price of crude oil, the continuing problems in Europe, combined with a warm winter and weaker than normal global heating oil demand, should mean that heating oil prices could fall another 10% or so this winter.
The short  ETF (NYSEARCA:DNO) has seen about an 8% gain so far this month, and I would expect that further gains are expected in the weeks ahead, due to weak global crude oil demand.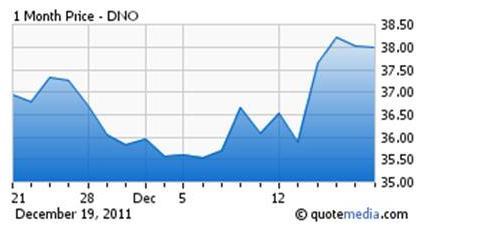 I would also look to play the heating oil market directly by being short this particular
ETF (seekingalpha.com/symbol/uhn)
WEATHER FUTURES---WHAT ARE THEY?
There is even something called "weather futures" (based on temperatures) traded at the CME -www.cmegroup.com/trading/weather/
A trader can actually make a bet that it will be cold or warm at a host of U.S. and European cities. It doesn't matter if the dollar weakens, the trade deficit widens or there is a war or  monetary collapse, trading weather futures are completely related  "only" to the settlement price of  a city's  end of specific month temperature. In the near future, I will elaborate a bit more on this on Seeking Alpha. But for those traders who want to be long crude oil and do not want to be short a crude or heating oil ETF; then being short temperature futures this winter is a great hedge.