Stock Volatility Creates a Rollercoaster Ride for Investors
During the week market participants experienced a rollercoaster ride which began with continued selling of riskier assets as the US government shutdown continued. On Thursday, the US equity markets generated the second largest rally of the year on the heels of a potential deal, that was eventually rejected, but shows that the sides are moving in the direction of opening the US government and discussing a debt ceiling bill that would allow the US to avoid a default.
Many believe a resolution will come over the weekend, which is why stocks seem to have held Thursday's outsized gains. The new negotiations are likely to focus on spending cuts, which will allow the Republicans to save face. The US deficit has declined faster than anticipated, but the cuts have been focused on discretionary spending as opposed to entitlement reform. On Thursday, the President rejected a deal that would increase the debt ceiling but leave the government shut.
(click to enlarge)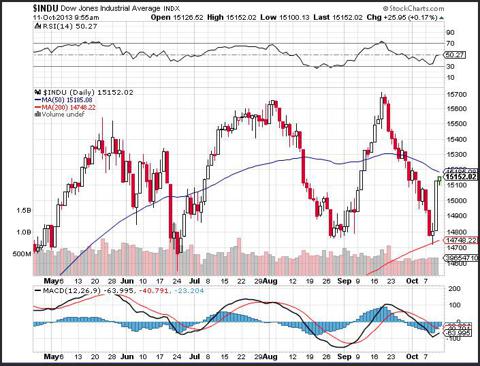 Click to enlarge
News in Asian seemed to buoy the Japanese markets. Japan reported record strong M3 growth of 3.1% in September. This is a function of BOJ asset purchases, and reflects an acceleration of the velocity of money. This is a positive step for the central bank, as it reflects true inflation as money is being spread around. Additionally, the Corporate Goods Price Index rose 0.3% in line with expectations.
Recent data from the UK shows that the economy has slowed in the third quarter. The UK construction report was softer than expected. Construction output fell 0.1% in August. The consensus was for a 0.8% increase. Some of the disappointment may have been mitigated by the upward revision in July to 2.8% from 2.2%.
Implied volatility as reflected by the VIX turned the corner on Thursday declining sharply from its peak on Wednesday near 20% to 14%. The VIX reflects the implied volatility of the "at the money" strike prices of the S&P 500 index. The higher the VIX the more inventors need to pay for premium to protect against and adverse market move. The VIX soared early in the week as investors prepared for a potential government shutdown.
Click here to learn more about proprietary trading
(click to enlarge)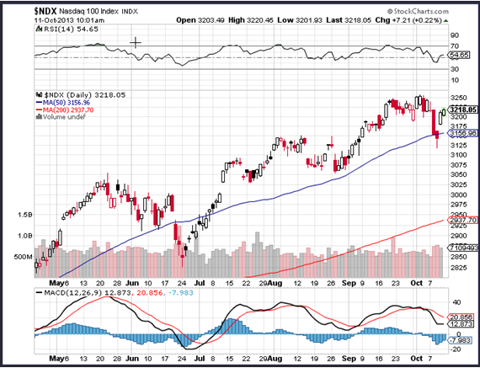 Click to enlarge
The Nasdaq was the best performing index on Thursday and it continued to move higher on Friday. The tech heavy stock index recaptured the 50-day moving average near 3156 and continued to rise and will likely test the recent highs near 3250.
Momentum is still negative but the trajectory of the MACD (moving average convergence divergence) index is flattening. The RSI (relative strength index) which is an oscillator that measures overbought and oversold levels is printing near 55, which is in the middle of the neutral range and reflects consolidation.