Volatility Increases as Geopolitics Returns to Capital Markets
U.S. stock experience a tumultuous proprietary trading week, with prices surging to new highs on Wednesday and then tumbling on Thursday following the news that a Malaysian Airplane was shot down on its way from Amsterdam to Malaysia. President Obama has again warned Vladimir Putin of increased sanctions if Russia does not change its stance of backing Ukrainian rebels. Israeli troops move into Gaza with the intention of crippling the Hamas regime. Despite the volatility the S&P 500 index closed higher by 0.54%.
Risk aversion has started to rear its ugly head, as yields have declined and gold prices have perked up. The US 10-year yield has declined to 2.44% which is a 6-week low at it is poised to test the low made in early June near 2.4%. Gold prices have been on a rollercoaster, moving higher in early July but peeking out near 1,340 per ounce.
Oil prices rebounded after slicing through $100 dollars a barrel, as perceived demand has dropped off relative to supply. Earlier in the week, the Department of Energy released its short term energy outlook which reduced the amount of production expected out of Iraq into 2015.
Economic news has been light this week, but both housing starts and retail sales were weaker than expected. U.S. housing starts fell 9.3% to 893k (median 1,020k) from 985k in May. November's 1,105k headline was the highest since February '08, the recent low was 536k in June '10. Permits for June were 963k from 758k in May. Completions fell to 789k in June from 897k in May.
June retail sales grew 0.2% compared to a median estimate of 0.6% and sales excluding autos were up 0.4% with a median expectation of 0.6%. The May headline was revised to 0.5% from 0.3%. The vehicles & parts components fell 0.3% in June versus the 1.3% June increase in unit vehicle sales. Gas station sales were up 0.3%, after a May increase of 0.7%
On a positive note, U.S. initial jobless claims dipped 3k to 302k in the week ended July 12; from a revised 305k previously. The headline figure is important as it coincides with the BLS survey week. The 4-week moving average was 309k from 312k. Continuing claims fell 79k to 2,507k in the week; ended July 5 from a revised 2,586k to end June.
In earnings news, financials started the week on a positive note with Citigroup (NYSE:C), Goldman Sachs (NYSE:GS), JP Morgan (NYSE:JPM) and Morgan Stanley (NYSE:MS) all notching up results that were better than expected. In the technology space, IBM beat the street but its forward-looking guidance was disappointing. Google's second quarter earnings per share of $6.08 missed by $0.15 although revenue jumped 22% year over year to $16B beating estimates by $350M. Next week earnings season will kick into full gear.
(click to enlarge)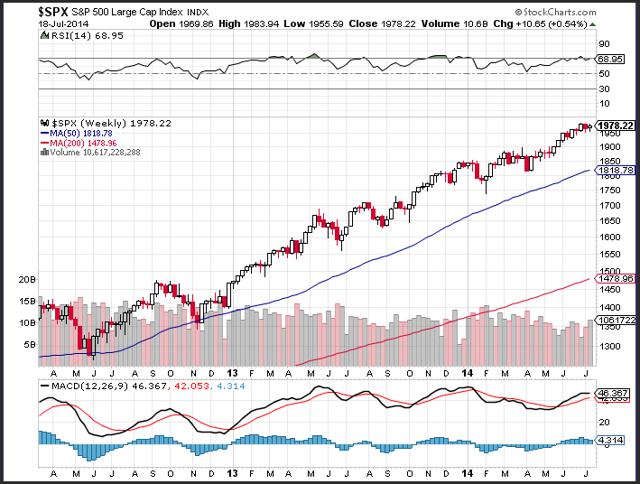 Click to enlarge