The latest addition to Seagate's line-up of external drives is no doubt the highly anticipated Seagate Backup Plus. The Seagate Backup has replaced the Go Flex - a brand you may have heard of in the past. However, the Go Flex is no longer available on the market, which means the Backup Plus is here to stay. Nonetheless, if you are concerned about the adaptors to your old Go Flex external hard-drive - and are looking to replace it with the newer Backup Plus - don't fret. You can still use the Go Flex adaptors on the Backup Plus. The Backup Plus is quite similar to the Go Flex in several ways; however, the most apparent similarity is that the Backup Plus also comes in two parts - one being the adaptor and the other- the drive itself. You're probably wondering, so what does the 'plus' stand for? The special feature "Plus" lets you backup other things, such as backup of online content, for example, you can backup your facebook profile with this external-drive.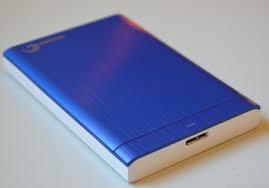 The Backup Plus is capable of working on either Mac or Windows without the need to re-format. Out of the box, you get the necessary software to run it on a Mac, the software enables you to write and read NTFS. Testing the speed on the Backup Plus yielded satisfactory results. The Backup Plus performed exceptionally well with USB 3.0 and 2.0. In regards to aesthetics, the Backup Plus is available in several colors, plus, it's also slightly compacted than its predecessor. If you are looking to back-up data from your PC, then the Backup Plus is certainly worth looking at. The drive retails at around $140.00, and you get a disappointing 1 terabytes of storage capacity. However, that being said, for some people it may be more than what they really need. There are cheaper versions of the Backup Plus which offer slightly less storage capacity.
The hard drive itself is at around 2.5 inches, and connects to your PC through a USB 3.0 cable for maximum data transfer speeds (provided your machine is equipped with USB 3.0 ports) The USB 3.0 cable serves two roles: the data transfer cable as well as the power cable. Nonetheless, there are options available in respect to connectors; you can purchase FireWire, e SATA and thunderbolt, if you want to. As mentioned earlier, if you had previously owned a Go Flex and purchased different cables for it, you don't have to throw those away - you can use them on your new Backup plus. In regards to data security, there's no such software provided that will safeguard your portable data. However, it's always a good idea to purchase third-party data security software, as it's more reliable and is always bug-free when compared to integrated software. The software can work on virtually any portable data storage medium -- helping you to password protect USB drives and external drives - such as the Seagate Backup Plus. Final thoughts: The Seagate Backup Plus is no doubt fast, portable, and not to mention - good looking. Additionally, the option to back-up online content certainly sets it apart from its competitors. However, the Seagate Backup Plus is not without its flaws. For $140.00 there are portable drives that offer much larger storage capacity.
For more information please visit:
http://www.newsoftwares.net/usb-secure/
Disclosure: I have no positions in any stocks mentioned, and no plans to initiate any positions within the next 72 hours. I wrote this article myself, and it expresses my own opinions. I am not receiving compensation for it. I have no business relationship with any company whose stock is mentioned in this article.