The Bank of Spain reported last Friday the latest data regarding non-performing loans (NPLs) for the Spanish banks as of June 2012. The amount of bad debt increased considerably, being the highest month-on-month increase since June 2008. The NPL ratio for the sector stood at 9.42%, an increase of 46 bps in just one month, reaching a new record since at least 1962. In annual terms, the ratio increased 273 bps.
The sector coverage ratio stood at 61%, an increase of 5 percentage points from the previous month. This is explained by the higher provision requirements mandated by the recent Royal Decrees, that banks must meet by the end of the year.
Deposits of households and companies fell almost 7 percent from a year earlier, a trend that should continue due to lower disposable incomes and lack of confidence in the system. This increases the need to deleveraging resulting into less credit concession, and ultimately in a weak growth outlook.
After securing a €100B ($124B) bailout for its financial system and implementing more austerity measures, including an increase in VAT from 18% to 21%, Spain's economy should continue to show a weak performance putting further pressure on bad loans.
Asset quality remains one of the biggest concerns for the financial sector and the lack of visibility on this front should continue to block banks' access to credit markets. Indeed, Spanish banks' dependence on the European Central Bank for funding has increased recently hitting a new record high of €375B ($465B).
(click to enlarge)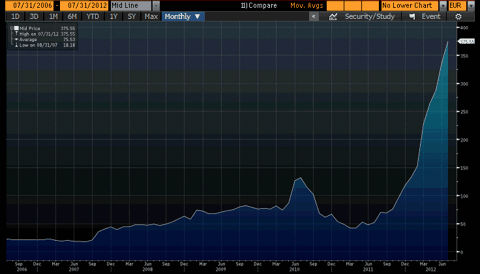 Click to enlarge
Source: Bloomberg
Given that the sovereign relies on domestic banks to buy its bonds, the increasing banks woes makes it more likely that the Spanish sovereign will need a bailout. This is especially negative for domestic banks like Banco Popular (NASDAQ:BPOP) or Banco Sabadell (OTCPK:BNDSY), but also for the two largest banks Santander (NYSE:SAN) and BBVA (NYSE:BBVA).
Disclosure: I have no positions in any stocks mentioned, and no plans to initiate any positions within the next 72 hours.