Selectcore (OTC:SLXXF) was one of my top TSX Venture picks in this recent post. The company has updated its MD&A commentary for its Q3 financial results so I thought it would be good to dive into the details so potential investors can better understand the risks and opportunities of an investment in SCG. The MD&A and other reports can be found here. Below is a screen shot of SCG's income statement comparing Q3 and YTD 2013 versus 2012.
(click to enlarge)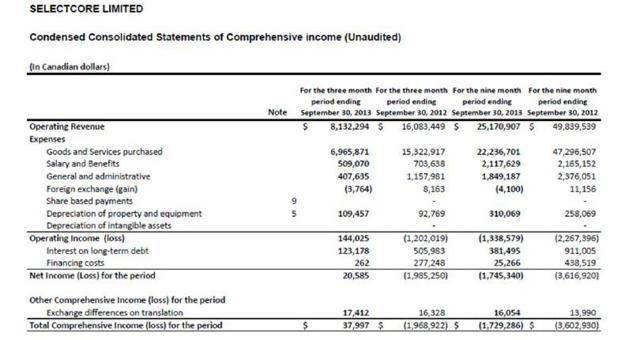 Click to enlarge
Despite the nearly 50% drop in revenue, the company did an excellent job in reducing costs to earn a small net income for Q3. The key drivers were the large reductions in G&A and financing costs. Early in 2013 the company refinanced its long term debt at a much lower interest rate which is demonstrated by the 60% reduction in interest for the first nine months of the year. G&A was extensively cut in Q3 as all of the full year decrease can be attributed to the quarter. Selectcore has a willingness and ability to make the large cuts necessary as it exits its legacy business and attempts to improve its balance sheet.
Let's not forget how difficult it is for companies to quickly scale down when they are faced with rapidly declining revenue. Think of BlackBerry (NASDAQ:BBRY) and the quarter after quarter of operating losses it has demonstrated as revenues have continued to shrink. What Selectcore did in Q3 was a rare feat and it will be interesting to see if that can be repeated as a new steady state for Q4 or if those aggressive cuts resulted in further revenue decline. While revenue dropping 50% is disconcerting, much of that is a function of losing legacy business late in 2012. Note that revenue is $25M for the first 9 months of the year which equates to about $8-9M a quarter. While the year-over-year revenue shrinkage looks bad, it appears to be relatively flat with only a slight decline from Q1 to Q2 to Q3 2013.
Selectcore recently announced a review of strategic initiatives to strengthen its balance sheet. The purpose of the news release was to show that the company recognizes an issue with the sustainability of its working capital and it wishes to rectify it through financing, sales of assets or some other creative plan. Reviewing the "Nature of Operations and Going Concern Uncertainty" section of the company's MD&A shows this piece below.
(click to enlarge)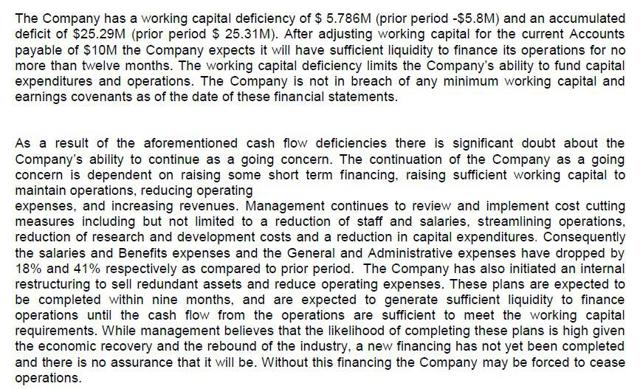 Click to enlarge
While the doubt of Selectcore's going concern is a bold warning that can't be overlooked by those who have lower risk tolerances, I found the piece that the company claims that it has a plan in order to generate enough liquidity until cash flow from operations are sufficient for working capital needs to be very encouraging. Recall that in my last article involving Selectcore that SCG has been the only start up type of junior company that I have spoken with that actually made good on a promise to become profitable within the stated period of time. I believe Selectcore's words hold more weight than the average TSX Venture small cap company so I am willing to take the promise of a plan that has a reasonable chance to fix the company's liquidity issues at face value. I have purchased Selectcore shares on the TSX Venture under the symbol SCG thanks to these recent developments.
If Selectcore is doing so well, why is the stock price doing so poorly?
Given that SCG has managed to turn a small profit and admits that it is working on improving its balance sheet and it expects success, then why is it doing so poorly? Since it popped 125% on January 15th, the stock has had several days of unusually high volume, as seen in the recent price and volume history below.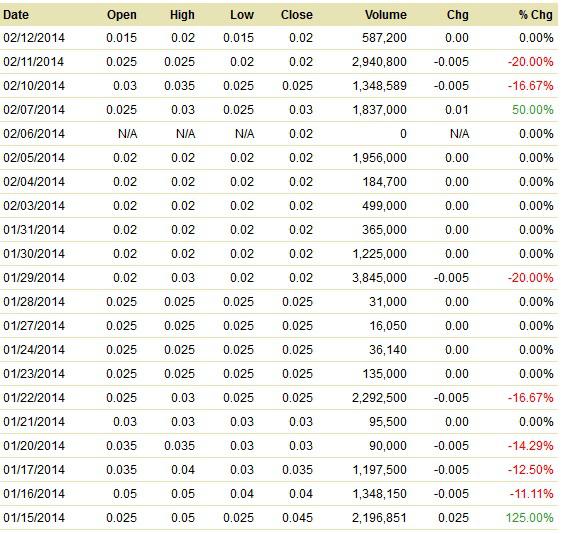 The sudden move on January 15th without any news or other catalyst suggests that market makers were trying to make the stock active for some sort of move. This volume has come with fairly large swings in bid and ask sizes with very large asks plaguing the stock over the past few trading sessions. I decided to investigate who could be selling so aggressively and found this from Bloomberg:
(click to enlarge)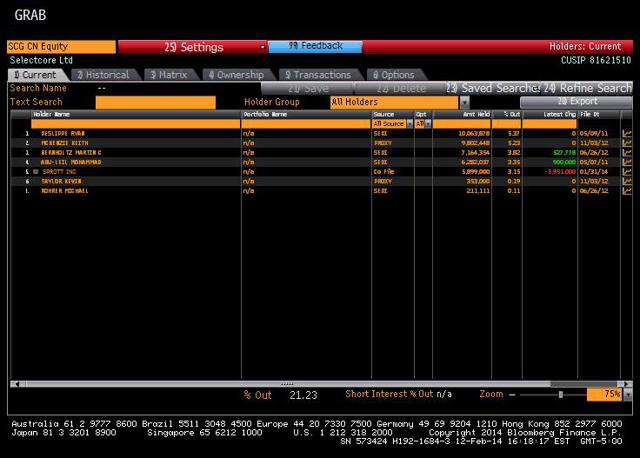 Click to enlarge
A filing on Jan 31, 2014 shows that Sprott dumped just under 6 million shares in recent trading sessions. This is actually good news for Selectcore investors. This sell has nothing to do with any troubles or bearishness on SCG, this has to do with the failures of Sprott. After being considered a leading Canadian investment firm for years, Sprott had an incredibly horrible 2013 with two of their major four equity funds losing in excess of 30%. I have heard that the firm is receiving a lot of redemption requests and is trying to save business by focusing more on bond funds.
They aren't selling SCG necessarily because they think the company is a bad investment, they are selling SCG because they really don't have a choice as the overall strategy of the company is changing and stocks like SCG can no longer be held under any fund. They need the money desperately and will sell anything with some liquidity at any price.
The other piece of good news is that Sprott has only a limited amount of shares. Current SCG investors can breathe a sigh of relief that there's only so long that this selling at depressed prices will last. Looking again at the filing above, Sprott has sold just under 6 million shares and has just under 6 million remaining. Since January 31st the trading history shows that there were four days well in excess of a million shares traded. No doubt some of those sells were shares Sprott owned.
Given the situation that Sprott has provided to pick up cheap shares, I have taken an opportunity to buy a million SCG shares at 2-3 cents recently, and intend to buy more if Q4 results are positive. I find SCG to be a very good speculative investment for those with high risk tolerances such as myself.
Disclosure: I am long SLXXF.